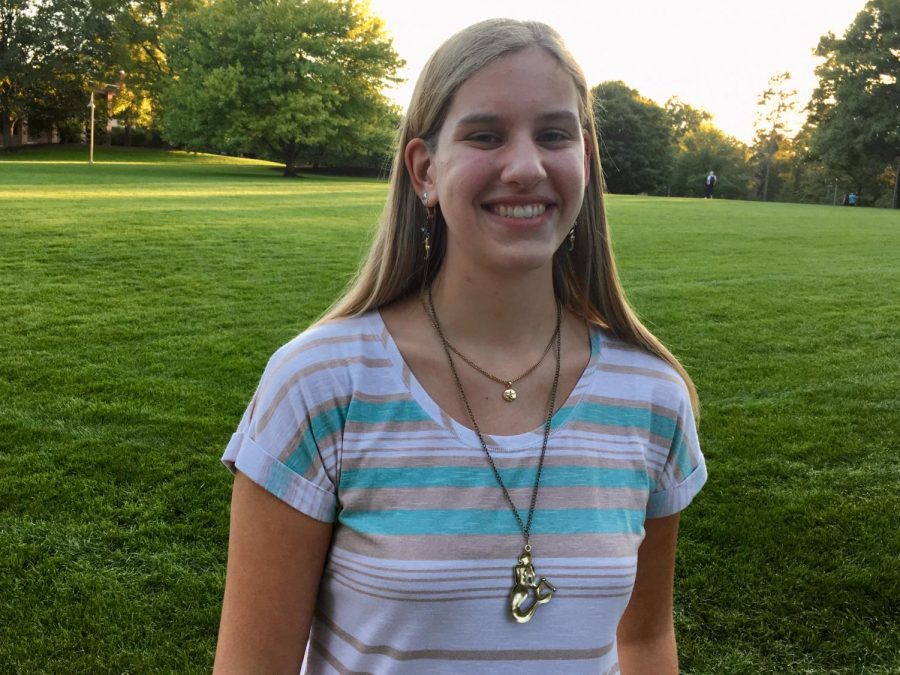 After two years of being the features editor for
Chimes,
Michelle has moved up a little in the world to be editor-in-chief. A double major in writing and literature, Michelle hopes to begin work in the publication industry after she graduates in spring. She hopes that the hours she will be spending poring over this year's
Chimes
articles will prepare her for life as a manuscript editor. In her free time, when she has it, Michelle enjoys reading, writing, drawing, practising yoga and going on adventures with her friends.
Michelle Hofman, Editor-in-Chief
May 09, 2019

One last editorial

(Story)

Apr 24, 2019

Current VP for finance and administration retires, will stay until replacement is hired

(Story)

Apr 10, 2019

Le Roy and Visser hold Town Hall to discuss SAO with students

(Media)

Feb 21, 2019

Journalism is meant to serve you: Help us do that

(Story)

Jan 30, 2019

Many factors considered for Calvin snow days

(Media)

Dec 10, 2018

A final editorial before finals

(Story)

Nov 16, 2018

Editorial: Thankful for weariness

(Story)

Nov 07, 2018

Student activity around elections reflects investment

(Story)

Oct 26, 2018

Editorial: Comfortable Discomfort

(Story)

Oct 11, 2018

Planning for Festival 2020 well underway despite director's departure

(Story)

Oct 05, 2018

Calvin admin. lays groundwork for university

(Story)

Oct 04, 2018

Search for a New Vice President of Enrollment

(Story)

Oct 01, 2018

Profile: Jesse Holcomb

(Story)

Sep 27, 2018

SPIN skids to a halt

(Media)

Sep 27, 2018

Day 10 Report shows drop in enrollment

(Story)

Sep 21, 2018

Editorial: Never ignore opportunities

(Story)

May 04, 2018

Reminiscing with Calvin's professors retiring in 2018

(Story)

Apr 12, 2018

Festival authors: bringing a history of conversation

(Story)

Apr 05, 2018

Festival of Faith & Writing introduces Madcap pop-up cafe

(Story)

Mar 28, 2018

Intramural programs offer chance for inclusiveness

(Story)

Mar 07, 2018

Campus safety notifies Calvin of CMU shooting

(Story)

Feb 22, 2018

Tapping potential: Maple syrup flows through campus

(Story)

Dec 01, 2017

Students share their stories as women in engineering

(Story)

Nov 17, 2017

Calvin in 2029: College or university?

(Story)

Nov 10, 2017

The Calvin rock wall: A gripping history

(Story)

Sep 29, 2017

The Center Art Gallery has a long history

(Story)

Sep 22, 2017

Advice from seniors to new students

(Story)

Apr 28, 2017

Is my God your God?

(Story)

Apr 28, 2017

Calvin talent show wows

(Story)

Feb 07, 2017

The Calvin Prison Initiative

(Story)

Jan 18, 2017

January Series (1/16): Lisa Sharon Harper

(Story)

Dec 09, 2016

Students gather for annual Christmas tree lighting

(Story)

Nov 18, 2016
Nov 11, 2016

The rhetoric of the Rhetoric Center

(Story)

Oct 07, 2016

Life beyond campus, from students who commute

(Story)

Sep 09, 2016

Calvin Odyssey writing group growing on campus

(Story)