Life beyond campus, from students who commute
For most of the freshmen and sophomore students at Calvin, campus means home. First- and second- year students are primarily students who live in the dorms. However, there is a small population of Calvin students who are not part of the dorm communities. These are the students who live at home and drive to campus each day to attend classes.
With Calvin having many students who come from far and wide, most students find themselves in the dorms or the close surrounding neighborhoods. They have short walks to their classes, or maybe a quick bike ride. They have access to many other Calvin students around them. Campus is very close to home and very accessible most hours of the day.
This is not the case for all students, however. Some students decide that the dorm life was not for them; these students make a choice to keep a certain distance from their school. This distance isn't only between their house and the school, but also between them and the rest of the student body of Calvin.
Many go to college and embrace the dorm life because it will give them the "full college experience." But there are those who either do not need this experience to fulfill their time at college, or it simply is not an option for them.
There are many reasons commuters choose not to live on campus. A prominent reason is finances: foregoing the dorms is something that can save thousands in paying for college. For others, it's family that gives reason enough to stay home. Junior Anaiah Zainea, who has commuted for three years, said that she decided to stay at home while in college because she wanted to be able to watch her younger siblings grow up.
For sophomore Macy Schimmel, commuting is inviting because she could still maintain relationships with her friends not attending Calvin, as well as her home life. In addition, sophomore Sophia Medawar said staying at her home meant keeping her dog.
For many, the dorm life just doesn't appeal to them. Some just need their own space, their own place to go to get away from school. Being on campus 24/7 surrounded by fellow students is not everyone's cup of tea.
This does not mean that students who commute are not aware that they miss out on campus events. The dorm community is very strong, and students not a part of a dorm often feel the absence. Those who commute rarely take part in spur-of-the-moment activities, or the late night events in the dorms; they only ever hear about them.
This does not mean that the entire college experience is void, however. Students off-campus still have plenty of opportunities to get involved in student organizations and clubs. Those who commute might even say that they have more opportunity to choose their communities, rather than have to settle for a community laid out by what dorm floor they land on.
"Because my community wasn't my floor or those who live in the general area around me, or those who are similar in age, I was able to meet a more diverse range of people," Zainea said. "You can try more new things than if you are confined to the dorms. If you are intentional while commuting, and if you want to, you can be more intentional with how you choose your environment. You have a bit of a wider range of events to choose from, rather than [being] confined to dorm events."
There are many other benefits that come along with the decision to live off campus. Schimmel lists some of these benefits: "You get to sleep in your own bed, you can step back from the busy dorm life, you can still have home cooked meals, you get to keep your job and you save money, except for what you have to spend on gas." Others included that students who commute have a wider sense of the city beyond campus.
"You know where you live better than those on campus," junior Mallika David said. "You can better understand getting around and get to know the community around campus. It offers a glimpse into what real life will be like." It can sometimes seem to off-campus students that the campus acts as a shelter from the outside world to some of the students in the dorms. Not that students in the dorm never venture into the great city of Grand Rapids that plays host to Calvin, but they have less opportunity to do so the years that they live within the dorms and the confines of the campus.
There is a tendency to consider those who commute as outsiders, but this is not true. Zainea asks the student body to refrain from "labeling those who commute as 'commuter students.' We are all students of Calvin. Those who commute are students first. We just live off campus. The idea that you can only be a part of the campus if you are in the dorms is wrong."
Every student here is a part of the campus simply by attending classes. You might have even met someone who commutes without even realizing it. Off-campus students can still find ways to be a part of the campus life by joining student organizations or clubs. They find new ways of building communities so that their college experience is still full of meeting new people and trying out new things.
"There is a great effort to create a strong community for the commuting students. If you haven't found your group yet, F2C [First 2 Commute] is a great fallback," Medawar noted. "There is a perception of off-campus students falling into the shadows, which isn't true." For the small population of students who commute to Calvin, there is a request that they not be forgotten. Schimmel made the request that students "be considerate when scheduling things for group work when you have a commuter in the group." Requests were made not only to students, but also professors; "please be lenient with tardies. We can't always predict traffic or weather."
Deciding to commute is a very intentional decision, and those who choose it intend to stick with it. They are as much a part of this college as any student living in the dorms.
About the Contributor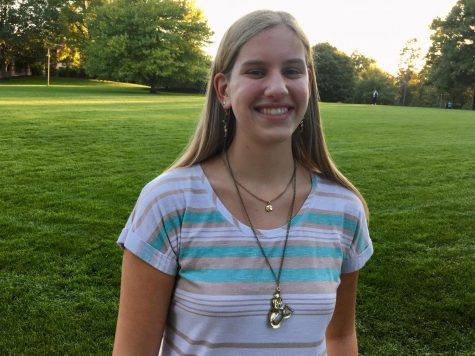 Michelle Hofman, Editor-in-Chief
After two years of being the features editor for Chimes, Michelle has moved up a little in the world to be editor-in-chief. A double major in writing and...