Sci. Sit-Down: Q&A with Mark Bjelland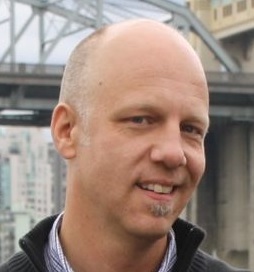 Mark Bjelland has established himself in his almost five years in the GEO department as a professor who can get students to volunteer for ungraded field trips, who is passionate about building more livable, interesting urban spaces and who has a deep love for the city of Minneapolis. Bjelland accepted a position at Calvin after several years of working as a civil engineer, earning a PhD and spending 15 years teaching at Gustavus College in Minnesota. Chimes stopped by his office last fall.
Chimes: What's new?
Bjelland: I'm working on a Calvin Shorts book. I'm eager to get back to writing that. Mine deals with city planning and policy and what makes good places.
Last night I brought my urban geography students to the Home Builders Association Parade of Homes. That was an extra field trip just for fun. Trying to understand how cities grow. How developers think, how they market their properties. Understanding a city.
Chimes: Where are you from, and what brought you to Calvin?
Bjelland: I taught for 15 years at a liberal arts college in Minnesota and then came here four and a half years ago. It was kind of a big deal to leave because I was very established. I had been chair of my department for 11 years, chair of some major committees at Gustavus, and I had to give up tenure. I had to give up my house that I really liked. I had to pull my daughter out of high school, so it was a big deal to uproot ourselves and come here.
Chimes: What's your favorite class to teach?
Bjelland: I think my favorite class is Urban Geography. And that's because my research is about cities, especially how cities interact with planning processes and interact with the environment. And I like that because we do field trips every week. Getting to know the areas and getting to know the diversity of an area and getting to be out in real places makes it real for students, in that it's not just data and theories. It's real people's' lives.
Chimes: What is the greatest city on earth?
Bjelland: If you would have asked me that 10 years ago, I would have said Vancouver, Canada. I lived there a total of five years. I love it. It does a lot of things right in terms of protecting the environment and has great parks and beautiful natural setting with mountains and ocean right there. It's now the most unaffordable city in the English-speaking world. And some of the good things that it did to protect the environment are actually making it more expensive. It's a ruined paradise.
I really love Minneapolis. And it's an affordable midwest city. Sorry it's not Grand Rapids, though.
Chimes: If you could say five things that make a great city, what would they be?
Bjelland: Having parks in the best parts of the landscape and then having greenways, bike routes, walking routes and non-motorized routes that connect these things together.
You need density. I think density and diversity makes really interesting neighborhoods. People are often afraid of density in cities, but if you have density, they you can have a preserved countryside.
Little details of how you pay the bills. Regional equity matters a lot. How you cooperate. Regional cooperation and sharing. Which is actually rare in American metropolitan regions.
Chimes: As students are graduating and picking places to live, what's one thing you wish they'd consider?
That God might call them to a kind of forgotten place. I think it's good to have roots and a sense of place and home. And it might be a place that you invest in that's kind of overlooked and forgotten.
Chimes: What inspires you about what you do?
Bjelland: John Perkins [a prominent Christian community development activist] was very influential to me. A person in Vancouver named Loren Wilkinson was very influential. He was kind of one of the founders of Christian stewardship of the environment. He lived on an island on a farm and it was about hospitality and showing hospitality to people and to the natural world. Very rooted in that place.
My own personal call is to try to do what Lauren did in an urban environment. I feel called to do that in an urban context, really getting to know my neighborhood, its streets. I have this dream of walking every street in Grand Rapids, which I'll never accomplish, but just getting to know the place well and be involved in its shaping.
Chimes: Do you have days when you wake up and don't want to go to work?
Bjelland: I used to. I used to have a more prestigious and financially rewarding career as an engineering consultant, but I often disliked my days at work. I was often working on projects where I thought it was morally a little bit ambiguous. Since I started teaching, I never get bored. I think that the way that a geographer sees the world, the world is always so interesting. There's always more to learn and see and experience, so you never get bored. Geographers never go on vacation. They go on field trips.
Chimes: What's been the best vacation field trip you've been on?
Bjelland: I think actually living for a year in Wales was fabulous. Wales is so fascinating as a place because you have all sorts of things: urban and rural and coal mining areas and really fascinating culture and landscape.
Chimes: What do you do for fun?
Bjelland: My wife and I like to visit interesting places and art museums and things like that. Personally, I love to bicycle. I bike to work almost every day. And I love cross country skiing.
Chimes: What the best meal you ever had and where was it?
Bjelland: I do associate meals with particular places. So a country pub in rural Wales. It's not the best food in the world. Shepherd's pie and a big roaring fire and this 200 or 300 year-old pub in the countryside after a day of hiking is fabulous.
Chimes: Can you tell me about the septic tank incident?
Bjelland: It was visiting this Lauren Wilkinson guy, my mentor and they had a guest cottage way out in the woods down a trail. He told me I ought to get the fire started before we went to bed. But he couldn't find a flashlight, but he said you should be able to find it, just follow the trail with the moonlight. As I was getting close, I could see the outline of the cabin up ahead and I was getting close to the cabin, no flashlight or anything. I didn't have a cell phone.
All of a sudden, I just drop into this hole in the ground. This septic tank was maybe 50 feet from the house and they were working on the whole drain field which forgot to tell me and they had the lid off of it. I had fallen right, straight into the septic tank. Feet first and it was up to my knees in sludge and it was maybe six feet deep.
I had to climb out of it. I just remember feeling kind of superhero power and just jumped and grabbed on and pulled myself out of it. And then I realized that I'm covered in sewage sludge up to my knees.
I got myself into the yard and got a garden hose and took all my clothes off, sprayed myself down, snuck into a house and grabbed somebody's coat to cover up. I threw away those boots. It was kind of embarrassing.
Chimes: What are you researching?
Bjelland: I've been working on Michigan cities and how they clean up polluted land and try to reimagine themselves. They have a huge legacy of old, contaminated factories and industrial land and the kind of process that we do for cleaning that up and trying to revitalize our cities.
Almost all of the projects that make Traverse City or Grand Rapids the places that we get excited about, all of that is former industrial land that had to be cleaned up. There's a really interesting behind the scenes story on all of that.
I've also been working on a little bit how churches think about their context, being in their neighborhood, urban, metropolitan context.
Chimes: What keeps you up at night?
Bjelland: When the Israelites came into the promised land, they were all excited what God had done for them, but then the next generation kind of forgot about all that. And so I'm quite concerned about the generational handoff of the Christian faith and how that happens in institutions and sometimes institutions lose their identity and their focus. Because I've seen that happen in other colleges that secularize and they kind of make fun of the beliefs of the founders of the college and turn away from that. That concerns me a lot.
I think also, another thing that concerns me a lot is that, in this country, we really don't understand each other very well and there's kind of a lack of understanding between urban and rural areas.
Chimes: How do you stay curious?
Bjelland: I don't know. I think God's world is just fascinating. To me, it's the texts and data and maps and visiting places, all of that reinforces each other.
Boredom is not one of my problems. I have other problems, but not that one.
Chimes: What are you reading, watching and listening to?
Bjelland: For fun, I play jazz piano. I'm reading a novel by Annie Dillard, The Living. I'm also reading a book by Peter Kreift. I forget the name. I'm watching Better Call Saul. And I'm watching The Crown with my wife.
This interview has been condensed and edited.
View Comments (1)