Calvin alumnus 'fell into' career as virtual teacher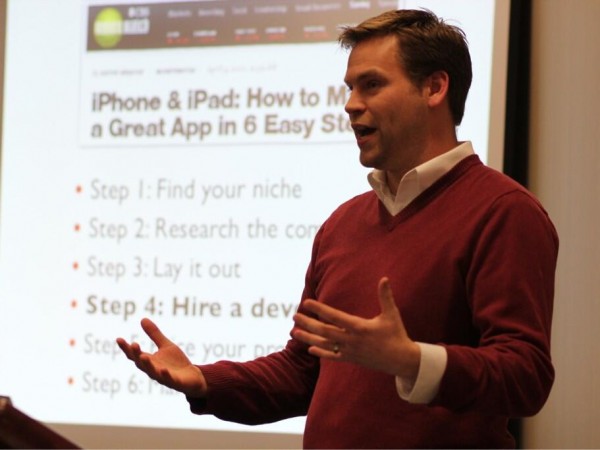 Andrew Vanden Heuvel '04 says that he was always "the guy." He was "the astronomy guy" while studying at Calvin or "the asteroid guy" for a discovery he made from Calvin's observatory. More recently, he was "the Google guy" for his work promoting the now-discontinued Google Glass.
And for a long time, he was "the astronaut guy." But what he'd eventually be, he says he couldn't have imagined during his days as a student.
In 1997, as a sophomore in high school, he wrote to NASA asking for an application to their astronaut program.
He still has the application that they sent back. "It was the first time I ever got a letter from NASA," he said.
And it wasn't the last he would receive. Almost a decade later, in 2008, he met the minimum requirements to qualify for the astronaut program. He had clocked over 30 flight hours, received his scuba diving certification and gathered the requisite amount of teaching experience. He waited to hear the results, and on Nov. 1, he received notice that he'd made to the next phase. He was in the top 10 percent. And then, he waited.
Finally, in June of 2009, he received another letter, but this one informed him that he would not continue in the hiring process.
"Thank you for applying," the letter read. "The Johnson Space Center received more than 3,500 applications for the nine astronaut candidate positions filled."
But his life moved on in the years since he started going after his dream. He got married, worked as teacher, and received a master's degree in astronomy. And he was on a new path that he couldn't have foreseen.
Today, Vanden Heuvel does not sit in the cockpit of a shuttle or run simulations at NASA training facilities. Instead, he works as a "freelance educator," teaching online physics and astronomy. On most days, he sits at the virtual helm of his classroom, in the basement of his Grand Haven home. And he loves it.
He creates online assignments and lectures, emails with students and makes video responses to their questions. In 2010, he was named Michigan Virtual School's Virtual Teacher of the Year.
Vanden Heuvel says that he "fell into" this job after a series of small contracts, a full time position with Michigan Virtual School and eventually, launching his freelance education career this past January.
He says that he's thriving in the gig economy and enjoys the flexibility and excitement that it affords.
"When I was at Calvin, I new that I was going to be an astronomer," he said, adding that online learning did not exist.
"Who knows what the careers will be for you guys who will be graduating in the next few years?"
Astronomy and physics professor Paul Harper stayed in contact with Vanden Heuvel throughout the years and says that he admires what Vanden Heuvel has done with his career.
"I wouldn't have predicted the variety of things he got into," Harper said. "He was a good student, but I didn't get a sense of where he was going in terms of the creativity that he's exhibited, the initiative and just the scope of what he's doing."
Vanden Heuvel says that his career expectations were initially tied up in a dilemma regarding his vocation as it was presented to him.
"One of my pet peeves about Calvin in my experience there is that it really blurred the line between your future job and your calling as a Christian," he said. "I think what my experience demonstrates is that a career is not a single path, but a wandering path."
Additional reporting by Hannah Butler, staff writer.
View Comments (1)