Dead Star: Crab Nebula expanding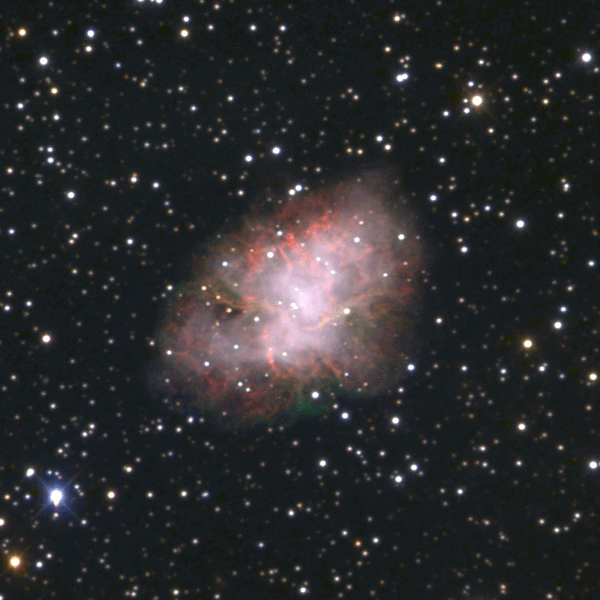 Hang on for a minute...we're trying to find some more stories you might like.
Say hello to the Crab Nebula, first among the Messier (pronounced MESS-ee-ay) objects. This image shows the Crab Nebula as it appeared in late 2017. The Crab Nebula is a supernova remnant, the aftermath of the death of a large star. To understand the death of a star, we must understand the life of a star. Stars are constantly fighting a battle against gravity. Gravity wants to make all the mass in a star collapse on itself. Stars counter this by means of the energy generated in their cores. This energy radiates and convects outwards, preventing collapse. But what happens when a star runs out of fuel in its core? Gravity wins. The star can no longer support its own structure, and the inner regions of the star collapse. This releases enough gravitational potential energy to launch the outer regions of the star outwards at up to 10 percent the speed of light. One core-collapse supernova can outshine an entire galaxy. This was the fate of the star whose death was observed by Chinese and Native American astronomers in 1054 A.D. Its demise produced the Crab Nebula. Since this was less than a thousand years ago, some of you might be wondering if it is still expanding noticeably today. The answer is yes. We also took data on the Crab Nebula in 2004, and there has been significant expansion since then. To see a colored GIF of this expansion, go to the web version of this article on the official Calvin Chimes site.
For more on supernova remnants, nebulae and other bizarre features of our lovely universe, check out the Calvin Observatory webpage at http://www.calvin.edu/academic/phys/observatory/. If you want to visit the Calvin observatory on top of the Science Building, our hours are from 7:30 p.m. to 11 p.m. Mondays through Thursdays (weather permitting). More directions can be found on our website.