College orientation generally follows the same pattern every year. "Students were nervous at first, then you get comfortable…then you make –– kind of –– your friends," said Hagyeong Park, a senior who worked as an orientation assistant for international orientation. For students who come from other countries, that nervousness can be complicated by unique challenges, including distance from parental support, cultural differences and logistical issues like getting to a grocery store and setting up a bank account.
The goal of international orientation —  according to Jane Bruin and Esther Kwak, director and assistant director of the Center for Intercultural Student Development (CISD) —  is "to provide a soft landing for students who are beginning their college journey" by providing resources and connecting "students to each other, key support staff, the larger Calvin community and resources designed to help them thrive."
This year, international students made up about 20% of Calvin's incoming class, according to census data. Between 130 and 145 of those students came through Calvin's international orientation program, according to orientation intern Jonathan Umran. 
"Bones of the skeleton"
The first iteration of Calvin's International Orientation began around 30 years ago, thanks to Jo Cooper and Linda Bosch. It was a two-day program designed to help with immigration logistics, shopping and banking, Bruin told Chimes. In subsequent years, the program "has grown as the population and needs have grown," Bruin said. 
Today, International Orientation is a four-and-a-half-day program. "Esther [Kwak] has been around for 13 years now and she has constructed a skeleton that is sturdier than any other program I feel like we have," Umran told Chimes.
That "skeleton" is built on a few major "bones," which include fixing jet lag, culturally transitioning people, and generally giving students what they need to live successfully in the United States, Umran said.
On the first full day of orientation, Lake Michigan Credit Union (LMCU) comes to campus in order to set students up with bank cards while tour guides introduce students to resources available on campus, including but not limited to: Financial Aid, Safer Spaces, the CISD and the Center for Counseling and Wellness. Leaders also coordinate a three-hour trip to Meijer.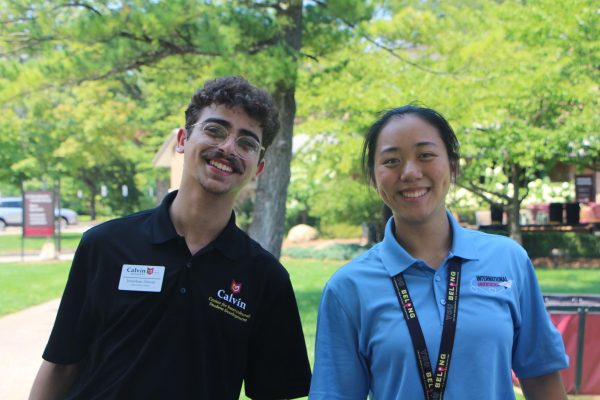 In subsequent days, students attend a Q&A session with professors about academic expectations, immigration, sessions about racism and microaggressions and skits that address the expectations versus the reality of culturally transitioning.
"They prepare you for what [is] to come…not only in Calvin but in the US," Elaina El-Khoury, a first-year from Lebanon, told Chimes. 
While the program leaders "very much value our role as educators," Umran said, they also prioritize building emotional connections.
Building relationships
The emphasis on relationship building started with the leaders. When they began training, Umran and the rest of the Orientation Board — those who organize and run athlete orientations, impact orientations and welcome week programming for incoming students — went on a canoe trip around Drummond Island. Cold water splashed into their boats so frequently they had to pass around a water gun to remove it, but Umran said "it was such a great trip…that got us so close so quick." 
The training for International Orientation Assistants (OAs) also emphasized relationship building. "There was a lot of like, teaching us how to trust each other," Park said. One of those trust-building exercises asked the OAs to imagine their life as a river with rocks to symbolize the events that have changed the flow or course of their life. They were then asked to share their "river teeth," according to Kwabena Agyei. "That emotional expression really bond[ed] us very very well," Agyei said.  
Other training included leadership classes, classes on how to read and understand people's behavior, how to approach certain situations and how to facilitate group interaction, Agyei said. "I always say, I think I should have a certificate for the training I went through … it was such a great leadership training," he told Chimes. 
Student experience 
For many students, international orientation is not only useful for logistical reasons, it is also valuable for finding community among people who have similar experiences living abroad. These students include "third culture kids," or TCKs –– a label with which many children raised abroad by missionaries, expats and other US citizens identify. The international identity, according to Umran, is "not having one nation, it's being between. So, for a lot of people, I think they value the fact that we include TCKs in this program."
Issac Nelson, an American citizen who has lived in Belgium since he was 13, said, "It's also just a lot of fun to be around people who are in the same boat…We share a lot of the same challenges." He and his orientation group grew close "just by sharing this experience" of international orientation, he told Chimes.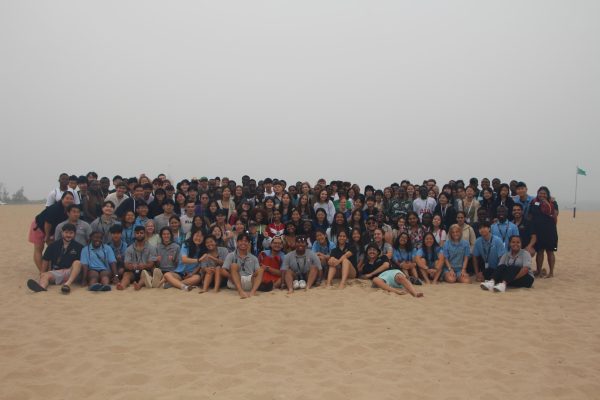 That experience included things like a trip downtown, a trip to the beach and a sentimental closing ceremony. These activities "are all really classic things," according to Umran; "People remember [international orientation] fondly because we have a lot of like, very sentimental … traditions built into it."
Agyei and Park both became OAs because of the welcome they experienced from their OAs during their international orientation. "The whole experience is just very comforting," Agyei said, in part because OAs are supposed to be "the first friends and the last friends you could ever have and ever rely on."  
"As I met people I realized they know what I've been through. We understand each other on a very different level … it was just very nice to meet your people, people that you can call home even if they're not from your home," said El-Khoury. 
Finally, international orientation made the transition to college smoother for Ruhama Getahun, a freshman from Ethiopia. She was able to meet more African students "to relate to" before starting school. "If I came here and there was no international orientation and it was like, boom, with the local students…it would have been a shock," she told Chimes. 
Umran, Park, and Agyei all told Chimes that one of the most rewarding parts of their international orientation work was watching new students succeed in the first weeks of school. At their reunion dinner after classes started, Park's students "were adjusting to college really well, they were already complaining about their classes, and I was just having a blast," she said.