Every Thursday morning, children between the ages of two and five can be seen scurrying about the Bunker Interpretive Center, located in Calvin's ecosystem preserve. These kids (and their caregivers) participate in Saplings, a preschool program run by Calvin's ecosystem preserve staff that aims to connect children in the community to nature and the outdoors. 
The goal of the program, open to all local preschoolers and their caregivers, is to "instill in [kids] a sense of curiosity about the outdoors" through "teach[ing] them about a fun topic rooted in the Preserve or West Michigan ecology," said Abigail Vanden Heuvel, a sophomore working with the program as a student environmental educator.
Each session is an hour long and includes nature-related reflection questions, time spent out-of-doors on the preserve trails and crafts the children can take home, according to Meleyna Winterstein, a sophomore who is also a student environmental educator in the program. 
The student leaders choose topics based on natural phenomena — such as specific tree species, leaves and seeds — that are often tailored to reflect the changing seasons. Programming this fall, according to Winterstein, will include apple cider making. 
However, having the children grasp the content is not the educators' highest priority. "We try our best to teach them something, but most of the time it's getting them excited about being outside and learning," Vanden Heuvel said. 
The Beginnings of Saplings 
The program first began in fall 2022 when Tom Hartzell —  who acts as Vanden Heuvel and Winterstein's mentor, supervisor and occasional co-teacher — started in his role as the campus sustainability program director. Coming into the role, he "had a blank slate as far as what kind of programs we could offer," Hartzell said. 
Saplings, one of the programs Hartzell started, was inspired by his own parenting experiences. "I am a parent of a preschooler, and I know we're always looking for things to do, and just thought that would be a great service to offer the community," he said.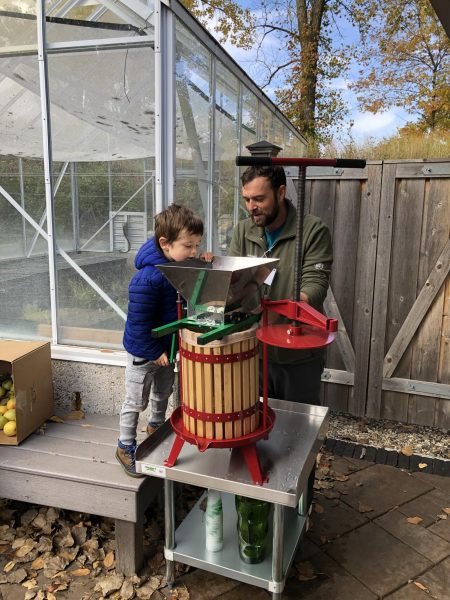 Vanden Heuvel was hired as an environmental educator last winter, followed by Winterstein a couple of weeks later. Both women are passionate about Saplings because of their own love of the outdoors. "To be able to share that with kids that are, like, endless wells of curiosity and excitement for the smallest things; it's actually very rewarding," Winterstein said.
Despite her love of the outdoors, Vanden Heuvel told Chimes that one of her "biggest concerns stepping into this role" was that she doesn't "know that much about plants and animals." However, she said Hartzell's guidance, patience and willingness "to walk alongside us" were indispensable. 
Due to Vanden Heuvel and Winterstein's "phenomenal" leadership, Hartzel told Chimes, the program continued into this year and is set to expand: the team expects a third environmental educator will join them this week.  
Noticing the small things
The Saplings program is only a small part of the greater work of the ecosystem preserve, which has served as a "nature center" for Calvin and the local Grand Rapids community since the 1980s. The Ecosystem Preserve intentionally sets aside land to allow native plants and animals to "experience a place of Sabbath," Hartzell said, which is "a really practical way of doing creation care and practicing stewardship." 
Positive experiences outdoors encourage people to practice stewardship, according to Hartzell; Saplings hopes to provide those positive experiences at an early age. And not only is time in nature useful for promoting creation care, but it is also an important way for humanity, including young children, to experience God "since it was all created by him and reflects his character."
Hartzell noted that he has seen Saplings help the preschoolers be more grounded in the world they live in. "It's really cool to see them develop a sense of place," he told Chimes. "They have a level of familiarity with the trails, they know where to go or remember certain trees and get excited to see that tree again." 
The two environmental educators agreed that their favorite part of Saplings is the enthusiasm the children show for the small things in nature and slowing down to appreciate these things. For Winterstein, this is a contrast to her hectic college life. "They'll see a leaf and want to talk about it, and why does it look like this, where did it come from," she said. "It makes you realize how intricate everything is." 
Similarly,Vanden Heuvel said the children are "really slow walkers, which forces you to slow down as well… they just get excited about the smallest of things that I would just breeze past because that's how our world works so often."
Community Involvement
Saplings has not yet reached full capacity and is open for members of the community to bring preschool-aged children on Thursday mornings. "It's very low maintenance, it's not like you're locked in for the season," Vanden Heuvel said. "Whenever it works for you, great!" Parents and caregivers of preschool children can register online on Eventbrite every week. 
All three Preserve staff members also expressed that one of the best ways for Calvin's community to support the Preserve is to take advantage of the space. According to Winterstein, "having more people in the preserve just helps the preserve keep functioning and keep those programs going." She also said it is "super cute" as a study spot. 
Other regular programming run out of the preserve includes Wellness in the Woods every Thursday at 4 p.m., which –– according to Hartzell –– is "a way to tap into the mental and emotional and physical benefits you get from spending time outside." During the school year, students can sign up to volunteer in the Preserve, and there are summer internship opportunities as well. 
Hartzell is also looking for feedback from the Calvin community on other programs the ecosystem preserve can offer. "Because we don't have a lot of regularly scheduled programs, that gives us flexibility to offer different things." 
"One of our goals in our programming, particularly through Saplings, is to 'connect hands, heads, and hearts'," Vanden Heuvel said. "I just love that imagery of the holistic creativity that goes along with it."