Calvin's Global Campus — which oversees the Calvin Prison Initiative, online master's degree programs, Life and Career Studies certificates and other non-traditional learning paths — is rolling out the 49507 Initiative, aimed at providing opportunities for higher education in the 49507 zip code. 
"The 49507 Initiative asks: What would it mean to be a partner in higher education that intentionally promotes the welfare of the specific city we call home? We already do that in disconnected ways (e.g., Plaster Creek, community-based nursing, service learning), but the 49507 Initiative ties those elements together and introduces new possibilities under a unified vision for place-based education," associate provost Kevin den Dulk told Chimes in an email. 
There are three phases of the project planned so far, according to Shaquille Anthony, director of strategic partnerships and one of the initiative's leaders. First, the research team will perform "intentional collaborative research" to take stock of community wants and needs regarding education, Anthony said. Second, they will take that data and use it "to actualize or curate these unique learning experiences," he told Chimes. Finally, Calvin's 49507 Initiative hopes to inhabit a physical space in the 49507 from which the Initiative can run programming.
 History
Place-based education is not a new concept for Calvin. Claudia Beversluis, former provost of Calvin University, told Chimes that about 20-25 years ago, a movement in higher education that emphasized place-based education and an intentional switch from "student volunteerism" to "service learning" began. 
"The basic idea was that students should contribute to and learn from their 'place' — i.e the local communities where they were in school. Faculty as well could not only contribute their expertise but use community issues, strengths, problems, etc. as a source of their scholarship," she told Chimes in an email.
To implement those kinds of programs, Calvin received a grant in the early 2000s and decided to focus on working within the Burton Heights neighborhood. According to Beversluis, "Calvin rented a building on Division, and strengthened partnerships with business owners, Garfield Park Development Association, Buchanan School, Garfield Park Neighborhood Association and other organizations. Many academic departments were involved."
Many of these neighborhoods and organizations are part of the 49507 zip code. According to US Census Bureau data, the percentage of residents in the 49507 experiencing poverty – 26% — is twice as high as the poverty rate across Michigan. The median household income in the 49507 is about $16,000 less than the median household income across the state, and the percentage of people with a bachelor's degree or higher in the 49507 is 8% lower than the percentage of all Michigan residents with a college education. 
Around 2004, the grant money ran out, and while some relationships continued, many students, faculty and community members moved on. Partnerships came to "natural endings," according to Beversluis. 
Aspects of that time in Calvin's history remain, including the nursing department's involvement in the Burton Heights neighborhood and Calvin's establishment of the Office of Community Engagement within the academic division. "The partnerships did not fail, and the initiatives were not a failure," Beversluis told Chimes.
For Craig Mattson — communications professor and member of the research team — the story isn't quite so simple. "There's more than one story to tell here," said Mattson, whose scholarship focuses on predominantly white institutions like Calvin and their partnerships with Black and brown led institutions, including a "contested" yet "plausible" story about white flight. This narrative says that "Calvin has historically absented itself from engaging that predominantly Black and brown zip code." But he also acknowledges another narrative at Calvin. "There seem to be cycles of place-based investment… there have always been people who have wanted to connect what Calvin's doing with more local communities," Mattson said, "But for whatever reason, those initiatives crest and then fade." 
Focus groups
Whatever the case may be with Calvin's involvement specifically, LaShone Manuel — a member of the research team and career coach at Calvin —  noticed that, in the 49507, "there will be organizations or companies that will come and would hope to be a big help, but they would be there today and gone tomorrow." According to Manuel, who grew up in the 49507 and currently resides there, this leads to "trust issues." 
"You don't want to just go into a community and start doing things and I think that's kinda been the thing that's hurt people in the past," said Manuel.
In an effort to avoid this mistake, the initiative's research team designed a series of focus groups to communicate directly with the community about residents' needs and wants. These focus groups were held in partnership with community organizations, including LINC UP, Baxter Community Center, the NAACP, the Hispanic Center of Western Michigan, the Grand Rapids Urban League and the ICCF Community Homes.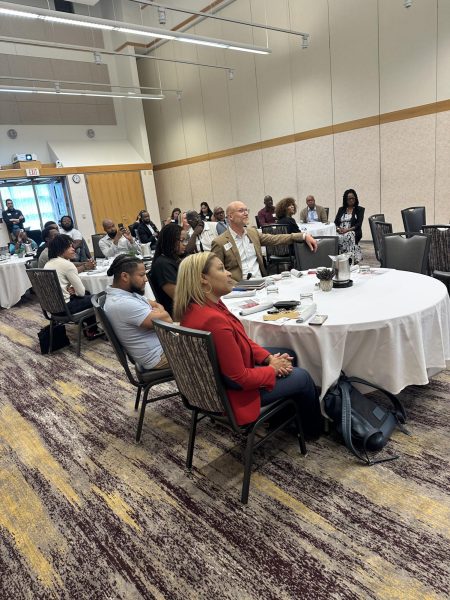 "Calvin doesn't have all the answers," said Kate Witvliet, a student working on the research team as the community liaison coordinator. "What I find beautiful about the initiative is the way it does partnership and the way it emphasizes listening to the community."
Five of the eight planned focus groups have been completed. Preliminary general trends among participant responses include an emphasis on the need for wrap-around services –– like childcare and transportation –– as well as short-term programs that are only six to nine months long, according to Anthony. Evening classes are generally the most accessible, and residents are looking for programs in the following areas: healthcare, technology, early childhood education, teaching and the technological side of manufacturing, he told Chimes.
"It definitely confirmed some things that we thought would be the case," Manuel said, and "we got new ideas as best ways to work and help."
After the eight focus groups are completed, the initiative's research team has four more community meetings where the data they collected will be shared with residents. The goal of these meetings, according to Witvliet, is to tell residents "here's what we learned, here's how we can proceed." The team will present this data to the Calvin community as well. 
These data presentation meetings are scheduled to take place between December 2023 and March 2024.
Next steps
In the fall of 2024, Anthony plans for the initiative to start offering unique learning options — hosted in the partner organizations' space — beginning with a pilot class of 10-15 students studying the Clemente Course program. According to their website, the Clemente Course in the humanities is a curriculum designed for low-income, non-traditional students to engage with literature, philosophy and other disciplines within the humanities. According to Anthony, this will earn students six to nine transferable college credits upon completion. Faculty from local colleges, like Calvin, do the teaching. 
"The goal is to have diverse faculty who are interested in teaching adult learners and who have a heart for community engagement and development," Anthony said. Some Calvin professors, including Eric Washington, will be teaching Clemente classes, as will two adjuncts from Cornerstone University. 
In the next few years, the goal is to inhabit a space in the 49507. "I think to show up would be a really big deal," Mattson said. Manuel added that "being there for the long haul" is essential to build trust. 
But beyond showing up and sticking around — or perhaps because of it — Manuel said she "would love for Calvin to have a different name, to have a different reputation, and to be that place that really does do the mission we say we do and for people in that area to know that," because growing up in the 49507, she never felt like Calvin was for her. "Calvin has been in the backyard but it was never a place that I wanted to go to, being a person of color, being a woman," said Manuel. 
Regarding the focus of this initiative, she said, "I'm loving the shift, I appreciate the shift, and I think that it has the potential to do some really great things."
Anthony agrees. "I think it will be very transformative. It's transformative work, right? It's building a culture of learning, building a culture of collaboration, building a culture of community that transcends political, ethnic, racial barriers…it allows us to live in this community of equity, this community of diversity, this community of belonging and inclusion."
Mattson and Anthony both hope that Calvin can be a pioneer in this place-based model of higher education. 
Mission-oriented
Building this kind of community is a part of Calvin's vision, according to Anthony and den Dulk. "We call ourselves to be 'trusted partners,' to 'promote the welfare of the city,' and to reach out to learners of all backgrounds," den Dulk told Chimes in an email.  
For Anthony, this initiative "is a Calvin thing. This is not a deviation of who we are. If you want to be honest, it's actually us living into our mission and vision…it's the lifting off the paper of those words."
Working with the 49507 Initiative has been transformative for Witvliet already. "I think this has been probably the most significant learning opportunity I've had during my time at Calvin," she said. "It's helped me think 'What does acting justly as agents of renewal mean in practice?'"