Season previews: Calvin sports kick off for the fall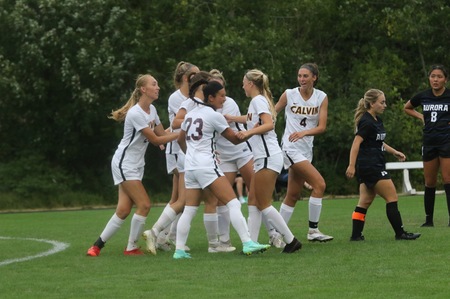 Cross country
The Calvin cross country teams will compete in a slate of meets during September and October up until postseason play, with MIAA championships taking place on Oct. 29 and NCAA regionals on Nov. 13. The men's cross country team enters the fall season ranked No. 15 nationally and No. 3 in the Great Lakes region in the national Division III coaches' preseason poll, seeking to defend its 2019 MIAA title after last years' cancelled season; the women's team finished second in 2019. The Knights began the 2021 fall season with the Knight Invite last Saturday, in which both the men's and women's teams placed second.
Golf
Calvin men's golf enters the fall season coming off of last year's campaign that was highlighted by three first-place finishes and seven second-place finishes in thirteen tournaments. The team started fall play this past weekend at the Lou Collins Memorial Tournament, tying for fifth place in a field of fourteen. The Knights will be back in action for most weekends and select weekdays in September and October, with Calvin hosting a fall MIAA tournament on Oct. 4 at Stonewater Country Club.
For the Calvin women's golf team, this season will be about "taking the next step," according to head coach Jerry Bergsma. "We've made some huge strides over the last four, five years in our program, and last year, despite the COVID challenges, was our most successful year in our program's history," said Bergsma. Calvin brings back a number of golfers from last year to this year's team, and will compete in six one-day conference tournaments this fall that will determine seeding and home-field advantage for the spring conference season. Calvin will host its fall tournament on Oct. 2 at Thornapple Pointe Golf Club. 
Soccer
The women's soccer team will look to carry its momentum into the fall season from last spring's MIAA tournament, in which it knocked off Albion and Kalamazoo on its way to the title. The Knights were picked to win the league this fall in the preseason MIAA coaches poll. "We appreciate the recognition from the coaches in the MIAA. There are a lot of good teams so the selection is not lost on us!" said head coach Emily Ottenhoff. "With that said, every season is different and we have a lot of work ahead [of] us as we prepare weekly to perform our best by the end of the year." As they seek to defend their MIAA crown, the Knights will have home field advantage against three of their top MIAA competitors, hosting Hope (Oct. 6), Adrian (Oct. 23) and Kalamazoo (Oct. 26) in critical late season matches.
After a series of fall scrimmages and an abridged spring season last year, the men's soccer team is looking to continue its run of thirteen straight MIAA regular season titles. The streak may be in jeopardy, however, as rivals Hope were picked to finish first in the preseason MIAA coaches' poll. The Knights were picked to come in second. Calvin has since started the season strong, with a 10-0 win over Grace Christian and a 2-1 win over Ohio Northern, while battling to a draw with Ohio Wesleyan. The Knights will host a couple more September matches before going on a five-game road trip to end the month. Back-to-back games against Hope and Kalamazoo (3rd in the coaches' poll) in late October could prove to be the difference in Calvin's quest to continue its conference dominance.
Tennis
The men's and women's tennis teams will face Cornerstone, Manchester and Anderson in non-conference matchups this fall as they prepare for the spring conference season. "The goals for the fall would be to really grow mentally, to have some really strong mental toughness and to grow as a team and a family, and try to bring both teams pretty close together heading into the offseason and into the spring season," said head coach John Ross, who coaches both the men's and the women's teams. The men's team returns a young core of players that went 6-6 last year, but finished the season with five wins in seven matches. The women's team comes off of a 6-7 season but will look to build off of a four-match winning streak in conference play last April, in which it beat conference opponents by a combined score of 34-2. After their fall matches, the men's team will kick off the spring season on Feb. 17 at Wisconsin Lutheran, while the women start the spring season with a March 30 conference match at Kalamazoo.
Triathlon
This fall will mark the third season for the Calvin varsity triathlon team, but "it almost feels like our second," said head coach Kattie Carpenter, referencing the fact that Calvin didn't compete in events last year because of COVID. Five athletes return from last year's team, including two who have been with Calvin since the program's beginning: Megan Schenkel and Paige Brodeur. The Knights kicked off the season Sept. 4 in the Pleasant Prairie Triathlon in Wisconsin, placing fifth out of nine schools. They'll compete in East Grand Rapids Sept. 11 in the Reeds Lake Triathlon, which features a swimming-to-biking transition by John Collins Park. Based on their regional scores, Carpenter is optimistic that the Knights will qualify for nationals, which will take place Nov. 13.
Volleyball
Calvin seeks its twelfth straight MIAA regular season title in a season that feels somewhat closer to "normal" than last year's campaign, in which the Knights competed in a shortened season but were unable to do much of the off-the-court bonding that is crucial to the program, according to head coach Amber Warners. "I love what we do on the court, but what we do on the court is not the same when we can't do the stuff off the court, so it's been a real joy to reconnect with our players in a deeper way than what we got to in the last eighteen months," said Warners. Last season was not unusual, however, in that the Knights continued their sustained success under Warners, going 9-1 and dropping only four sets all season. Calvin has stuck to its winning ways this fall, going 5-1 in its first six games. Conference play will begin Sept. 21, when the Knights host Olivet.
Leave a Comment