Coach Profile: John Ross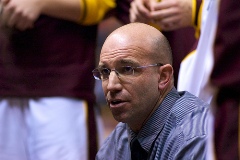 "Whatever you do, work at it with all your heart, as working for the Lord, not for human masters." This verse, Colossians 3:23, serves as the motto for John Ross, who is the women's basketball and men's tennis head coach here at Calvin.
Ross lives out this motto and teaches his athletes and students to embrace competition with full effort for God's glory. "As Christian athletes, we should give our absolute best in the pursuit of excellence. We should invest all that we are in doing the work before us. Why? Because ultimately we're serving God, the Audience of One."
This is not a new mindset for Ross, who was raised in the town of Manitowoc, Wis.
"Growing up, I was blessed to attend a Christian grade school and high school," said Ross. "Sharing and growing in my faith was similar to the experience we all have at Calvin College; however, I took for granted at that time of my life what a blessing it was to be fed spiritually every day by teachers and coaches who would lead daily devotions and prayers at school."
Since his arrival at Calvin 12 years ago, Ross has enjoyed the same freedom to express his faith to students and athletes, something he could not do in previous positions at the University of Wisconsin-Oshkosh and Eastern Illinois University.
"I went into my first meeting with the order of priorities that all my tennis players should have: relationship with Christ, family, academics, tennis, social life. The next day I was in the athletic director's office getting chewed out for bringing up anything with religion in it, much less to put it as a top priority over everything else. Ironically I can now use that order of priorities at Calvin."
Along with teaching physical education classes and coaching the men's tennis team, Ross has experienced success as head coach of the women's basketball team. The team has won six league championships with Ross' leadership, the first of these wins during his first season with the program in 2004.
"I have always been driven to have everyone in our program do the best we can do. Each year, every team has their seasonal goals and that varies from year to year based on talent. Success for my student-athletes at Calvin would be defined by seeing them have a fun experience playing college athletics, understand that while they are participating in athletics they are glorifying God, learning leadership responsibilities that will help them when they become a strong parent, and having them grow in their relationship with Christ."
Prior to this season, Ross held a 249-60 record and a .806 winning percentage. The team's current record is 21-0.
About the Contributor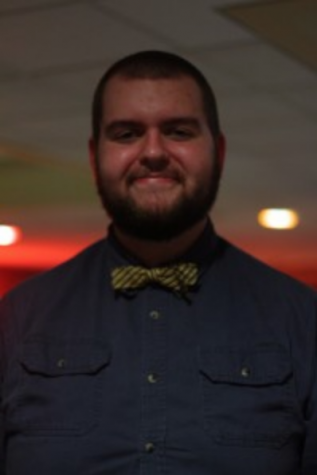 Mark Peless, Online Editor
Mark is the online editor this year, which means that he has control of everything that goes on the Internet. Last year he was the sports editor, so his...