Calvin not alone: Hope students rally to protest music faculty cuts, suspensions
Liberal arts colleges across the country are seeing drops in humanities enrollment, and both Hope College and Calvin College have recently made cuts to their music programs. This has led to unrest among some students, and recently, following the suspension of two professors, more than 60 Hope College students joined together on Thursday, November 8, to protest the recent changes in music faculty.
Jennifer Fellinger, vice president for public affairs and marketing at Hope College, confirmed two full-time music professors have been suspended but did not say why. Meanwhile, some part-time faculty members were not renewed for this past semester due to decreased enrollment and demand. Other faculty members' contracts were adjusted due to "accreditation requirements and enrollment needs," said Fellinger, while reassignments took place so that faculty members with tenure could maintain full loads.
Unanswered questions from administration about the recent changes and growing unrest among Hope music students led to the students organizing the rally.
"We have tried sending letters, emails and scheduling meetings with various members of the music department and school administration," said junior Noah Helmus, a music minor. "We were noticing no change in amount of communication and we decided that we needed to take further action, while still remaining civil and respectful."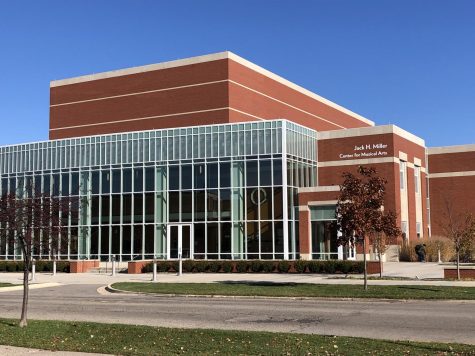 The group of students started at the Jack H. Miller Center for Musical Arts and from there went to the Pine Grove — an area similar to Calvin's Commons Lawn — as well as the school president's backyard. Students sang songs and held protest signs, some saying "#BringBackOurProfs." Many wore white tee shirts with the names "Richmond" and "Hudson" on them — the names of the two suspended full-time professors.
Most of the protesting students were music majors, noted Lian Robinson, a junior and music major, but there were some students outside of the music department as well.
"We are saddened by their absences in the department and are hoping for transparency between the administration and the student body," Robinson said. "As tuition-paying students, we ask for nothing but excellent teaching, yet with these changes taking place, we are not receiving the excellency we require."
The whole department is feeling the effects of the changes.
"In one way or another everyone in the music department has been affected by these sudden changes," said junior and music minor Ava Massarella.
Others are also getting frustrated by the administration's lack of transparency. A group of Hope College alumni and Holland residents are beginning a campaign — not directly connected with the music department's cuts — asking the Hope administration to be more transparent and accountable, according to Brandon Beebe, a Hope College alumnus and RCA pastor. The campaign will include, among other things, an alumni donation boycott, according to a Facebook post on the rally's event page.
Hope's administration has been meeting with students to discuss their frustrations, Fellinger said.
"College leaders have been meeting with several students — individually and as groups — to listen and respond to their questions," she said. "My understanding is there were many such meetings last week, and subsequently students have been accepting the invitation to engage administrators in dialogue."
She emphasized the school's full support of students' ability to protest.
"The administration fully affirms and supports the students' right to express their opinions freely and respectfully on campus," she said.
Despite fears about a de-emphasis on the arts, Fellinger confirmed that Hope still remains committed to the music program.
Hope was the first private, four-year liberal arts college in the country to get accreditation in all four of the arts, Fellinger said, and the school remains invested in each of the programs.
The Jack H. Miller Center for Performing Arts — the building the students started their rally in — was a $35 million project, and the Kruizenga Art museum was a $6 million project, each completed in 2015, Fellinger pointed out.
"Hope College is fully committed to a vibrant, successful and sustainable music department that will continue to thrive well into the future," said Fellinger.
Not only was the suspension of the two professors concerning to Hope students, but the trend for cutting the arts due to enrollment decreases has been concerning to many.
"Arts are so vital for a liberal arts school," said Robinson.
Here at Calvin College, the music department — as well as other departments in the humanities — has also recently seen cuts. In 2015, three full-time music faculty members took voluntary buyouts, and were moved to part-time adjunct faculty members, along with two professors in the art and art history department, and two professors in the history department. The music education major was cut this past semester.
"The decision to close the music education major is regrettable but necessary given the significant decline in numbers of students entering that program over the last several years," said professor Steele, co-chair of the Calvin music department.
Many colleges are seeing lower enrollment numbers in the past couple of years. Calvin saw a decrease of 108 students between the fall of 2018 and the fall of 2017, and a decrease of 186 students from the fall of 2016, according to Calvin's 2018 10 day report.
These lower enrollment numbers have been combined with lowered enrollment in the humanities specifically.
"Many small colleges (including Christian colleges) are facing enrollment challenges, and the arts and humanities are seeing significant declines nationally among liberal arts institutions," Steele pointed out. "I don't think the arts as such are in crisis, but there is an institutional crisis in higher education, partly resulting from the recession of a few years ago, which has forced many of us to rethink the place of the arts in general education as well as to come up with new models for arts major programs."
Between 2012 and 2015, the humanities as a whole has seen a 9.5 percent decline in awarded bachelor's degrees, according to data from American Academy of Arts and Sciences, although these numbers remain higher than years before 2005. Meanwhile, humanities share of bachelor's degrees as a whole went down to below 12 percent in 2015 — the lowest it's been since all humanities degrees have been accounted for in 1987 — compared to 37 percent in the sciences.
At Calvin college, the amount of music majors — including both music and music education — has gone down from 70 students in fall of 2014, to 42 students in fall of 2018, according to data from Calvin's 2018 10 day report.
Calvin has been working to respond to these new challenges by encouraging students to participate with the arts in many ways, said Steele, whether it be double-majoring or just participating in the arts. There is still a strong interest in the music programs, and Steele said "enrollment in music lessons and ensembles has been encouraging."
"We have some very talented students here, including both majors and non-majors, and so there is excellent music making going on across the whole department," he said. "I am really pleased to say that, on the whole, the music department is actually doing pretty well right now."
The way things have been done in the past in the arts may no longer work, Steele pointed out, but a commitment to the arts at both Calvin and Hope remains.
"I'm pleased that Calvin College is on a path to creating sustainable arts programs," Steele said. "I'm hopeful that as part of this we will continue to teach the teachers of future generations, but we'll have to come up with new ways to do that."
Leave a Comment