Art, music, history faculty take voluntary buyouts
Three of Calvin's academic departments are adapting to smaller full-time faculty numbers this year after seven professors took the voluntary buyouts offered in May. The buyouts were an attempt to bring the numbers of faculty members in these departments closer to those recommended by the prioritization plan that was approved in February 2014.
In the music department, professors David Reimer, Charsie Sawyer and John Varineau accepted the buyout and will no longer be full-time faculty members. The art and art history department is losing Mandy Cano Villalobos and Adam Wolpa, and James Bratt and Daniel Miller are leaving the history department.
All three music professors, in addition to Cano Villalobos and Miller, will continue to teach in reduced roles as adjunct faculty for the fall semester.
As he continues to direct the orchestra and teach clarinet and music appreciation, Varineau expressed a desire that "students won't really see a difference."
Varineau said he took the buyout primarily because he was the only non-tenured full-time professor in the music department.
"If tenure means anything at Calvin College," Varineau said, "and there are [future] non-voluntary reductions in the music faculty, then I will be the first to go whether I like it or not."
Varineau mentioned that the security of his continued employment as the associate conductor of the Grand Rapids Symphony also contributed to his decision to take the buyout. For his colleagues who are mid-career, however, Varineau emphasized that this was a difficult time to be searching for academic employment.
Art and art history professor Craig Hanson, who did not take a buyout, said there is a sense of "dissatisfaction and frustration" in his department with the circumstances surrounding the buyouts, but that it wasn't aimed "at a person or even at administration."
Both Hanson and Varineau are worried by the increasingly apparent use of numbers to justify the existence of classes, programs and departments.
Hanson said that the college needs to move beyond "the general anxiety about which programs will be around and where the cuts will be. To use President Le Roy's words, you can't thrive in a climate like that."
Varineau was critical of a general trend in higher education that he sees being reproduced at Calvin:
" […] Around the country, music departments are facing real pressures as colleges and universities gravitate more to 'business practices' where spreadsheets are becoming more and more important."
According to Hanson, a long, gradual decline in student enrollment in art and art history classes as well as the number of majors is a significant contributor to the department's current struggle. As solutions, he proposed focusing on gaining double majors and minors in the art department, and he said that making some of those changes a few years earlier may have helped the department avoid the situation it's now in.
"I think we're fighting against a kind of cultural position that somehow the arts are a luxury we can't afford in a tough economic climate," Hanson said. "We in the art department could not disagree more profoundly with that presentation."
Hanson also expressed the concern that members of these departments have had since the buyouts were announced in May—that tough decisions resulting from the budget crisis could threaten some of Calvin's core values.
"At some point," said Hanson, "I think the college generally has to confirm its commitment to the liberal arts orientation, and if that means that some programs are never going to be as profitable as other programs, then so be it."
About the Contributor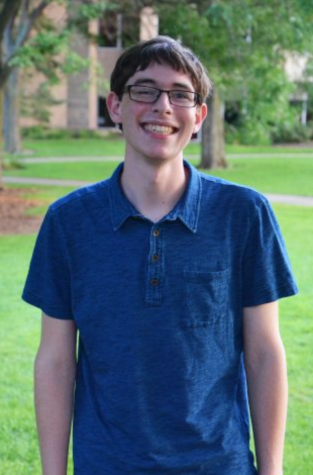 Josh Parks, Editor-in-Chief
Josh Parks is the Editor-in-Chief of Chimes this year after rising through the ranks as a copy editor, religion editor and then print editor. He's a...