History of dance on Calvin's campus
For nearly a century, dancing was not allowed on Calvin's campus. Today, dancing is celebrated widely across Calvin, as a form of art, a means of self expression, and as a way to let loose after a long week's work.
Permission to Dance
Dancing was not allowed for almost 100 years after Calvin was founded — at least on campus. Dance was seen by the Christian Reformed Church (CRC) as "fundamentally immoral" because of "the close physical contact between the sexes," according to Synod, the clergy of the CRC, in its 1928 "Report on Worldly Amusements."
It was not until the late 1970's that Calvin allowed dancing as a social activity on campus and asked Synod to respond.
"It is biblical and therefore fitting that God's people use appropriate liturgical dance forms for the expression of their deep feelings of praise to their God," Synod concluded in their "Acts of Synod" report in 1982.
They determined that recreational dance, however, would be more challenging to maintain in a way that is glorifying to God.
"While many of these dances present positive potential for the expression of genuine artistic skills," says Synod, "they also present negative potential. They can be, and often are, deliberately sexually suggestive." For this reason, Synod said that Christians should practice this type of dancing with "genuine Christian maturity."
In order to assure that the guidelines put in place by Synod were followed, Calvin formed a student dance committee. According to a Chimes article from 1990, this committee was in charge of all on-campus dances at Calvin, including banquets, fundraiser dances and dances put on by clubs.
This team was also in charge of discerning what music was appropriate for dancing according to Synod guidelines.
At the time Calvin was one of the leaders in the movement for allowing on-campus dancing, and paved the way for many other schools, such as Dordt, to allow dancing on their campus as well.
Dance guild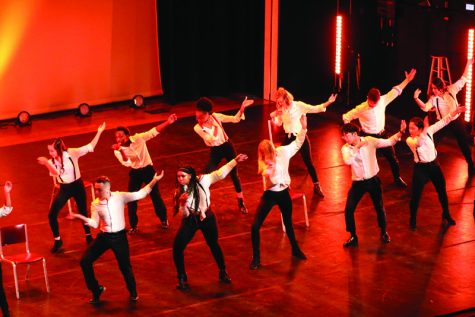 Dance Guild was founded in the spring of 1971 by then Calvin student Hannah Van't Hof. Starting as a group of around six students, Dance Guild has transformed over the years into a thriving community, with upwards of 200 students in recent years.
Dance Guild is separated into different dance groups based on style and level of experience. There are three levels: guild, advanced and audition. Each level has groups in different styles, ranging from hip-hop to modern.
"I love coming and taking dance classes, but still being able to perform," says senior Rachel Knox. "A lot of times when you get out of high school you might still dance, but there are a lot less opportunities to go and do a show."
Dance Guild has an annual showcase each semester, where the groups get to show off what they have been working on.
"For me it's the community," says first-year grad student Eleosa Chong. "It's about meeting every week with the same group of people and forging new friendships. It's something you can look forward to every week." Members of Dance Guild meet once a week to rehearse.
Dance Minor
For students who chose to pursue dance in their careers, Calvin college has offered a dance minor program since 1998. These students will still have to fulfill their liberal arts requirements, as well as choose a separate major.
Some of the courses available to the dance minor include creative dance, dance composition and performance. Dance minors from Calvin have gone on to become dance instructors, dance therapists, performers, choreographers and more.
"I've been a dancer my whole life, since I was about two years old, and I didn't want to stop doing it," says first-year student Hannah Denbow. "I have a passion for it, and I hope to teach dance after college someday."
Rangeela
Another opportunity for students interested in dance at Calvin is the annual multicultural showcase Rangeela. Rangeela is a showcase of music, dance and skits put on by students from all different cultural backgrounds.
Rangeela started in 1996, and there has been a spring show every year since. Students who dance in Rangeela perform traditional dances from varying countries around the world, as chosen by the Rangeela leadership team. Rangeela's goal is not only to entertain the audience, but also to educate them about different cultures.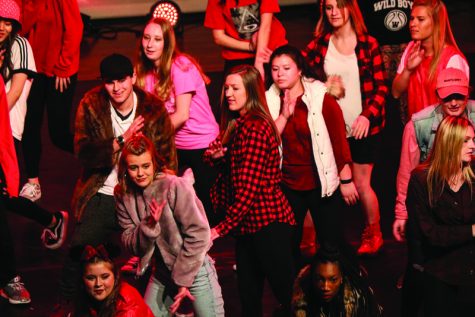 Swing Dance
In the past decade, swing dancing has risen to popularity as a form of recreation, both on and outside campus. Every Wednesday, Calvin hosts the Grand Rapids Original Swing Society (GROSS), and offers a night of dancing to students for five dollars.
The location changes weekly based off weather, but it is typically done outside of the chapel. Many Calvin students also enjoy going off campus to swing dance; GROSS hosts a social dance every Tuesday night at spots throughout the city.
"What I really love is that anyone can swing dance," says senior Casey Turtle. "The turns are simple enough if you take the time to learn them, and it's okay if you don't have the best sense of rhythm because chances are your partner will! If you want to relax and meet new people, downtown swing is great!"
Turtle started swing dancing his sophomore year after watching a Dance Guild performance which included swing dance.
"[I] loved how swing really stuck out from the rest of the dances. I loved how it was a mix of lifting, aerials and stunting, while still having the beauty of ballroom dips and spins," he said.
Dance Marathon
The Miracle Network, which has been putting on dance marathons since 1991, held its first ever dance marathon at Calvin college in the spring of 2018. The Miracle Network organizes fundraising dance marathons across 300 college campuses to raise money for children in local Miracle Network Hospitals.
For Calvin, that hospital is the Helen DeVos Children's Hospital. Although the dance marathon is only one day of the year in the spring, a group of Calvin students works all year round working to raise money in preparation of the marathon. On the night of the event, students stand and dance for six hours to raise awareness and funds for those who can't.
Dance at Calvin has come a long way from not being allowed to becoming an essential part of campus life. As Turtle puts it when talking about swing, it is "a fun and exciting way to get away from the stresses of school and learn something new."