Worldwide Connections: International relations group for Korean Students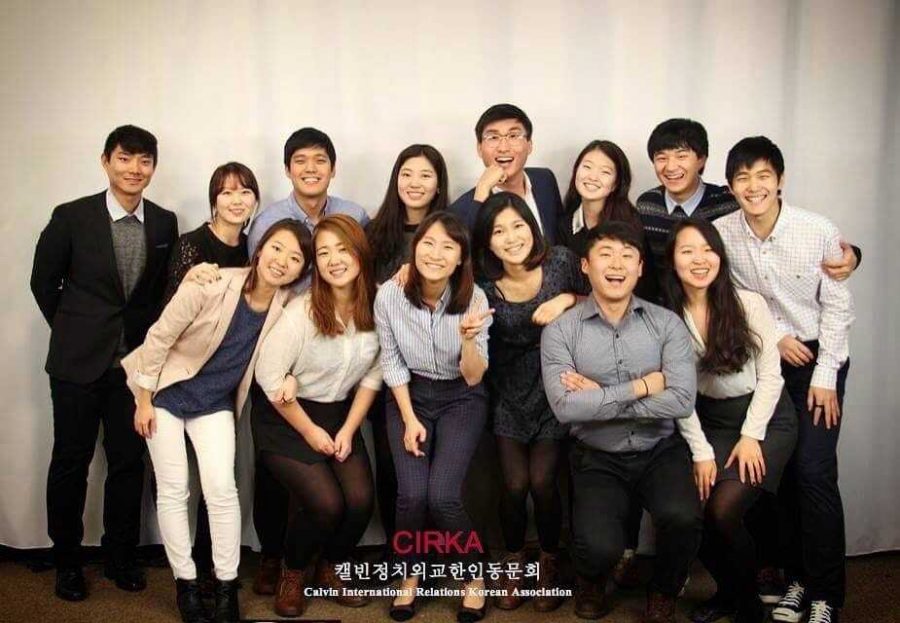 There are many resources for student support and mentoring at Calvin; however, one specific group for international relations majors is a very unique opportunity and resource for Korean students.In 2013, a group called Calvin International Relations Korean Association, or CIRKA, was formed.
Members of the group consist of both current Calvin students studying international relations and alumni who graduated with that major. The group has grown over the years and now has 41 members as of this year.
At the beginning of each school year, the current members invite all of the Korean first-year students to a welcoming event as a part of the Korean Student Association, better known as KSA. During that time, they place the students into groups based on what their majors are. This is the main way that the Korean international relations students meet each other and first connect. Some may also be introduced to the group through connections they have within their churches or people they know.
"When you first start college you're just figuring things out and don't know what's going on," said junior Purun Yeo, a current student in CIRKA. "I felt really welcomed by them."
Not only is this group a great way for the students to meet their Korean peers who share the same major as them, but they are also able to connect with alumni who studied and possibly work in their field of study. Many of the alumni currently work for international organizations and others have other occupations such as lawyers. Some of them are working on their master's degree or Ph.D. in international relations.
Daniel Kim, an international relations alumni from the class of 2014 and member of CIRKA, commented on how those connections are beneficial to the current students studying international relations:
"Our members live in many different countries but help each other through this group by giving advice on job interviews and grad school application, providing connections, sharing information about IR-related events or affairs and more."
These worldwide connections with alumni give students extra help as they navigate their way through college and their international relations major.
"IR is such a broad subject, and students find it hard to figure out their callings," said junior Chanmi Moon, a student member of CIRKA. "The alumni sharing information and visions with us help us to define our jobs and base for our major."
The students within the group share international relations related events and affairs along with notes and textbooks among each other and study together as well. They also receive help from the alumni and fellow students with things like registering for classes and with homework for their shared classes.
There are great networking opportunities and support and encouragement for the international relations students through CIRKA. Along with those empowering connections, friendships and a sense of family and oneness is built among the students and alumni.
"My freshman year we had a Christmas dinner," said Yeo. "It was good because my parents were in Egypt and I couldn't go home for Christmas. It's like having family here and people who care about you and are there for you."
For Yeo and other students like him, these gatherings and events are a way to find meaningful connections and others who will stand with them.
CIRKA meets, in full, two times per semester in Grand Rapids and then once in Seoul, Korea, during the summer. Due to the number of alumni living in many different places around the world and students studying abroad for their college courses, they also have other meetings, both big and small for those people.
Those alternate gatherings happen in locations like Washington D.C., London and Geneva. This allows members who are not in Grand Rapids to stay in touch with everyone and reconnect from wherever they may be during those times.
"We share our thoughts and visions for the world in order to help each other find our own callings and what we should do as Christ's agents in the world," said Moon. "We share the same hope for the world and we keep praying for this world together and find new ways to serve our local community too."
They think about the reasons they have for studying international relations and how that impacts both them and the people around them as well as the world.
"During our discussions, we talk about all kinds of politics," said Yeo. "That includes Korean politics but also things within the United States and other countries too."
Students in CIRKA serve their communities, including the Calvin community and student body, in many different ways. Some of the current student members have run for or are a part of student senate. Others work as leaders for student organizations on campus. Each person finds their own unique way to serve the Calvin or local community.
"I hope that CIRKA will continue to grow as a community that stretches good influence in and out of the campus," said Moon. "Through sharing ideas we hope to develop our passions and visions towards the world and be equipped to be used as Christs' agents to serve God's people and nations in various forms."