ROTC
It's 6:15 a.m. The sun is rising over the horizon, the birds are chirping and most of Calvin's campus is asleep. For cadets in the Reserve Officer Training Corps (ROTC), however, their day is about to begin.
The ROTC is a military program for undergraduate students that focuses on transitioning students from civilian life into a soldier's life while balancing their personal, scholarly and leadership dimensions.
"It's about training and developing people into leaders who will be successful as future army officers," said Matthias Struble, a recent graduate from Calvin and a graduate of the ROTC program.
Upon completion of their undergraduate degree and military science classes, cadets receive a commission as a second lieutenant in the Army. The Army means active army, National Guard or Army Reserve. Students may choose which path to follow depending on what their goals and desires are upon graduation, according to Brett Johnson, the ROTC Enrollment Officer.
Calvin does not have its own ROTC program; it's a satellite program run through Western Michigan University (WMU). The cadets take classes and labs at WMU and then have physical fitness at Calvin three times a week.
Currently, there are 30 cadets in the Grand Rapids program. Most of the four-year schools in the area are affiliated with the Bronco Battalion. This year's program has cadets from Calvin, Hope, GVSU and GRCC.
Having students from all different schools gives cadets a way to build community with other universities. "We play sports together on the weekends. We like getting together and going out together," said Struble. "It's interesting to see the different cultures of the different universities that these students come from. Listening to them talk about their classes and their professors, it's awesome."
The schedule of a cadet in the ROTC program is, according to Struble, "really busy." Cadets usually spend around six hours in military science classes and labs on top of having physical training three times a week at Calvin's athletic center.
"The classes usually cover different leadership theories, basic army tactics, counseling forms, basically a lot of the mechanics that goes into being a successful officer in the United States Army," said Struble.
The labs are just like any other subject: a place to apply what you've learned in class to the real world. "We'll go out into the woods with rubber M16s and simulate different tactics or we'll run a platoon operation mission," said Struble. "Or we might go over our annual sexual assault prevention training."
In addition to academics, MS IVs have weekly training meetings at WMU's main campus in Kalamazoo where they go over plans and talk about what's coming up for different classes and training.
Though it may seem like all their time may be spent at training and ROTC classes, the cadets are students first and foremost. "ROTC isn't the Navy SEALS. It's not Army Rangers: College Edition," said Struble. "You're very much still a student while you're participating in ROTC. In fact, one of the biggest performance indicators for cadets in ROTC is their GPA and also extracurricular activities that they do at their universities."
Being a full-time student as well as a full-time Army ROTC cadet is time consuming; students need excellent time management skills to juggle all their responsibilities. "Sleep," Struble said, "is one of the most important components to being successful. If you don't get the right amount of sleep you need every night, you're going to have a hard time getting up and going to the places you need to be."
Another facet of being successful is working ahead on schoolwork: "You have to get your homework done early," said Struble. "It's an absolute must that you get it done the day before or even the day before the day before or else your obligations in your classes and ROTC will just keep piling up."
Though it may seem like an insurmountable goal, the program is committed to work with students to get them where they need to be: "They still understand that this is a lot of responsibility for students … I've seen a lot of students slip up or not be able to meet their obligations and I've seen, through corrective counseling, that student work with our professor of military science and really get their life back on track," commented Struble.
The reasons to join ROTC are as various as the number of people who join. Some, like Struble, join for the education benefits: "I loved going to Calvin so much but I couldn't keep up on the payments," he said. "So, I was seeking alternative options to pay for my education and ROTC was one of them." Struble eventually received the full tuition scholarship after being contracted.
Others join for the leadership opportunities.
"What I hope students gain from our program, whether they complete the program or just take a few classes, is that they develop as leaders and gain self-confidence," said Johnson. "The leadership skills that students gain through our program apply not only to the military but in the civilian sector as well."
In addition to leadership skills and education benefits, students also benefit from the community, according to Struble.
"That's what the Army comes down to at the end of the day. It's teamwork," he said. "Being able to get everybody on the same page, being able to unite everybody towards a common goal. It's about building teams. I've made friendships that I know will last me a lifetime."
Though the ROTC has been beneficial for students like Struble, it doesn't mean that the program is for everyone.
"Waking up at 5:30 in the morning is not a college student's cup of tea. The only person I know that really does wake up at 5:30 in the morning is my grandma," said Struble. "I wouldn't be waking up [that early] if I didn't have to."
Apart from the physical demands, cadets have gotten negative reactions from other students on campus.
"A guy asked me if he started reading the Qur'an in front of me, I'd do something violent," Struble recalled. This incident, as well as others, is not uncommon when the cadets are in uniform.
"Someone once asked me if they had a military base here. I said no. They were like 'I don't know what the army is doing at Calvin, then.' And I was like, well, we have classes here, we're still students. And then he accused me of being brainwashed," he added.
Struble attributes these reactions to people's misinformation: "The army is not always about killing, it's not always about going over to foreign countries and imposing this or that," he said. "It's not about that at all. It's about development, it's about building, it's about achieving a common goal."
The ROTC is not an elite club that you have to be a certain kind of person to join. "We don't expect people to come in like Spartans and be ready to go, hit the ground running," said Struble. ROTC events are open to everyone who wants to know what it's all about: "If you show up to something we're doing, we won't whip out a form for you to sign and ship you off to basic. That's not what we do," he added.
Cadets encourage students to come out and watch a few physical training sessions or sit in on some classes to see if it's something they want to do. "There's nothing else like it," said senior cadet Mark Bosscher.
"My favorite part of the program is watching students grow, develop and mature," said Johnson. "It is an amazing transformation that takes place over the course of four years and the pride of accomplishment that you see in their faces when they graduate and commission is phenomenal. I like to help students achieve their goals."
About the Writer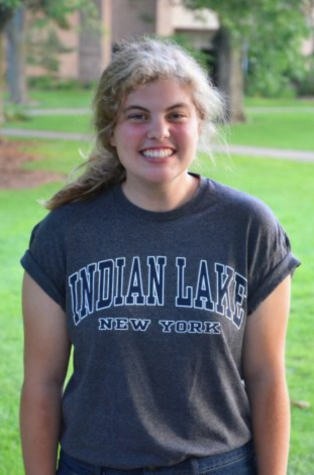 Maddie Hughey, Print Editor
Maddie Hughey is the print editor for the 2016-2017 school year after having been campus co-editor, on-call writer and staff writer in years past. She...