Uptown anticipates annual Holiday Shop Hop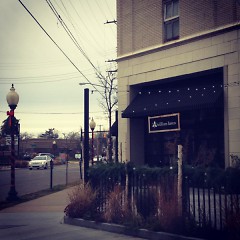 Frosted windowpanes, twinkling Christmas lights, evergreen garland hung like lush green waves. Long coats, clouds of breath hanging in the air like frozen moments and thermoses of steaming coffee and tea. As the brisk air of December envelops Grand Rapids, the communities of Uptown prepare to celebrate the anticipation of the holidays through the annual Holiday Shop Hop event.
With special events, promotions and sales, the Dec. 6 event expects large crowds in Uptown. Shop Hop encourages the support and awareness of local businesses through the business districts of East Fulton, East Hills, Eastown and Wealthy Street.
Tree Hugger, Uptown Kitchen, Urban Exchange and Trillium Haven are four of the dozens of shops, restaurants, and specialty stores opening their doors for this year's Holiday Shop Hop.
Tree Hugger, located on Wealthy Street, is a shop carrying organic, recycled, locally made and fairly traded products. Angela Topp, owner of Tree Hugger and member of the Shop Hop planning committee, is excited to be part of the holiday event.
"When I opened my store last year, I volunteered to be on the committee," Topp said. "It helped me meet many business owners and help plan an event that supports local businesses."
Topp notes the increase in participation as well as the diversity of ages able to participate in the event.
"It is great to see how many more businesses are involved," Topp said. "We all join together and have one great night of food, drinks, shopping and specials."
Tree Hugger and other shops will serve sangria, wine or other beverages as well as hors d'oeuvres to the evening crowds.
On Fulton Street, owner Stephanie Johnson prepares her clothing consignment store, Urban Exchange, for the upcoming event.
"This event is a great opportunity for shoppers to visit stores that they wouldn't have normally visited and a great time for Uptown businesses to promote themselves," Johnson said. "In addition to being a promotional event, Shop Hop is a celebratory event that demonstrates unity amongst the small businesses within Uptown."
Kelly LeCoy, a Calvin alumna and owner of Uptown Kitchen, is equally excited about the communal aspects of the event.
"It unites all of the individual business districts that comprise Uptown for a festive night of shopping," LeCoy said. "It brings a lot of new and familiar faces to the neighborhood for the evening. I think it is a great reminder to support your local business."
In addition to supporting local businesses, LeCoy strongly advocates for locally sourced food.
"The event will be a great opportunity for Shop Hop goers to meet the producer they're purchasing from and sample a bunch of wonderful artisan foods," LeCoy said. "Since Uptown Kitchen doesn't have a storefront, we are hosting the Grand Rapids Food Bazaar as a way to participate in Shop Hop."
Christopher McDonald, owner of farm to table restaurant Trillium Haven, described the hospitality his restaurant will offer to Shop Hop attenders.
"We are listed as a warming zone for the Holiday Shop Hop," McDonald said. "We are going to be offering complimentary homemade donuts and hot apple cider."
Free shuttles will be provided during the 4-10 p.m. event.