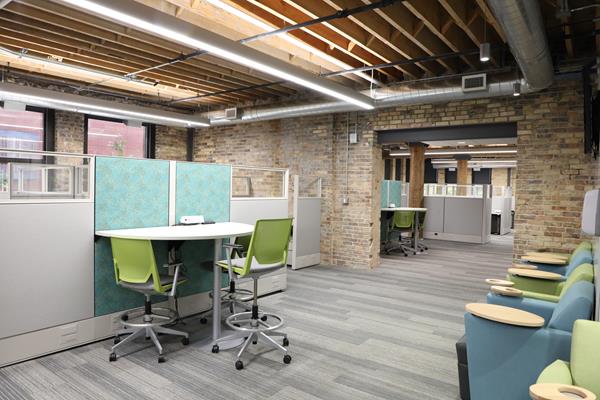 Gentex — a company with over 60 current or former employees who are Calvin alumni — has recently opened a tech hub in downtown Grand Rapids with the aim of attracting talent from the area.
The Gentex Corporation –– a publicly traded company based in Zeeland, Michigan –– specializes in the design and manufacture of electronics and various technologies. Gentex's products are used in the automotive, aerospace, fire protection and medical industries. 
The tech hub is located on the second floor of 25 Ottawa Ave. SW – right underneath the walkway connecting to the Van Andel Arena. The office space will house new employees from the Grand Rapids area, primarily those working in Gentex's software and engineering divisions.
Alongside the downtown office, Gentex also opened a production facility in the vicinity of the Madison Square neighborhood in May. Gentex is an employer of choice in West Michigan, especially for Calvin students and alumni, according to Calvin's website. Additionally, the company donates money for Calvin scholarships.
The opening of the new tech hub is "a huge win for Gentex and ideally for Calvin students as well," said Philip Johnson, a business professor at Calvin and former employee of Innotec, another Zeeland-based company that pioneers technologies in similar fields.
"Because anytime you have new jobs being created, whether it's in tech or production or wherever, that's opportunity –– opportunities for our students to go full time. But I'd say, even more importantly, [opportunities] that get into an easily drivable distance [with] internships and part-time jobs." 
The move is not only positive for Calvin students, Johnson said, but it is also advantageous to the company.
"The goal is to just expand the ability to attract and retain top engineering talent," said Craig Piersma, vice president of marketing and corporate communications at Gentex. "And I think that makes it a win-win because people can still have that urban life and setting, [as well as] work in that environment, yet also be connected to this mothership [Gentex's headquarters in Zeeland] that has a lot of resources."
Additionally, Grand Rapids is home to several colleges, including Calvin and other small schools, as well large universities like Grand Valley, Michigan State and Central Michigan University. The move would not only give Gentex wider access to a production labor force but also young talent from schools with a local presence.
"If people after graduation [had] a degree in software or electrical engineering and said, 'boy, I'd love to live downtown, not have a commute, and have a cool space to work' then it would definitely be the right thing for Calvin grads," said Piersma.
"A lot of talent for some of the stuff Gentex is making would prefer living in a more urban environment, walkable communities, those sorts of things,"  Johnson said.
The move is part of a wider trend of a growing technology industry in Grand Rapids. Gentex's new space was formally opened during Tech Week Grand Rapids, a large multi-day event showcasing the latest tech from local companies and fostering discussion about trends in the tech industry. The organization responsible for coordinating the event, The Right Place, is set on attracting tech companies to the Grand Rapids area in order to make it the Midwest's regional tech hub within the next decade.