Grand River cleanup a success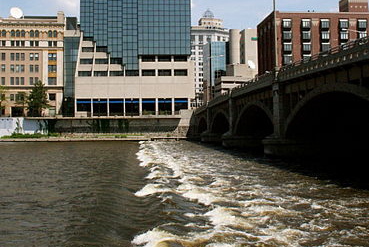 More than 600 college students, children and adults of all ages gathered at the Sixth Street Park in downtown Grand Rapids to participate in the ninth annual Mayors' Grand River Cleanup on Saturday, Sept. 15 at 9 a.m.
Volunteers scoured the riverbank of 12 miles of the Grand River in Grandville, Walker, Wyoming and Grand Rapids. Other participants also cleaned up along parts of Plaster Creek. Participants in the event collected at least 20,000 pounds of trash, according to mlive.com.
Mayor George Heartwell of Grand Rapids spoke and told the crowd he was "astounded" by the number of people who came out.
According to the mayor, 8,000 pounds of trash have been collected over the past years of the event, and participation has increased substantially, from fewer than 100 people in 2004 to 600 people this year.
At the park, 450 pre-registrants picked up a packet with a T-shirt, gloves and a clear plastic bag for recycling. Those who signed up less than a week before Saturday did not receive a T-shirt because of short supply.
Dan Schoonmaker, the communications director of the West Michigan Environmental Action Council (WMEAC) and one of the event coordinators, said they had planned for fewer volunteers when he addressed the crowd shortly before 10 a.m.
He was excited for the increase in interest. "We're going to clean up places we've never cleaned before," Schoonmaker said through his megaphone.
After listening to instructions on what to put in the orange trash bags and what to recycle, drivers bused the volunteers to different parts of the Grand River to clean up for two hours. Originally, eight school buses were chartered, but five additional buses were used because of the number of participants.
Heartwell of Grand Rapids was the only mayor present of the four cities, though it was named for all four mayors who sponsored the event. Local companies, including Steelcase and Davenport University, also helped fund the event.
Other sponsors, such as Founders Brewing Company and Coca-Cola Bottling, provided food and drinks for breakfast and lunch. However, coffee was in short supply during breakfast, and the pizza also ran out less than a half-hour after the lunch started due to the number of volunteers.
Calvin students and professors stepped out to do their part on Saturday. Professor Karen Saupe of the English department came with a group from her church. They took bus four to a section of the river by the border between Walker and Grandville and spent their two hours picking up litter that included Styrofoam, old tires, fishing equipment and a broken cell phone.
The boy who found the cell phone proceeded to pretend to call the mayor to order pizza. "Unfortunately, the mayor did not have a broken cell phone and did not receive the call," said Saupe.
Saupe would encourage Calvin students to give up a Saturday morning to participate in the years to come. "[The clean up] is a good excuse to get outdoors, make some friends and do something worthwhile," she said.
Calvin students don't have to wait long, though, to get outdoors and get their hands dirty. The Plaster Creek Stewards will be holding their fall event this Saturday, Sept. 22, at 10 a.m. in the Bunker Interpretive Center. Anyone interested should RSVP to Gail Heffner ([email protected]) and bring work gloves and a trowel on Saturday.