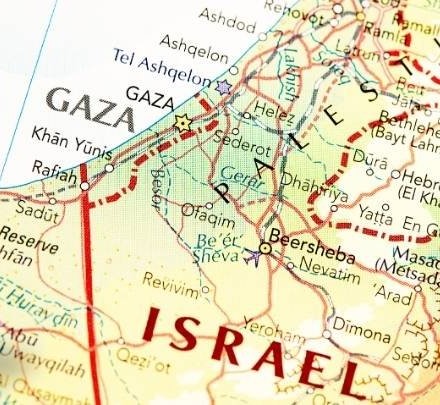 Since an initial attack by Hamas militants on Oct. 7, conflict in the Gaza Strip has escalated from rocket attacks and bombardment to a ground assault by the Israel Defense Forces (IDF) in Gaza. Thousands of Israelis and Palestinians have been killed.
Joel Westra, associate professor of politics, notes that in an asymmetric conflict such as the war between Israel and Hamas, civilian casualties are likely to be higher due to the use of tactics that blur the line between civilians and combatants. 
Student protests and university statements regarding the war have caused controversy on college campuses across the United States. The atmosphere of relative calm at Calvin is likely due to the fact Calvin has relatively small populations of both Jewish and Arab students, according to Westra and Frans van Liere, a professor of history who works closely with interfaith communities. 
The polarization the war has led to in American public life is "very worrisome" to van Liere because of its detrimental effects on interfaith understanding. "This is not just a religious conflict," van Liere said, "But one of the fallouts of the conflict is religious hatred, and that's what I find so concerning about this…People should be able to worship, whether that be in a synagogue or in a mosque, without having to deal with bomb threats."
For Jonathan Umran, an education major from Egypt, the pressure to have an opinion on conflict in the Middle East — which has "been around for our whole adolescence," he said — has been exhausting. "There's an element of frustration to the conversations that — so often as a Middle Eastern person — people approach conversation about these difficult topics with the intent of conflict and with the intent of probing for an opinion," Umran told Chimes. 
Rather, he said, "People need to not make it about themselves or what they think," and genuinely seek out accurate information about the historical context of the conflict.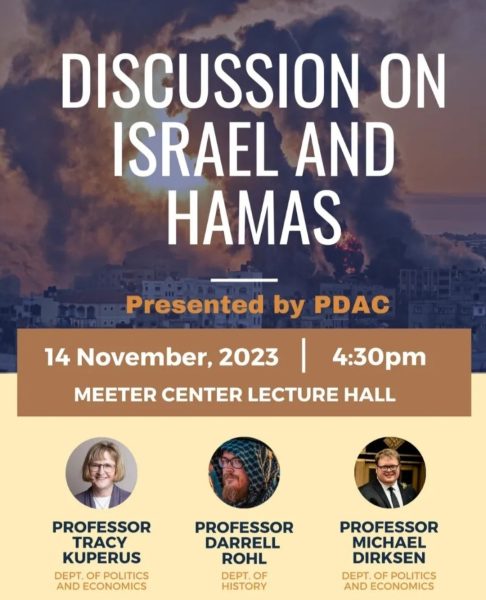 The Political Dialogue and Action Club at Calvin (PDAC) plans to host a panel and question and answer session about the war with Tracy Kuperus, Darrell Rohl and Michael Dirksen, professors of politics, history and politics, respectively, to educate Calvin students about the war. 
Rosie Niemeier, a senior and PDAC president, says the goal of the panel is to help Calvin students discern between the many competing narratives about the events of the war. Niemeier wants Calvin students to "think critically about what they're hearing in the news" and to listen to the perspectives of others.
To that end, Adham Rishmawi, a senior whose family lives in the West Bank, said Calvin students should engage in "discussing the root causes" rather than becoming "encapsulated by the byproducts of such a horrible conflict."
The impacts of the conflict are large, however. "There are a lot of pawns in this story… a lot of people at the mercy of people high up that are in conflict with each other. So there's a lot of people that are caught in the crossfire, and as a Christian, I think God calls us to love everyone, have a heart for everyone," Rishmawi said. "Everyone is hurting." Rishmawi is particularly concerned about economic impacts on his Palestinian family, however, and the potential for long-lasting impacts on tourism to Christian and Muslim holy sites within the West Bank.
Rishmawi recognizes the risks in supporting either side from the institutional level, and said he thinks that Calvin making an official statement on the conflict would run the risk of harming productive dialogue on the issue.  However, Rishmawi doesn't want Calvin to be neutral about the war. "If they're not going to [issue statements] at the institutional level, I would want them to empower students as much as they can," he said.
Calvin's institutional policy generally includes not releasing statements on "issues of the day" to allow students to think deeply and wrestle with many different topics. For that reason, the institution "see[s] the issuing of statements as less a conversation starter, and more a monologue." However, the university "may choose to exercise this right, but only on issues of education policy as it relates to Calvin or on public issues that might have a bearing on our students or our community life," according to Calvin's website.
Regardless of whether or not Calvin issues an official statement, Rishmawi said, "As an informed Christian Calvin student, I think it is within your obligation to have a Christ-like approach to these things, if not a political one." Rishmawi said, "Anyone can harbor that stance, regardless of what's happening… A heart for a human is a heart for anyone, it's not subjective."
More information about the war can be found in Calvin News' interview with Westra, and at the PDAC panel taking place on Tuesday, Nov. 14, from 4 – 6 pm in the Meeter Center Lecture Hall.