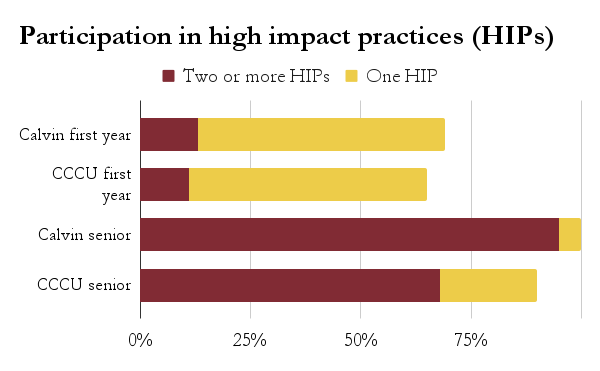 In 2023, Calvin participated in the National Survey for Student Engagement (NSSE)— which measures 10 Engagement Indicators and 6 High Impact Practices that have "all been positively associated with student success, retention and thriving" — for the first time since 2012, according to Laura DeHaan, dean for academic administration. 
The NSSE is one of the largest surveys that indicate student experience across their time at college; over 1700 colleges and universities administered the survey and in 2022 over 250,000 students completed it. At Calvin, 183 first-year students and 182 seniors participated in 2023 –– a response rate of 28% and 26% respectively. 
In order to measure the experiences of students across their time at college, the survey takes data from both first-year students and seniors about their opinions and experience with engagement indicators and high-impact practices that "represent empirically confirmed 'good practices' in undergraduate education" or "reflect behaviors by students and institutions that are associated with desired outcomes of college," according to the NSSE website. 
High-impact practices include service learning, research with faculty, study abroad, participation in a learning community, an internship or field experience or a culminating senior experience (like a capstone class, a senior thesis or project or a recital). 
According to this year's NSSE data, 95% of Calvin seniors have reported engaging in two or more high-impact activities, as compared with 68% of students at other institutions in the Council of Christian Colleges and Universities (CCCU). 
A study abroad experience is one of NSSE's listed high-impact practices; DeHaan said that according to NSSE data, Calvin student participation is still lower than it was pre-COVID, but Calvin is "bouncing back more quickly than our peers." 
Engagement indicators include academic challenge, learning with peers, experience with faculty, and campus environment; first-year Calvin student responses to questions in each of these categories and overall numbers regarding the first-year experience are rather high, DeHaan said. 
However, they are "about on par" with other CCCU universities. Given this, DeHaan told Chimes, "This year we have launched several initiatives (both academically and in terms of student life) and we are currently considering additional ways we can elevate our first-year student experience."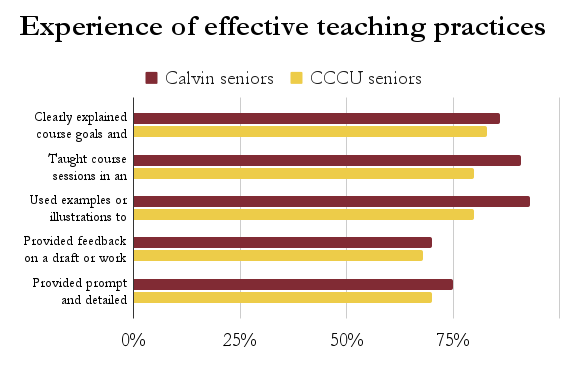 A significant number of seniors posted positive results in the "experiences with faculty" category. As compared to other CCCU universities, 7% more Calvin seniors said they have discussed future career plans with a faculty advisor, and 8% more have worked with faculty on activities other than coursework. In all five questions about effective teaching practices — things like giving feedback on drafts, using illustrations or examples to explain things and teaching courses in an organized way — Calvin seniors reported higher percentages than CCCU students, with responses to the latter two questions being 13% and 11% higher respectively.
"This [data] reflects the dedicated and committed work of our faculty to challenge and support our students," DeHaan said. "As an administrator, I know how hard our faculty are working, and it is so encouraging to learn that students also recognize and appreciate the efforts of our faculty."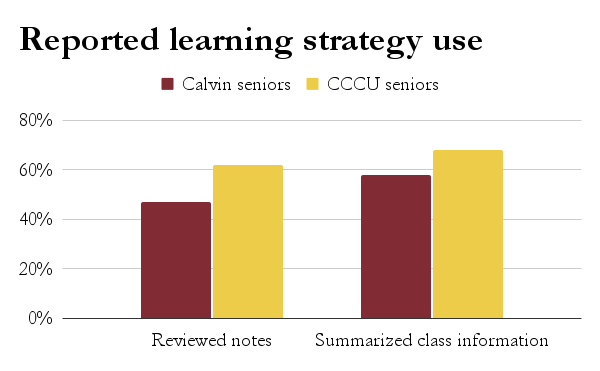 Despite high numbers regarding faculty engagement, effective teaching practices and collaborative learning, Calvin seniors report — as compared to other CCCU schools — low numbers regarding student learning strategies. According to DeHaan, this category is composed of three components: "identified key information from reading assignments", "reviewed notes after class" and "summarized what you learned in class or from course materials." Calvin students did rather poorly in the latter two categories. However, DeHaan said, "Since our students report grades that are comparable to their peers and rate the challenge of their courses as the same as or higher than their peers…we think that Calvin students must study in different ways, but these ways appear to be working for them." 
One final trend regards "discussions with diverse others." According to the NSSE snapshot, "Discussions with…People from countries other than your own" was in both first years' and seniors' five highest performing questions as compared to CCCU peers. 
However, "Discussions with…People with religious beliefs other than your own" was in both first years' and seniors' five lowest performing questions, as compared to CCCU peers. 
DeHaan and her team are planning to revive annual participation in the survey in order to "understand trends among our students, as well as identify areas to celebrate and/or attend to." DeHaan told Chimes.