The total number of students enrolled at Calvin University has increased for the first time in a decade, thanks to this year's strong incoming class of 1,111 students. 
This number includes students readmitted to Calvin and graduate students who have not yet started but are registered for Fall 23 Session 2.
The total student body has experienced a total growth of 4.2% with the total number of students in graduate programs increasing by 14.8%, and the total number of undergraduate students by 3.2%. 
General trends among this year's incoming class include an increase in international and in-state enrollment, a slight increase in the percentage of students involved in nontraditional learning paths and a much larger group of students who are in any college for the first time, thanks –– in part –– to long-term enrollment strategies.
Patterns of decreased student affiliation with the Christian Reformed Church and fewer children of alumni have continued. 
Strategy
Enrollment growth builds on multiple years of "diligent and strategic investment," Vice President for Enrollment Lauren Jensen told Chimes in an email. Over the last five years, Calvin — largely through the Global Campus –– has started multiple master's degrees and certificate programs. "These forward-thinking moves by the university have Calvin positioned well for this upcoming season," President Wiebe Boer told Chimes in an email.
Calvin's efforts to adapt to the changing landscape of higher education through diversifying the type of learner studying with Calvin bore fruit last year, with more than 14% of the total student body being nontraditional students. That percentage has gone up slightly this year as total enrollment numbers also increased. 
International student populations have increased this year as well. Nearly 20% of this year's incoming class are international students. That percentage includes both U.S. citizens living abroad — such as the children of missionaries and expats — and students holding international citizenship. Calvin also received applications from a record number of countries, Jensen told Chimes. 
Boer and Jensen credit the ongoing work of the international admissions teams, the work of the Center for Intercultural Student Development (CISD) and faculty on campus to provide support and positive learning experiences for international students and the power of Calvin students recommending the school to their peers and communities back home for this growth. In addition, Boer has traveled "extensively" in the past year "to make sure the communities we have students coming to Calvin from know how much we value them and their students," he said. 
On-campus prospective student experiences have changed too. The admissions team has developed an "enhanced visit strategy" for prospective students that included personalized experiences and grants for students who visit, Jensen said, in an effort to help students "begin to see themselves here."
Current and future strategies include continued expansion of Calvin's global reach to "new learners of all ages" while also "doubling down" on recruiting applicants in Michigan and West Michigan, according to Boer. Additionally, Boer said Calvin is "amplifying our efforts" in high schools from which many graduates have traditionally attended Calvin. 
As developing enrollment strategies "continue to take hold, we anticipate sustained growth in enrollment," Jensen told Chimes.
Demographics
(The number used for incoming students in this section of the story excludes readmitted students and graduate students registered for the Fall 23 Session 2 start.)  
While graduate and nontraditional learner populations expanded, so too did the traditional four-year undergraduate population, which is generally made up of first time in any college (FTIAC) and transfer students.
This year's ranks of students falling into the FTIAC category — which last year was the smallest it has been since data began being collected in 2006 at 630 students — increased by 16.5% to 734 students. 
FTIAC and transfer students compose around 80% of this year's incoming class, as opposed to around 74% last year. 
Nontraditional learners — graduate students, Handlon Campus students, and students in other learning paths like dual enrollment, Life and Career studies, as well as post-baccalaureate and non-degree seeking programs — make up this year's remaining 20% of incoming students. 
Incoming domestic students who identify as American or Alaskan Native, Asian, Black or African-American, Hispanic/Latino or multiracial compose 20% of this year's class, setting a record high over last year's 17.5%.
 As total enrollment, diversity, and international enrollment increases, the percentage of students who had a parent attend Calvin continues to decrease. Only 25% of the total student body has an alumni parent this year; last year that number was 29%. The incoming class is even more drastic, dropping nearly 5% from around 23% to about 18%.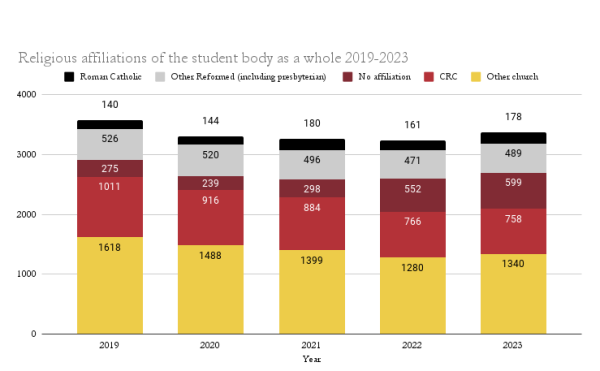 The percentage of Calvin students affiliated with the CRC church has also hit a new low for the second year in a row, dropping 1.2% from last year's 23.7% to this year's 22.5%. In 2006, when census data was first taken, almost 50% of Calvin students were affiliated with the CRC. Numbers have been declining since.