Calvin's Outdoor Recreation programs provide several options for Calvin students to build community with each other while spending time exercising and being outdoors. 
Campus Recreation Coordinator Ryan Rooks told Chimes that "any time in Campus Recreation that we offer a program for students, my goal is that it creates a small community that gets to come together a couple of times each week, gets to know each other well and work through a skill progression together."
Calvin's wilderness orientation — which allows students to complete PE credits on trips before their first year — is one of Outdoor Recreation's most well-known programs. 
Like many Calvin students, Mekaelah McClymont first got involved with Calvin's outdoor recreation programs through Wilderness Orientation, but soon discovered many more options for engagement in the outdoors exist. "After that, I dove headfirst into involvement with outdoor rec, from working at the rock wall to leading weekend trips to teaching kayaking classes in the pool —it was a blast!" she said. 
Other students get their start with outdoor recreation programming through Calvin's climbing wall. "So many people I know have gotten their start climbing at Calvin, not knowing anything beforehand," Ben Richards, the outdoor recreation ministry intern, told Chimes. "The best way to get involved with climbing at Calvin is to show up at the wall. No prior experience necessary!" 
Between 60 and 120 students use the climbing wall every day, according to Rooks. Open climb hours are a prime example of how outdoor recreation at Calvin "provides easy access to historically inaccessible exclusive sports," said Richards. 
"Even though there's lots of crossover between our climbing population and the Outdoor Rec programs, Outdoor Recreation at Calvin is a lot more expansive," Rooks told Chimes. Other options include free bike maintenance clinics on Tuesdays (4 – 5 p.m.), pool kayaking lessons and backpacking trips every weekend until early November. Gear for those trips, including backpacking packs, sleeping bags and portable cooking utensils can be rented from the university's gear cage. "If students want to camp or go backpacking on the weekend, every Monday and Thursday we have an outfitting center that's open from 4 – 5 p.m., and for a $25 subscription fee, a student can use gear for the whole year, " said Rooks.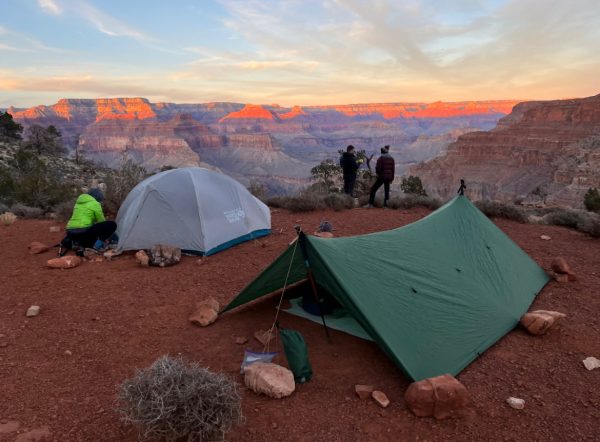 "I am so thankful for the memories I made doing Outdoor Rec programs during college, " McClymont told Chimes. "I am always blown away by the community that can form when people get involved in the programs offered! Everyone should try to do at least one outdoor rec program during their time at Calvin!"
The outdoor recreation team also runs a Bible study that meets on Wednesday nights at 7:30 pm. The location alternates between the Bunker Interpretive Center and the Campus Recreation Office. "The main goal is to provide a welcoming space for people who want to learn more about God through appreciation of recreation and nature," said Richards. 
Students interested in joining an event from Campus or Outdoor Recreation can stop by the desk at the climbing wall on the lower level of the Spoelhof Fieldhouse Complex, or reach out with questions to Ben Richards ([email protected]).