Did you spend time outside today? Calvin wants to make the answer an easy 'Yes!'
March 13, 2022
On a snowy day in his windowless office in the basement of North Hall, geology professor Jamie Skillen dreamed of being outside. Remnants of the spring break backpacking trip to the Grand Canyon from which he just returned littered his office as he told Chimes about the goal of getting students outside through Calvin's involvement with the Campus Nature Rx Network. 
The Network is made up of an increasing number of colleges – currently at 33 – around the United States with the goal of encouraging students to spend time outdoors as a way to promote holistic wellbeing due to the researched mental health benefits of spending time in green spaces. Skillen is passionate about the outdoors and sees Calvin's involvement with the Nature Rx program as one more way to share the lifegiving effects of nature with students who may not otherwise experience them. 
Besides teaching in the geology department, Skillen is the director of Calvin's Ecosystem Preserve. Thanks to his advocacy, as well as the work of Jeanette Henderson, the previous program manager at the preserve, Calvin joined the Campus Nature Rx Network January  2022 in an effort to better help students utilize Calvin's outdoor resources to promote students' mental well-being.
Mental Health on Campus 
Rates of anxiety, depression and other mental health disorders among college age students have been on the rise for years, and they continue to increase. Data from the State of the Student, a report compiled by Vice President Sarah Visser about student mental health needs, shows that visits to Health Services for depression or anxiety have increased. In 2018, visits for mental health concerns were the top reason for seeking care: totaling 1,795. In 2021, the number of visits to Health Services for mental health concerns rose to 2,916, outnumbered only by visits for COVID concerns. These numbers don't take into account work done by the Center for Counseling and Wellness, Residence Life or other mental health resources of which students may take advantage.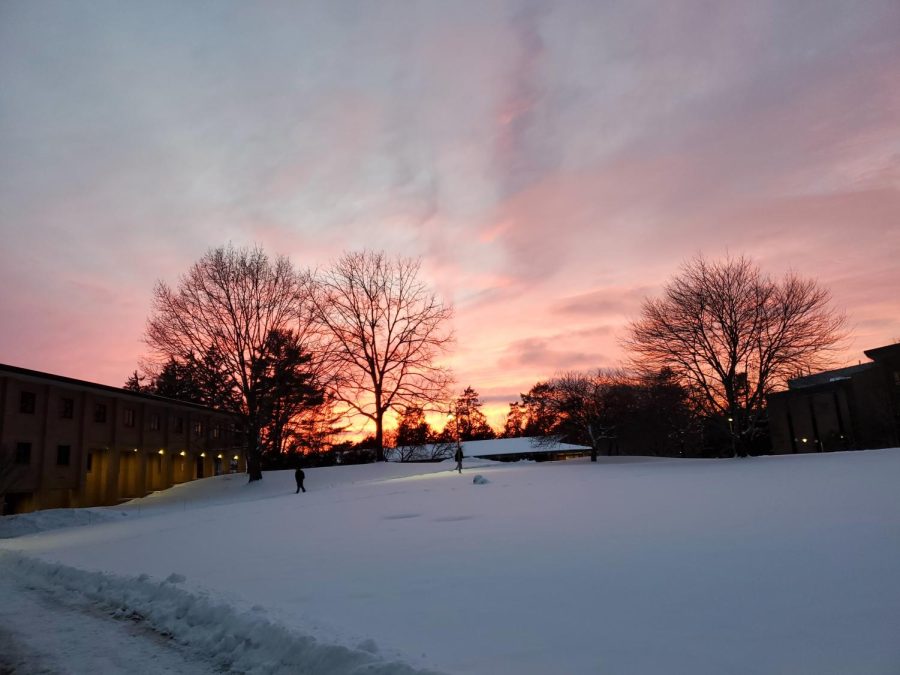 People across campus are taking steps to help remedy this problem. Calvin's Student Senate has planned a week of events focusing on mental health, branded as Uplift Week. From March 16-19, senate has scheduled a prayer event, yoga, a talk with CCW Director Irene Kraegel and Executive Associate to the President for Diversity & Inclusion Michelle Loyd-Paige, a student org soccer tournament, and more in an effort to bring awareness and support to mental health issues. According to Isaac Seiler, a senate member in the cabinet, this push was driven by Emmanuel Essien, Calvin's current student body president. Essien ran on a mental health platform and Seiler said Essien is "really excited and passionate about starting a conversation about mental health."
Additionally, Kraegel encourages students to access the resources available at the CCW. They have mindfulness groups, individual short-term counseling, peer support groups, workshops and more. Kraegel said the Center offers "a whole buffet of services, a whole mix and match kind of set," which means all kinds of students can get connected with the tools they need to succeed. 
Nature as another tool for health
According to Skillen, Calvin hopes to add Campus Nature Rx as another mental health tool to the toolbox to "increase the baseline" of students' mental health. According to the Campus Nature Rx website, "Research conducted for the book 'Nature Rx: Improving College Student Mental Health' revealed that a number of colleges and universities had turned to … time in nature to improve their students' well-being." This is for good reason, as Skillen said that the benefits of spending time in green space are well-documented. The network was founded as a way for universities to share resources and innovative ideas about how to encourage students to spend time outdoors. Cornell University, which, according to Skillen, is one of the founding members, has gone as far as to literally prescribe time outside. That prescription even goes into students' medical records.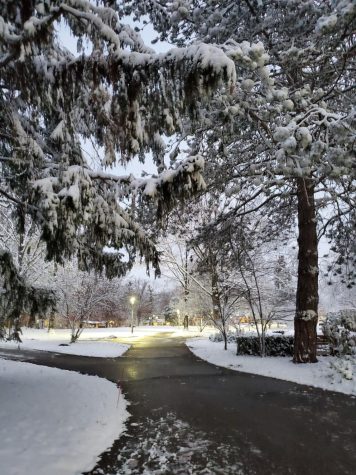 Campuses have taken different approaches to programming; there is no cost to join, nor are there any obligations. The network is only "a kind of clearing house where schools are sharing ideas with one another," said Skillen. 
Nature Rx at Calvin
Calvin joined Campus Nature Rx Network for a number of reasons, not the least of which is because "Our counseling center has been overwhelmed," Skillen said. "Nature is not THE solution," according to Skillen, but it can be a valuable tool for improving the baseline level of mental health among students. Calvin has created a steering committee composed of Becki Simpson from Student Life, faculty members from the biology and kinesiology departments, and Kreagel from the CCW in order to create a vision and an agenda for Calvin's path forward. 
Because this initiative doesn't have a budget yet, everyone involved is working pro bono. Rather than doing whole committee planning, the idea is that each member will run their own programming focused on engagement with the outdoors in their area of expertise, under the Nature Rx banner. Skillen said that he and others involved hope that these activities run by separate groups on campus "will add up to more than the sum of their parts by using this Nature Rx as a framing tool."
Henderson, who was the ecosystem preserve manager until January, really drove work on this project, according to Skillen. Momentum behind it has since stalled somewhat while preserve staff work on filling her position.
"
"The goal of the committee work is to 'improve the infrastructure of this campus so that you will be passively invited to spend time outside'
Visions for the Future 
Calvin's goals for Nature Rx on campus are composed of three components: resources, programming and campus design.  
Skillen hopes to design a website for Calvin's Rx program, which will have resources such as research proving the benefits of being outside, as well as maps made by Natalie Breadavough, who studies geography and biology, that highlight outdoor spaces. Her maps showcase multiple green spaces, on-campus and off, that are good for different activities such as studying, running, walking and exploring native gardens.
The second goal, according to Skillen, is to "just try to provide activities that put you outside." Options last fall included weekend trips with outdoor recreation and adventure club, run by Ryan Rooks. 
Finally, the steering committee will be working as a body to influence campus design and facilities in order to provide spaces that make students choose to be outside. Priority number one for Skillen and the committee is campus outdoor seating. "We know there are a lot of physical and mental health benefits to being outdoors, so anything we can do with the physical space to make that more appealing will be a win for students," Simpson told Chimes. Other potential plans include pavilions with fireplaces, better internet connection on Commons Lawn and a prayer garden in the quad enclosed by Hiemenga Hall that would act as an outdoor extension of the library. According to Skillen, the goal of the committee work is to "improve the infrastructure of this campus so that you will be passively invited to spend time outside." 
Once a new manager is hired at the Ecosystem Preserve, Skillen hopes to involve students in planning and implementing Nature Rx resources and programs, through student's individual involvement, as well as through connection with already-formed student organizations on campus. 
Seiler endorsed the push for Nature Rx; he said that "It's proven to be really successful at … bolstering students' mental health," and said that Student Senate would be excited to see the university put funds towards future Campus Rx initiatives. He encouraged students to advocate for Nature Rx programming and campus infrastructure: "if students are like, 'we want nature Rx', students will get nature Rx."