Recent grad hired to study and promote disability inclusion on campus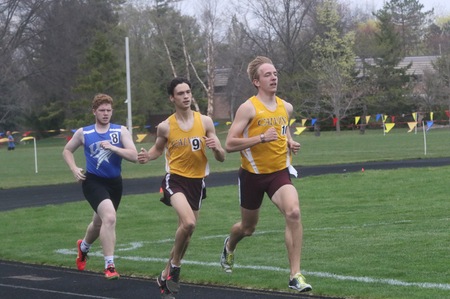 Recent graduate Simon Detmer has returned to Calvin to serve as Research Assistant to the Office of the President, with special focus on disability, accessibility and inclusion.
Detmer, a class of '22 alumnus who studied geology, told Chimes he hopes "to assess ways that we serve students here on campus, dining services, admissions or sports and to help these be more inclusive for people with disabilities." To this end, he is assessing existing services, promoting awareness, encouraging increased dialogue about disabilities and helping to plan and launch new groups and activities related to disability awareness and accessibility.
Detmer spent the first six weeks in his role assessing the services currently available at Calvin and to what extent students and faculty know about inclusion. "Two out of three people in America are uncomfortable talking to people with disabilities," Detmer said. "The goal is to figure out how that can change at Calvin."
In order to help start conversations about disability inclusion, Detmer started the Disability Inclusion Project, a new student organization focused on creating a safe space to have those conversations. "The organization hopes to provide safe and comfortable spaces to break down barriers surrounding disabilities, as well as have some fun," Detmer said.
Detmer hopes to also pursue adding adaptive sports on Calvin's campus. "I believe that sport is one of the key things that can bring people together," Detmer said. "It's a place where people can have fun and build social relationships and grow mentally and physically while being competitive." 
Detmer said that sports tends to be an overlooked aspect of creating a more inclusive environment, even though adaptive sports can be relatively easy to implement. For instance, wheelchair tennis requires only minor adaptations to the rules of tennis. By changing one rule — letting the ball bounce twice rather than once in the person in a wheelchair's court — you can create a basically even playing field. 
"By thinking a little bit differently, we can include people when we wouldn't necessarily think of being able to compete and create a much more dynamic experience for everyone," Detmer said. 
Detmer's interest in adaptive sports has in part grown from his own experience competing in the Paralympics. Detmer competed for the World Para Athletics Junior Championships in 2019 and was ranked one of the fastest people (in track and field) in the whole world under the age of 20. "One of the coolest experiences there was that everyone around you has very different bodies, even if you are competing in the same event," Detmer told Chimes. "And when you talk to them, your mind is blown by all their contrasting experiences and what you can learn about yourself and who you are in creation."  
Detmer's work is one piece in the puzzle of solving long-standing exclusion of people with disabilities in a variety of spaces.
"A lot of folks don't know that in the lead up to the passage of the Americans with Disabilities Act (ADA) a number of religious organizations, including the Christian Reformed Church, lobbied to be exempt from the law," Kevin Timpe, professor of philosophy, told Chimes.  "Legally, Calvin has to follow none of the ADA." 
The ADA, introduced in 1990, is a law that prohibits discrimination against individuals with disabilities in all areas of public life.  Religious organizations won an exemption from the ADA and are still not required to comply with the guidelines. "The current CRC position is to be in full compliance with the ADA," Timpe said, "but the fact that, legally, Calvin and the CRC is allowed to devalue and discriminate against certain groups is something we have to think long and hard about."
According to Timpe, Calvin's current model of disability support has flaws. "The current system has been set up, not on purpose, to put the entire onus on the student," Timpe said. Currently the student is responsible for seeking a diagnosis, taking that to Student Success to get a letter confirming what their accommodations are and then communicating that to professors, which, according to Timpe, in some cases ultimately do not comply anyway. "I think if we started thinking about universal design for teaching and instruction, we would recognise that a lot of these most common accommodations can be built in," Timpe told Chimes.
According to Timpe, the most common accommodation needed is alternate testing sites and extra time, both of which highlight the student's disability and create stigmatization. To combat this, Timpe now gives all of his tests asynchronously. "Even if I put a time limit on how long the file can be open, they can still take it at their own time, in their preferred location, which is a very simple way of building in accommodation," Timpe told Chimes.
"An important part of making a campus inclusive is welcoming and supportive faculty," Detmer said, "[My experience with Calvin faculty] has propelled me forward in my job search but also as a follower of Christ." Detmer, through his work, hopes to shape a campus culture of inclusion and support. "Christians are called to love everyone, and we are all people if we have a disability or not," Detmer told Chimes.
Leave a Comment