Service Learning Center kicks back into gear with new partnership system
This year, the Service Learning Center has decided to change the way local organizations partner with them in order to build more intentional relationships with specific organizations.
The Service Learning Center is an office on Calvin's campus that serves as a "bridge between students and staff at Calvin and the greater Grand Rapids community," according to senior Rebekah Van Zoest, the partnerships coordinator at the SLC.
It used to be that any organization in Grand Rapids could reach out to the SLC; the center would then attempt to connect students with over a hundred different opportunities. However, this stretched the center's time and energy. 
"It was limited in what we could do with the partners. It's not like we could guarantee, 'Oh, we're going to have a group of 20 people that will show up for this event,' which didn't seem to be the most helpful," said Amy Piescer, chief of staff at the SLC.
The COVID-19 pandemic provided the time needed for the student staff of the SLC to rethink the system. Their response was a tiered system with three tiers in all. With no particular protocol to follow, they tried to select a wide variety of organizations with different objectives. 
Tier One is composed of five organizations with whom they've signed a one-year memorandum of understanding agreement. This past summer, the staff visited these organizations and determined how the SLC could help them achieve their goals.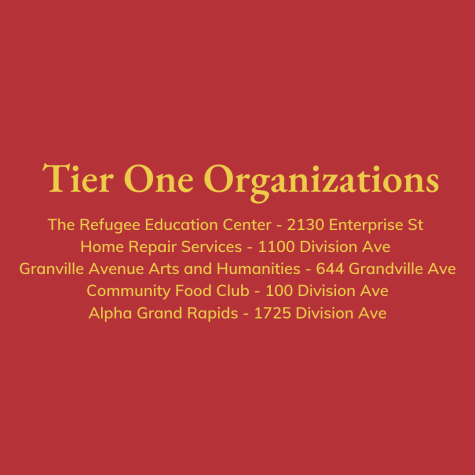 Tier Two is also composed of five organizations. However, there is no memorandum. The SLC is committed to checking up on these organizations at least annually and getting the word out about opportunities related to them. 
Tier Three operates in much the same way as the old system. Anyone that's interested can still contact the SLC to advertise their volunteering opportunities; the difference is that the other two tiers get higher priority and more emphasis.
 Although many Calvin students work with the SLC through their academic coursework, students can also reach out to the office, located in Spoelhof Center 301, on their own as an extracurricular activity. Access to a car is not required, as the center provides rides to many of the volunteer opportunities. 
Alicia Lindemulder '22, the Streetfest co-coordinator and former education coordinator at the SLC, personally wished that she'd known about the center and gotten involved during her first year at Calvin, and she encouraged other students to check it out. 
"I really appreciated how much service learning helped me understand the community," Lindemulder said. "I am thinking about doing nursing in a more community setting rather than a hospital. I'm grateful that I found the Service Learning Center at Calvin, because I don't think I would have recognized that this is a passion I have until I met people that pointed me here."
You can also find out more information about and stay updated on the SLC via Calvin's website, their blog and their Instagram account, @calvinslc. 
Leave a Comment