After long break, men's basketball team is eager to play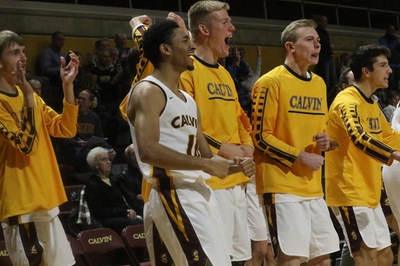 After an approximately 6 month hiatus, the men's basketball team are excited to have reunited on the basketball floor. Due to COVID-19 many players were only able to get shots up on their own driveways. As the season commences and they've returned to the gym, the team is in positive spirits. 
The return has not been easy, as Coach Sall explained: "In a team sport we are so used to being communal, from the locker room, to playing pick up with each other, and really getting to know each other, but with everything surrounding COVID we haven't been able to do that this year." The beginning weeks of the year were especially challenging as the team had to utilize pods while practicing in small groups. It was tough for Sall to gauge what level his players were at because of these restrictions. 
For the last two weeks they have been able to have full practices in the fieldhouse with players and coaches wearing masks. Sall said "It is already tough playing wearing masks especially when our guys are out of shape," but the energy of the team is positive as they have experienced joy simply by being back on the court. 
Junior guard Jacob Williams expressed how this season has been especially enjoyable as he said "I've enjoyed the fact that we can still play, even during these times of uncertainty. I like our freshman class a lot, and I think our team is bonding more than last year as a whole."
Sall has loved the way his team has adapted and that their attitudes have been"super positive as our guys have simply relished the opportunity to play."
This positivity is especially necessary as the team has had some overturn. They graduated three seniors and with those seniors gone, they lost about 135 minutes per game and 45 points per game. "This is a lot to makeup, but we have a good nucleus of guys returning, and we're looking for returning seniors Thad Shymanski, Emmett Warners, and Caleb Cleary to step up as leaders on and off the court."
They have a couple of games penciled in for November and are hopefully going to play a league season of MIAA opponents in the spring, but nothing is definitive. 
While the big crowds will be missed by the team,  Coach Sall described last year as a "wonderful homecoming seeing tons of Calvin fans supporting throughout the season." There is still excitement about this year with new talent coming in, and a faster pace of basketball that is sure to excite fans.
Leave a Comment