Calvin mourns the loss of rising senior Iris Jones
Iris Jones was passionate, creative, "wicked smart," and caring, those who had the privilege of knowing her would tell you without hesitation.
Whether it was on an interim trip to Oman, projects in a history class, or writing scripts for theater, friends and professors alike recall her deep investment in people and activities.
"She never hesitated to ask deep questions or to push my own thinking in various directions. She was serious, compassionate, and a gift to our community," history professor Kristin Du Mez said.
Jones, a rising senior, died by suicide on Aug. 19, 2020, in Anchorage, Alaska, where her family has lived since 2012.
"I've never met anyone like Iris," said friend Rachel Edema. "She was energetic, vibrant, and always hilarious."
Edema recounted a long list of Jones' interests, including writing, Middle Eastern history, K-pop, homebrewing, swimming, memes, and feng shui. Jones was also involved in extracurriculars like theatre and Calvin's Sexuality and Gender Awareness student organization and found opportunities at the intersections of her many interests.
For her senior honors thesis, Jones was going to write a new version of a medieval Islamic epic romance for theatre, said Professor Doug Howard, who led the interim trip to Oman that Jones attended. "She found something inspiring about the Muslim friends she met and the human understanding she found in them."
"She was definitely a big part of the group who went to Oman," said Austin Rohl, a classmate on the trip. "She was excited, eager to learn, and her enthusiasm played a big role in how I saw Oman, and I hope so in the way the others saw it."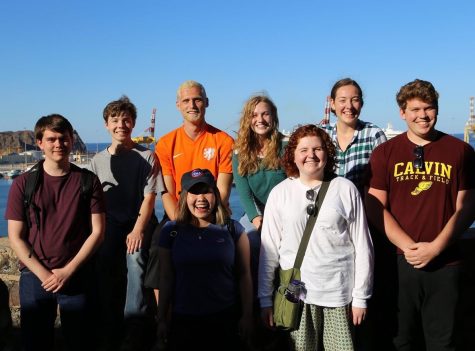 Rohl recalled fondly the group's day spent on the mountainside of Jebel Shams in Oman and how Jones saw it as the most beautiful place in the world.
"I shared in it with her and saw her fall in love with the landscape, and that day is something all of us shared together and I know it will remain there in our memories for a long time," Rohl said.
A double major in English and history, Jones approached her fields of study with excitement and energy. Professor Darrell Rohl recounted her outstanding participation in a history class roleplay set in Athens, saying: "Iris took her role seriously, came to class dressed in character, and gave some of the best-rehearsed and effective speeches in support of her faction's cause. I will miss her deeply."
Jones was also interested in creating her own curriculum to teach Alaskan history, since she believed existing curriculums didn't focus enough on the stories of Native Alaskans, friend and classmate Caleb Ackerman told Chimes.
"She loved the side of history that isn't so glorious. She wasn't in history for the wars or politics, she wanted to see the ordinary lives. She loved looking at clothing, textiles, everyday furniture, and everyday tools. Textiles were her favorite of those," said Ackerman.
Jones is also remembered for her efforts to make Calvin a place where LGBTQ+ students could feel welcomed. As a leader of SAGA "Iris's loyalty as a friend and devotion as a leader has made LGBT+ students feel like they belong here," said co-leader Jacob Kooistra.
Whether it was in meetings with SAGA members, administrators, professors, or other students, Kooistra remembered Jones as a tireless advocate for LGBTQ+ rights.
Jones is survived by her parents, Margo and Luke Jones; brother, Neil Jones of Anchorage; her grandmother, Mary Ann Whittier Johansen of California; and extended family in California, New Mexico, Illinois, and North Carolina, according to an obituary written by her parents.
The obituary also remembers how Jones loved those around her with her many gifts, serving at shelters and food pantries in Alaska, tutoring ESL students, and competing in academic decathlons.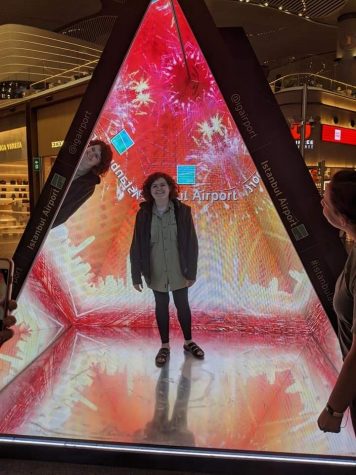 "Despite her gifts, Iris was eventually overcome by the brokenness in this world, which for her included attention deficit disorder and bipolar disorder," her parents wrote. "The pain in her own heart, perhaps, made Iris more aware of the struggles of people around her and fed her longing to help. Her friends know her capacity for loving people nonjudgmentally."
In lieu of flowers, her parents asked that donations be made to the Anchorage Suicide Prevention Coalition or another charity that might honor Jones' memory.
The Calvin Center for Counseling and Wellness and Campus Ministries are offering support to students who may need assistance as they process this loss.
If you or a loved one is experiencing thoughts of suicide, please call the National Suicide Prevention Lifeline at 1-800-273-8255 or the Psychiatric Urgent Care Center of Pine Rest in Grand Rapids at 1-616-455-9200.
Leave a Comment