Basketball players earn all-conference honors
Though the 2018-19 basketball season had several highs and lows, the consistent play of Gabby Timmer and Derrick Devries earned the duo All-MIAA First Team honors.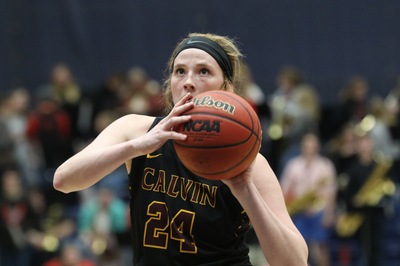 Freshman Gabby Timmer started her college basketball career in a big way, leading the MIAA in points per game (18.4) and rebounds per game (10.7). She averaged nearly an entire point higher than the second highest scorer in the MIAA (17.6 PPG) and over two rebounds more than second highest rebounder in the conference (8.5 RPG).
Timmer reached double-digit points in 23 of the 25 contests she played in, recording 12 double-doubles in the process. Her 460 total points are the tenth most points in a season in Calvin women's history, and her 267 rebounds are good for the sixth highest season total. If Timmer continues this pace, she will finish as the second highest scorer and rebounder in Calvin women's history.
Devries, a junior, finished fifth in the MIAA in scoring, averaging 17.9 points per game. His 6.5 rebounds per game were good enough for a third place tie in the conference.
The Grand Rapids native scored at least 20 points in half of the games he played this season, including his season high 29-point outburst that helped lead the Knights to their first win over Hope College since the 2016-17 season.
This marks the second time Devries has been awarded all-conference honors, as he was named to the All-MIAA Second Team last season.