Volleyball wins conference matchup vs. Albion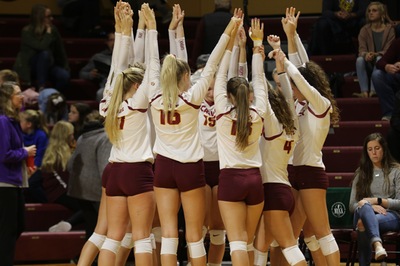 The women's volleyball team improved to 15-0 overall (4-0 in the MIAA) after a win over conference foe Albion at home on October 5.
Although the win came in three sets, the Knights did not play a flawless match.
The teams traded points early in the first set, and after four service errors by Calvin, the set was tied at 9-9. Albion could not capitalize on the errors and quickly found themselves down 14-10.
After another Calvin service error and an ace by Albion senior Marie Pregenzer, Albion came within two points of the Knights, losing 15-13. However, two Albion errors changed the momentum of the game and gave way to the Knights scoring 10 of the final 13 points, ending the first set with a final score of 25-16.
The second set began much like the first, as neither team established dominance early. An error, ace and kill led to Albion scoring three straight points, giving them their biggest lead of the night up to that point as the score shifted to 13-11. Calvin wasted no time responding, as they came roaring back to take a 14-13 lead after a Keilhana Castillo ace.
Once again, neither team could pull away, as the score was tied for the final time of the set at 18-18.
On the shoulders of three Sarah Devries kills and two Anna Kamp aces, the Knights scored seven of the final eight points, ending the second set with the score of 25-18 in favor of Calvin.
Albion scored first in the third set for the first time of the night, and used the momentum to gain a 5-2 advantage early. Calvin came back to tie the set at 5-5, and quickly took the lead at 7-6.
An impressive play by Albion and four errors by the Knights allowed Albion to take a commanding 17-12 lead late in the third set.
As the fans were seemingly preparing for a fourth set, the Knights won five of the next six points, thanks in large part to three kills by Grace Kellogg.
A clutch ace by Sarah Devries tied the game at 19-19, and led to an Albion timeout. The timeout gave Albion enough momentum to score the next point, but for the third and final time of the night Calvin went on a run to end the game, scoring six of the final eight points and finishing off Albion 25-22 in the third set.
This tough conference matchup will likely show the volleyball team what they need to work on, as well as give them momentum as they head into the Midwest Invitational this weekend.
The Knights will take on Susquehanna and Ohio Northern on Friday, October 12, as well as  Elmhurst and Thomas More on Saturday, October 13, in the Van Noord Arena.