Religion dept. offers limited reformed, Reformation theology class selection
A cursory glance at the religion department's course offerings might raise eyebrows. Why does Calvin College, the college of the Christian Reformed Church, offer only two classes on Reformed and Reformation theology?
Reformed theology and Reformation theology are similar and draw from many of the same people but have crucial differences. Reformation theology studies the theologians involved in the Protestant Reformation in the 16th and 17th centuries. Reformed theology handles theologians that contribute to a Calvinist strain of thought. Martin Luther belongs to the first but not the second.
Looking at course names only, Calvin offers more classes looking at other faith traditions within Christianity and other religions than classes that are on Reformed theology or the Reformation.  Religion 343, a study of John Calvin's Institutes, is offered roughly once every three years but usually cancelled because of lack of interest. Religion 244 Historical Theology II spends roughly the first half of class discussing the Church during the time of the Reformation and then covers modern theology.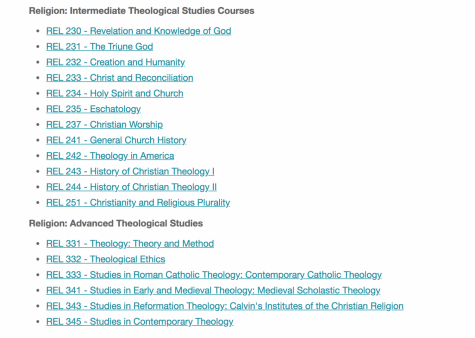 According to religion chair Kenneth Pomykala, it's not as simple as looking at titles of course offerings. In 1988, the department revised its curriculum, opting to switch out a 200-level class on Calvinism with what became the introduction to theology course, Religion 131. The previous class was poorly attended, and the religion department hoped to expose more students to Reformed theology by emphasizing themes like the goodness of creation, the sacraments and the sovereignty of God in introductory courses.
"You can have a curriculum that offers all of the right courses," he said, "but if no one takes it, it's not worth anything."
Additionally, he noted that teaching Reformed theology involves teaching ecumenical Christianity. By by only focusing on Reformed theology, the department would ignore major beliefs of Christianity.
Pomykala, who personally would like the department to have a Reformation theology chair, said that no professor has specialized in Reformation theology since Dr. Suzanne MacDonald left for Western Seminary several years ago. The department is currently hiring professors with fairly lax guidelines: both professors of biblical studies and Christian theology were invited to apply. He thinks that professors applying for the religion department must especially have deep commitment to the Reformed faith and the ability to communicate it.
History chair Katherine van Liere teaches a class titled "Reformation and Revolutions." Although the class handles the historical features of the Reformation and not the theological features, van Liere believes it is important for Calvin as a Reformed college to offer distinctly Reformed classes.
"We should concentrate on Reformed thought," she said. "It deserves that amount of focus."
Pomykala also lamented the decreasing literacy in biblical and theological knowledge. According to him, incoming students know far less about scripture and doctrine than students did 30 years ago.
Leave a Comment