Calvin's religion dept. experiences major decline in students
The religion department has experienced a relatively steady decline of majors over the past nine years. In 2009 there were 65 majors, with the numbers falling year-by-year, from 60, 56, 49, 42, 37, 35, 33, to the low of 22 in 2017.
"Around 1999 we had around 90 something majors" said professor Pomykala, the religion department chair. Now they hope to be in the "upper 20s by mid-year."
Pomykala indicated that the "higher education landscape has changed to be much more vocationally oriented," and that students are misled to think the humanities won't prepare them for careers. He suggested that the humanities, particularly religion, are "for any career that requires careful reading, clear and coherent writing, analysis and critical thinking skills."
However, the religion department hasn't been the only department affected. Professor Katherine van Liere, the history department chair, said, "A similar trend has affected our department … I think we have fewer than half the number of majors that we did 10-15 years ago." Although not as severe, the philosophy and English departments have also experienced drops in student majors.
The drop isn't just happening at Calvin. According to a study by the American Academy of Arts and Sciences, "The 212,512 humanities degrees conferred in 2015 was 5% below the previous year and 9.5% below the recent high-water mark of 234,737 degrees in 2012."
Focusing the national trend onto Calvin, Pomykala said, "We had a similar dip in interest in humanities in the early 90s; by the end of the 90s we had just shy of 100 majors. As the economy gets better, I assume the interest in humanities will return, religious studies specifically."
The negative attitudes towards the humanities isn't alone in affecting the religion department. Students at Calvin are required to take two religion courses as part of core. But, according to the 2018 Day 10 numbers, a mandatory report on the fall semester enrollment, Calvin had 3,443 undergraduate students, compared to the 3,905 in 2009. When fewer students go to Calvin, fewer students will be enrolled in core religion courses.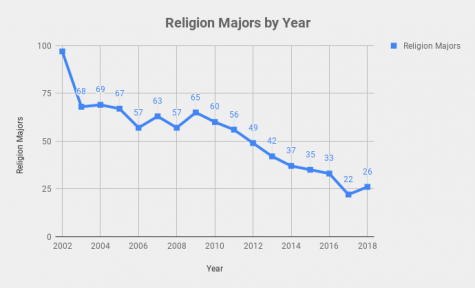 According to the Day 10 reports, the number of engineering majors has increased from 366 in 2011 to 468 in 2017. Since engineering only requires one religion core course, more engineering majors reduce the number of students taking religion core. Other core changes have also contributed to the declining number of students enrolled in religion courses.
The reduction has also affected faculty positions, with a reduction of 15 available faculty positions to nine. When fewer students are taking religion courses, fewer faculty members can teach these courses. When there are fewer faculty members to teach courses and fewer students to take them, fewer courses will be offered.
A total of seven courses will be eliminated.  
However, this semester has brought some positive news: this fall there are 26 religion majors and 14 minors, compared to last year's 22 majors and 11 minors — the first increase in over eight years.
Pomykala notes, "This could be evidence that the number of Religion majors and minors has stabilized and perhaps even an early indication of a reversal of the previous trend." Van Liere also mentioned how the history department's numbers seemed to have stabilized over the past few years.
It's worth noting that Congregational Ministry Studies (CMS) is about 10 years old — around the same time of the major drop. While it's unclear how CMS's minor has affected the religion department's numbers, they have different aims. CMS is aimed at a more practical theology, with focuses on church music and liturgy. Pomykala, who was on the committee that put together CMS, said, "We don't feel like it's an encroachment on our programs."  
The religion department has been working on new courses to attract majors and non-majors alike. Most of these new courses focus on the intersection of Christianity and culture, such as "The Bible and Social Justice," "Theology and the Arts" and "Religion and Science."
There will be a number of religion courses taught next semester, including "Islam," "Christ and Reconciliation," and "Gospel and  Letters of John."
View Comments(1)