Physical plant and faculty team-up to support sustainability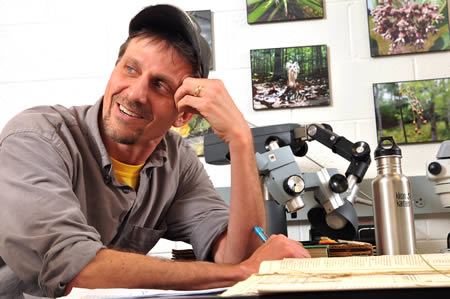 Correction: A previous version of this article wrongly attributed a quote to Dave Warners instead of Sally Vander Ploeg. This mistake has been corrected.
President Le Roy's expected signature on a commitment to the Presidents' Climate Commitment is in large part the culmination of a partnership between Physical Plant, staff and faculty. The partnership has produced a detailed ad hoc committee report that was overseen by Brian Paige, associate vice president of information technology, and Jamie Skillen, associate GEO professor, which strongly urged President LeRoy to make this commitment. The staff-faculty partnership has also been developing tangible strategies from the guiding themes in the master plan for a more sustainable campus that clearly shows its commitment to carbon neutrality.
Although the key to carbon neutrality is reducing carbon emissions, another aspect of sustainability is biodiversity. A biodiverse ecosystem relies on native plants to welcome butterflies, insects, and birds to campus. Calvin College is seeking ways to increase biodiversity with what they term "green infrastructure strategies."
Currently, a committee comprised of Charlie Huizenga, Bob Speelman and Henry Kingma from physical plant; Dave Warners from the biology department; Sally Vander Ploeg, administration and finance vice president, and a specially-hired landscape architect are developing plans for implementing sustainable landscape improvements. The goal of their project, according to Warners, is "to bring more of the natural aspects of the ecosystem preserve under the East Beltline and onto the main campus."
Based on the master plan, these landscape improvements and infrastructure strategies could begin changing the look of campus as early as next fall. The plan describes these strategies as an integration of "sustainable landscape elements such as rain gardens" and an extension of the natural woodlands and wetlands of the ecosystem preserve.
The initial proposed areas for transition include the seminary pond and the steep areas sloping down from the East Beltline. Instead of a grass lawn immediately adjacent the edge of the sem pond, a buffer of native plants will provide a habitat and prevent fertilizers from polluting the water. Much of the area will be planted with native perennial wildflowers and grasses to resemble a Michigan prairie.
"It has been great to collaborate together to identify the areas of largest impact, and to identify plantings that will flow well with the current campus landscape," said Vander Ploeg.
These efforts build on previous initiatives by physical plant. Bob Speelman, supervisor of landscape operations and certified arborist, worked to earn Calvin recognition by the Arbor Day Foundation as a Tree Campus USA in 2013. Since 2015, a joint crew of physical plant employees and a research assistant for Warners' ecological restoration project have worked two days per week each summer to manage restored natural areas on campus, like the landscaping outside van Reken Hall. Their goal is to coax these sites into a visual display that appeals to campus visitors, who may otherwise view them as a "bunch of weeds."
Sooah Park, a business major who lives in Kalsbeek-Huizenga-van-Reken Hall, sees the native plants of the naturalized area daily, including the trees, on her walk back from classes.
"When I walk back, it's like, 'Oh, the trees are changing colors.' It's really pretty. Sometimes I will take pictures," Park said.
Although the improved landscapes will include many native plants found in the Ecosystem Preserve, the new landscaping will not completely resemble the wild. Instead, the plantings will be more formal and less "pixelated." Mass plantings of native species will be organized into nicely-edged areas, that fit better into the overall traditional landscape design of most of the main campus.
The master plan's precinct strategies align with Calvin's sustainability statement. According to the statement, Calvin believes that "sustainable living is the daily working out of the stewardship mandate." As the Board of Trustees approved in May 2007, Calvin College will fulfill its calling of stewardship by introducing "native species where possible" and supporting "natural succession" of species in unneeded lawn areas.
Commenting on the working relationship between physical plant and the biology department, Warners stated that, despite coming from different backgrounds, "[physical plant employees] always listen and ask questions. They don't just block you off and say no. They are definitely open to new ways of managing the property more sustainably."
Leave a Comment