Calvin alum to head US Department of Education
A Calvin College graduate is poised to take a top position in President-elect Donald Trump's new administration. Betsy DeVos, a billionaire political activist and philanthropist, is Trump's pick for secretary of education. If her nomination is confirmed by the Senate, DeVos will be the first Calvin College alumna to serve in a president's cabinet.
DeVos earned a bachelor's degree in business economics from Calvin College in 1979.
In a press release, President-elect Trump called DeVos "a brilliant and passionate education advocate," and vowed to work with her to "reform the U.S. education system and break the bureaucracy that is holding our children back so that we can deliver world­ class education and school choice to all families."
Betsy DeVos is known for her leadership in the school choice movement. She chairs the board of the American Federation for Children, a school choice advocacy organization she founded, and she serves on the boards of several other voucher and school choice advocacy groups.
She is married to Richard "Dick" DeVos, Jr., former Amway CEO and son of Amway founder and Grand Rapids-area patriarch Richard DeVos. Together, Betsy and Dick DeVos started the Windquest Group, an investment management firm with holdings in technology and industry, of which Dick DeVos is president and Betsy DeVos is chair of the board.
Betsy Prince at Calvin College, 1975-1979
Betsy DeVos, who was Betsy Prince at the time, attended Calvin College from 1975-1979. Anthony Diekema was in his first year as Calvin College president when Betsy Prince was a first-year student, and the "Beatles" of Calvin College — Alvin Plantinga, Nicholas Wolterstorff, Richard Mouw and George Marsden—were all in the middle of their Calvin teaching careers.
Betsy Prince was elected to student senate in her first year at Calvin in a leisurely campaign in which her seat was decided without a vote, since too few students applied to be freshman senators that year.
The next senate elections, which took place in the spring of 1976 to set the senate roster for the coming fall semester, show Betsy Prince with the highest vote count out of any freshman senator — an early harbinger of her future political success.
Chimes corresponded with Calvin alumni who served on student senate with DeVos.
Derk Pereboom, now a Cornell philosophy professor, was vice president of student senate when DeVos was selected to serve on the executive committee as secretary-treasurer during her second year at Calvin. Pereboom says she was pulled for the leadership role because she "was a standout among the first-year senators during the previous year."
Pereboom applauded the role DeVos played in that year's main Senate initiative, which was to revise the Senate constitution. "A key aim of the revision was to secure effective student representation on faculty committees […] Betsy was an effective contributor to these discussions, and, more generally, had a strong and successful role in student government."
Richard Walstra, another fellow student senator, recalled "favorable memories of [his] friendship with Betsy."
Walstra, a professor of business and accounting at the Brennan School of Business, recalled her sunny personality. "I remember Betsy as being an optimistic, cheerful person. She was very sociable on campus, and therefore quite popular. It was easy to like Betsy and get along with her."
DeVos's first true campaign experience was volunteering door-to-door as a college sophomore for Gerald Ford's campaign for re-election in 1976, when Ford was bested by Jimmy Carter.
DeVos made the college newspaper again as a fourth-year student when she headed up the local effort to re-elect US Senator Robert P. Griffin. Griffin, the Republican incumbent for one of Michigan's two Senate seats, lost the 1978 election to Democrat Carl Levin. Levin turned out to be the longest-serving senator in Michigan history, serving from 1979-2015.
She is listed in the 1979 Prism yearbook as a graduating senior, but with no picture provided; her name was on the list of "Unpictured Seniors."
Two powerful West Michigan families unite
The marriage of Betsy Prince and Dick DeVos merged two powerful, moneyed West Michigan families — families that should be familiar to most Calvin students, since their names adorn two of the buildings across the Beltline: the Prince Conference Center and the DeVos Communication Center.
Betsy DeVos is the daughter of Edgar Prince and Elsa Prince-Broekhuisen. Edgar Prince made his fortune as an entrepreneur of auto parts, building a company from scratch that was worth over $1 billion at the time of his death in 1995. The Edgar and Elsa Prince Foundation, established with the fortune left by Prince, is responsible for putting the name "Prince" on Calvin's Prince Conference Center.
Dick DeVos is the son of Richard and Helen DeVos, who also need little introduction to anyone who has lived in Grand Rapids for any length of time. Richard DeVos, the founder of international multi-level marketing giant Amway, is known in this city for his philanthropy.
Richard DeVos Sr. is the second wealthiest person in the state of Michigan, and, as of 2012, the 60th wealthiest in the nation.
The elder DeVos's monetary contributions to the Grand Rapids area are so profuse it's difficult to know where to begin. In fact, Philanthropy Roundtable credits the Richard & Helen DeVos Foundation with "helping turn Grand Rapids, Michigan, into one of the livelier and healthier small cities in the U.S."
Both the Edgar & Elsa Prince Foundation and the Richard & Helen DeVos Foundation donate large sums each year to religious organizations, conservative think tanks and the Republican party. Calvin College and Hope College are also both major recipients of Prince and DeVos funds. At the time the money was given, the $10 million each donated to Calvin for the Prince Conference Center and the DeVos Communications Center were the two single largest monetary gifts received in college history.
"Volunteer" or veteran?
DeVos has repeatedly insisted on calling herself a "citizen volunteer" and an "outsider" when it comes to politics, having never held a professional government position. However, she has been deeply involved in politics ever since her first year at Calvin. She has chaired the Michigan Republican Party, she and her family are major political donors who expect their money to have clout, and the PACs she leads have worked to influence elections in states across the country.
After her graduation from Calvin, she led campaign efforts in several local and state races and worked her way up in the ranks of the Michigan GOP. DeVos served on the Republican National Committee from 1992-1998.
In 1996, she was selected to chair the Michigan Republican Party. When she stepped down from the position in 2000, The Wall Street Journal reported that she had resigned because then-governor of Michigan John Engler, a fellow Republican, would not support the school voucher referendum she had placed on the ballot.
DeVos's referendum sought to amend the Michigan Constitution, which currently bans the use of public money to support nonpublic schools. The constitution states: "no public monies or property shall be appropriated or paid […] directly or indirectly to aid or maintain any private, denominational or other nonpublic, pre-elementary, elementary or secondary school." The referendum would have allowed students to use this public money, in the form of vouchers, to attend private or charter schools.
The voucher referendum campaign raised $4 million; $3 million came from DeVos, her husband and other Prince and DeVos family members.
The referendum lost in a landslide. But that sharp loss created a drive in DeVos to fight for school choice until she won.
DeVos is a leader in the school choice movement
Republicans have their own pro-choice movement these days, but it's about school choice, not reproductive health. DeVos has emerged as a prominent advocate for school choice around the country.
School choice is a broad term for programs that fund students to attend non-public schools such as charter schools and private schools, often through scholarship tax credit programs or voucher systems.
This should be distinguished from schools of choice programs, which allow students to enroll in public school districts other than the district they reside in. DeVos does not advocate for schools of choice programs, but rather for voucher programs and expansion and deregulation of charter schools.
DeVos and other voucher and choice advocates argue that charter schools and school choice create market competition, forcing poorly performing schools to improve enough to compete, or else lose their students — and lose their funding, too.
But as Professor John Walcott of Calvin's education department explained, "opponents [of the voucher/charter movement] note that we should not look to competition as the way to improve schools. When there is competition, there are losers. And too often the losers are students who have been most often marginalized in our society."
"Education is a fundamental right in our country, and we should be focusing our efforts on improving our public schools rather than taking scarce resources away from them," Walcott continued.
After voters struck down her voucher referendum in 2000, DeVos started the Great Lakes Education Project (GLEP), a PAC that lobbies for charter school expansion and deregulation in Michigan. GLEP has worked for over a decade to influence local and state elections by donating to pro-voucher, pro-charter school candidates.
DeVos, the current chair of the American Federation for Children, another school choice advocacy organization, has headed of a host of PACs and organizations lobbying for vouchers and charter school freedoms: All Children Matter, Advocates for School Choice, the American Education Reform Council, Choices for Children, the Alliance for School Choice and the Education Freedom Fund.
She and Dick DeVos have been central to the political side of the growth of charter schools in Michigan ever since they helped to pass the original 1993 Michigan charter school law. Since then, Michigan has become one of the most charter-school friendly states in the US.
The New York Times reports that "the Detroit, Flint and Grand Rapids school districts have among the nation's 10 largest shares of students in charters, and the state sends $1 billion in education funding to charters annually. Of those schools, 80 percent are run by for-profit organizations, a far higher share than anywhere else in the nation."
But critics of the DeVos's charter school lobby say point to the dismal state of Detroit schools under DeVos-led proliferation of charter schools.
DeVos addressed the Detroit critique in a recent interview with The Washington Examiner in March of 2016:
"It's not a matter of school buildings. It's a matter of each child's opportunity to have a great education. The Detroit Public School system has, for decades, failed kids miserably. Sure, there are a few schools, there are a few buildings and a few classrooms within buildings that are doing well for kids, but there's far more that haven't. The fact that more than half of the population of school-aged children have left Detroit in the last 15 years is evidence of that.
Of those that are still within the Detroit Public School's boundaries, almost half of them are in charter schools. To the extent that parents and kids are empowered, they are making choices. We need to accelerate that empowerment and allow them more opportunities to make those choices."
Earlier this year, when state lawmakers introduced legislation that would place Detroit charter schools under the oversight of quality control regulators, the DeVos family donated $1.45 million to the Michigan Republican party over just two months, ensuring that the House and the Senate strike the charter school oversight provision from the bill. The House and the Senate complied.
DeVos and her husband have donated heavily to political campaigns for decades, and they haven't been shy about the bang they expect for their buck. In an 1997 op-ed, DeVos wrote:
"My family is the largest single contributor of soft money to the national Republican Party … I have decided, however, to stop taking offense at the suggestion that we are buying influence. Now, I simply concede the point. We expect to foster a conservative governing philosophy consisting of limited government and respect for traditional American virtues. We expect a return on our investment; we expect a good and honest government. Furthermore, we expect the Republican Party to use the money to promote these policies and, yes, to win elections."
Trump's Education Secretary
Trump's choice of DeVos for Secretary of Education suggests the President-elect means to keep his campaign promise to devote $20 billion to a comprehensive voucher program for low-income families.
After the news broke, Republican leaders fretted over the question of whether DeVos was a Common Core supporter. DeVos is closely affiliated with groups that have backed Common Core, including Jeb Bush's Foundation for Excellence in Education, but as journalists and critics rushed to peg her as a Common core supporter following Trump's decision, she clarified her position in a statement published on her website the day after Trump's announcement. DeVos wrote, "I am not a supporter — period" and called Common Core "a federalized boondoggle."
Jeb Bush praised the choice, calling DeVos an "outstanding pick" and stating, "Her allegiance is to families, particularly those struggling at the bottom of the economic ladder, not to an outdated public education model that has failed them from one generation to the next."
Kary Moss, executive director of the Michigan ACLU, released a statement on DeVos that expressed the fear, prevalent among many in the public education system, that DeVos's policies will gut the already scarce funding for public schools. Moss wrote, "We believe that all children have a right to a quality public education, and we fear that Betsy DeVos' relentless advocacy of charter schools and vouchers betrays these principles."
John Austin, president of the Michigan State Board of Education, also disparaged the choice: "It's like putting the fox in charge of the henhouse, and hand-feeding it schoolchildren," he said. "DeVos's agenda is to break the public education system, not educate kids, and replace it with a for-profit model."
DeVos family divided over Trump
The DeVos family, who are leading Republican donors, were closely watched during the presidential election. Most of the DeVos family waited until late in the game to throw their support behind one candidate, but when they did, they backed Trump. Richard DeVos, Sr. and three out of his four children, Dan, Doug, and Cheri DeVos, contributed a total of $245,000 to the Trump Victory fund.
Dick and Betsy DeVos, on the other hand, told the Detroit News they were focusing on down-ballot races. Betsy DeVos and husband had backed Marco Rubio in the primaries.
Continually pressed in an interview with the Washington Examiner to say what she thought of Trump DeVos said, "I don't think he represents the Republican Party," and called him "an interloper." She was "confident" that voters would change their minds once "they underst[ood] the totality of Donald Trump and what he stands for."
But last week, DeVos accepted the offer to work with Trump graciously and enthusiastically.
Calvin College's Republican ties
DeVos's appointment has thrown Calvin College into the national spotlight, with the Washington Post reporting DeVos's "deep ties to the Christian Reformed community," and describing Calvin College in the same article as "a Christian Reformed Church school that is named after the famed Protestant reformer John Calvin, where the DeVos name is well-known."
This is not the first time, however, that Calvin College or its alumna have taken the national political stage.
Calvin College is well-known for its connections to the Republican Party. The college caused controversy in 2005 when President George W. Bush spoke at Calvin's graduation ceremony, bumping the already-slated philosopher Nicholas Wolterstorff from the program. Undoubtedly, Calvin's connections within the GOP and the Bush White House played a significant role in securing Bush as speaker.
Calvin also hosted a Republican primary debate in January of 2000, in which then-governor of Texas George W. Bush battled other potential Republican nominees Gary Bauer, Steve Forbes, Orrin Hatch, Alan Keyes and John McCain. The debate took place on the stage of the Calvin College Fine Arts Center, and Commons Dining Hall served as media center.
Calvin has a history of alumni and professors, too, who have distinguished themselves on the national scene as politicians. Paul B. Henry and Vern Ehlers both left professorships at Calvin to serve as US representatives for Michigan's third district, the seat now occupied by Rep. Justin Amash. Henry was a Wheaton College graduate; Ehlers attended Calvin as an undergraduate.
Bill Huizenga, the current US House representative for Michigan's 2nd district, earned his B.A. at Calvin College in 1991. William Garvelink, a Calvin College graduate, was appointed US ambassador to the Democratic Republic of the Congo under President George W. Bush. He finished his term in 2010. Numerous Calvin alumni have been represented in the Michigan House of Representatives and the Michigan Senate, of which there are too many to list here.
Pending approval from the Senate, DeVos will serve in the highest office a Calvin College alum has ever held in U.S. government. Walstra represented the sentiment of many in the Calvin community when he expressed his hope "that [DeVos's] spirit, and her values, will have a positive impact on President-elect Trump and his Cabinet."
About the Contributor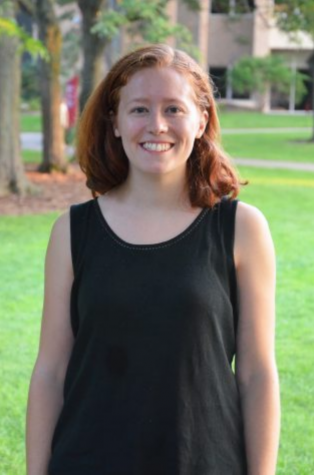 Carolyn Muyskens,  Local Editor
Carolyn is your local editor for the 2016–2017 school year. When in class, she studies language and people and how they've shaped one another throughout...