Trump wins presidency in historic upset, Michigan turns red for first time in 28 years
In the early morning hours of Wednesday, Nov. 9, Republican nominee Donald Trump surpassed 270 electoral votes to become president-elect of the United States.
The Washington Post called it a "stunning upset." In the weeks leading up to Election Day, polls had shown Clinton in a solid, though shrinking, lead, and the New York Times among other major news sources consistently predicted a Clinton victory.
The AP results as of Wednesday evening suggest that while Trump captured the 276 electoral votes necessary to win the presidency, Clinton carried the popular vote by a small margin. The Washington Post reported Clinton's vote count at 59.92 million, or 47.7 percent of the popular vote, to Trump's 59.69 million, or 47.5 percent.
The 30 states that Trump won included key swing states Florida, North Carolina, Pennsylvania and Michigan.
Michigan turned out to be a lynchpin in the race, though Trump clinched the presidency before Michigan's 16 electoral votes had been determined.
As of Wednesday night, the Associated Press had not yet officially called Michigan for Trump, but the Michigan Secretary of State released unofficial results late Wednesday morning announcing a Trump victory by a margin of 0.27, a mere 13,225 votes.
The Secretary of State tentatively reported 2,277,586 votes for Trump and 2,264,361 for Clinton from Michigan voters.
This election marks the first time Michigan has selected a Republican presidential candidate since it voted George H.W. Bush into the presidency in 1988, 28 years ago.
Four years ago, Michigan supported President Barack Obama by a margin of 9.5 percentage points. But this election, 11 Michigan counties swapped from blue to red.
Grand Rapids backs Clinton, but not enough to tip Kent County blue
The city of Grand Rapids proper turned out in favor of Clinton, giving the Democratic candidate 61.4 percent of the vote to Donald Trump's 29.4 percent.
Trump won just six of Grand Rapids' 77 precincts. Those six precincts were also all in the top 20 precincts in terms of voter turnout.
The two precincts with the highest voter turnout in Grand Rapids both favored Trump, with 81.66 percent and 81.09 percent voter turnout. The lowest voter turnout for a Grand Rapids precinct was in Precinct 24, in which just 36.44 percent of registered voters turn out to vote.
Grand Rapids proper constituted 84,245 of Kent County's 306,249 votes on Tuesday.
Trump won the county handily, at 48.3 percent to Clinton's 45.2 percent. The map above shows the stark contrast between the solid blue of Grand Rapids and the impenetrable red of the surrounding county, a microcosm of the urban-rural party divide that showed up across the country.
Data used in this article was taken from electionmagic.com and AccessKent, unless otherwise attributed.  
About the Contributor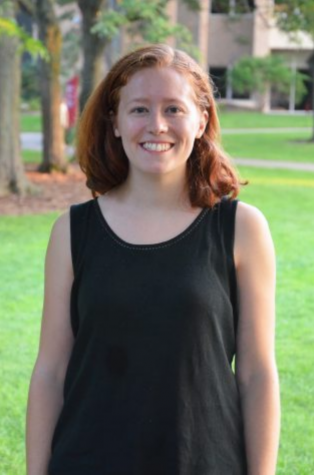 Carolyn Muyskens,  Local Editor
Carolyn is your local editor for the 2016–2017 school year. When in class, she studies language and people and how they've shaped one another throughout...