New city wide dining options for 2016
This summer saw no shortage of new Grand Rapids eateries. Here's a small sampling of what's new around town.
That Early Bird – Eastown – 1445 Lake Drive SE
Faced with the tall order of replacing beloved neighborhood standard Kava House, That Early Bird opened this June. The café's mix of brunch offerings and coffee shop standards is a reflection of the partnership between owners Joel Wabeke, an experienced chef, and Stephen Curtis, owner of Rowster Coffee. In an interview with Grand Rapids Business Journal, Curtis said, "We have lots of communal spaces where you can meet people or spaces where they want to be by themselves. We're adding to the space of what [Kava House] was by adding food." Wabeke stressed the importance of listening to the community: "We want it to be a hub that people come into and treat as an extension of their lives," stating that the restaurant began with a fluid concept to allow for the community's desires and preferences to shape the restaurant. The café has a bright, open feel and a variety of seating options to facilitate both group dining and solo studying.
D'Arts Donuts – Eastown – 1444 Lake Drive SE
Propaganda Donuts' departure earlier this year left an opening in the niche market of local donut shops, and D'Arts was there to seize it. D'Arts, which started out as a food truck, held a "soft opening" the last week of August in preparation for its grand opening. The atmosphere is cheery, with wood surfaces and bright primary colors illuminated by a string of lightbulbs. Donuts are $1.00 for "classics" and $1.75 for "signatures." The shop serves Madcap coffee with their sweet treats.
Mokaya – East Hills – 638 Wealthy St. SE
Mokaya is a family-owned-and-operated chocolate shop that opened on Wealthy Street in late June. The confectionery's signature offering is its artisanal chocolate truffles, but Mokaya also creates in-house candies, pastries, hot chocolates, malts and sodas. Owner Charles "Smitty" Golcyzynski was the owner of Jersey Junction, the East Grand Rapids ice cream parlor, before starting his own catering business, the Catering Co., which he sold in order to work on Mokaya. The chocolate shop's name comes from an ancient Central American culture, which archaeologists believe were the first to create chocolate-like beverages out of cacao.
The Søvengarde – West Side – 443 Bridge St. NW
The Søvengarde is a Scandinavian restaurant and outdoor biergarten located on the west side. The restaurant's website locates their cuisine within "the New Nordic Movement," stating that their menu explores the close ties between the climate and culture of the Midwest and that of Scandinavia. In an interview with the Grand Rapids Business Journal, Rick Muschiana, owner and general manager of Søvengarde, emphasized the restaurant's commitment to sustainability through revitalizing industrial spaces: "We want to preserve some green space in an urban environment … We want this to be a gathering place for the community, a place you can step away for a couple of hours and feel you're in the garden."
About the Contributor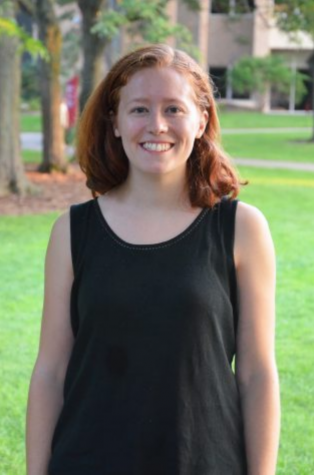 Carolyn Muyskens,  Local Editor
Carolyn is your local editor for the 2016–2017 school year. When in class, she studies language and people and how they've shaped one another throughout...