MSDO packs Fish House with live music, poetry
The Fish House hummed with energy as students packed into the small space last Tuesday, April 12, to hear poems performed and written by both students and alumni at this year's Poetry Slam.
The Multicultural Student Development Office (MSDO) organized the Poetry Slam, an event facilitated by MSDO student ambassadors Eli Young and Amaly Elmi, two of the seven student ambassadors that organize and plan events to increase first-year AHANA student involvement and engagement on campus.
The Poetry Slam has been held annually for over 10 years and continues to draw crowds. In addition to poem recitation, student bands performed live music while audience members danced.
This year, MSDO brought in outside headliners from the Grand Rapids area  as well. These headliners are "well-known around the Grand Rapids area and have already performed at Calvin the past couple years," according to Elmi.
The Poetry Slam grows every year, according to Elmi, and this year the Poetry Slam gathered the most performers ever — organizers even had to turn some performers away.
Each year, the audience seems to grow as well. "I think it's great when students come out and support their fellow classmates and friends," said Elmi. "Especially with something as delicate as reciting poems and spoken word, it's not always easy to build up the courage so it was nice to see the encouragement from the crowd."
The aim of the Poetry Slam was to create a "judgment-free zone" for students to speak freely about controversial topics like wealth, race and politics.
"So many students read beautiful poems that have such raw emotion and content. … Our goal is to foster an environment where students feel they have a safe place and can perform freely," said Elmi.
In addition to the Poetry Slam, MSDO also hosts other types of events, such as the "Empowerment Series" held twice a month. The first 10 minutes they have a speaker come and talk to the students on various topics such as study tips, financial aid, importance of mental health and the Broene Counseling Center and more. The rest of the time is designated for students to study, eat and socialize.
The next MSDO event will be a week of lectures starting on Apr. 18, entitled "Unveiling Misconceptions" on the wrong impressions of Arab-Americans.
About the Contributor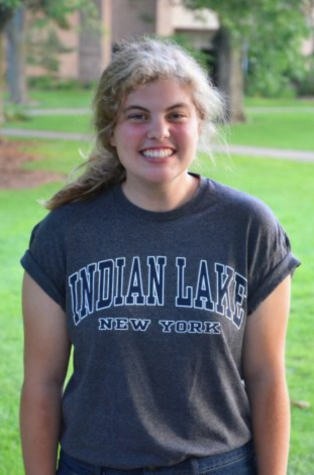 Maddie Hughey, Print Editor
Maddie Hughey is the print editor for the 2016-2017 school year after having been campus co-editor, on-call writer and staff writer in years past. She...