Calvin's U.S. News ranking falls overall, climbs in teaching and engineering
Calvin climbed the charts in Best Undergraduate Teaching, Most Innovative and Best Undergraduate Engineering Programs in the 2022 U.S. News & World Report rankings. On the overall ranking of Regional Universities Midwest, however, Calvin fell to No. 4, beaten out by Butler University (Indianapolis, Indiana), Bradley University (Peoria, Illinois) and John Carroll University (University Heights, Ohio).
Calvin ranked No. 1 on the Regional Colleges Midwest lists for 2017, 2018 and 2019. After becoming a university, Calvin came in at No. 3 on the Regional Universities Midwest list for 2020. On the 2021 list, Calvin again ranked No. 3. While the Regional Colleges Midwest list ranks 87 schools, the Regional Universities Midwest list, on which Calvin now competes, ranks 157 schools. When ranked No.1 on the colleges list, Calvin was in the top 1.15 percent of colleges. Now Calvin is in the top 2.5 percent on the universities list.
Calvin shapes up well in comparison to other Christian universities in the Midwest. John Carroll University is the only Christian university that outranks Calvin overall. John Carroll, however, costs about $8,000 more than Calvin annually and is less selective — accepting 88 percent of applicants while Calvin accepts 76 percent. The No. 5 spot, just below Calvin, is also occupied by Xavier University, a Jesuit school.
Cornerstone, Calvin's neighbor down the Beltline, ranks No. 74 overall among Regional Universities Midwest.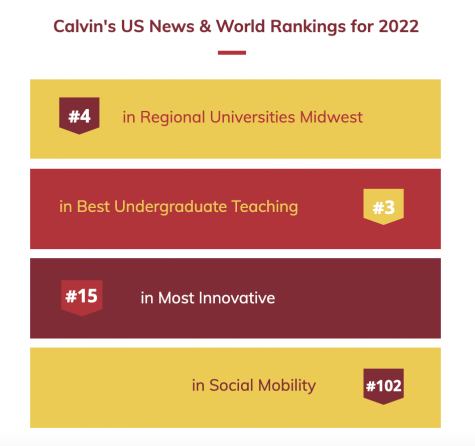 Calvin took No. 3 on the Best Undergraduate Teaching list for 2022, up from No. 5 last year, out of 24 eligible Midwest universities. This ranking highlights institutions that focus on undergraduate teaching to a greater extent than graduate-level research and other programs. Rival Hope came in No. 48. In this category, Calvin was again outdone by Butler University, which came in No. 1. Alverno College (Milwaukee, Wisconsin) came in at No. 2. This list is ranked via peer assessment, which means administrators rank each other's schools.
Calvin placed No.15 for innovation out of 17 eligible Midwest universities. The innovation category focuses on innovative changes to curriculum, faculty, students, campus life, technology or facilities. Calvin also ranked No. 39 for engineering programs at schools without doctorate-level engineering offerings, out of 239 eligible schools. For comparison, Hope claimed No. 75 in engineering programs.
According to a press release, Calvin's engineering program ranking has climbed 29 places in the last two years. This category is also ranked by peer nomination.
Calvin also placed No. 492 out of 694 for Nursing and No. 102 out of 157 for Top Performers on Social Mobility, a category which recognizes institutions with high proportions of Pell Grant students. Most Pell Grants are awarded to students with family incomes under $50,000. Hope came in No. 158 on social mobility, but outranked Calvin in nursing, coming in No. 251.
Leave a Comment