FarmLink connects West Michigan farmers to local restaurants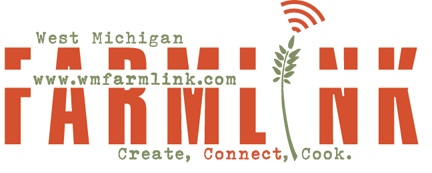 "There are a lot of people talking about local food. FarmLink's doing local food," Jerry Adams, co-founder of FarmLink, insisted as chefs and farmers bustled around the FarmLink headquarters, located at 1111 Godfrey.
The warehouse where FarmLink distributes products every Wednesday is not a place short on talk, however. Farmers, cheese producers and chefs from award-winning restaurants and country clubs gather together and discuss the merits and complications associated with locally-sourced food.
Named the Most Innovative Business in Grand Rapids in 2013, FarmLink is a business that connects West Michigan restaurants and institutions with farmers to provide high-quality, local food in an efficient manner.
In a model similar to Amazon, farmers post the amount of available produce each week, FarmLink compiles a catalog, chefs order the quantity of food they need for the week and then receive the products from the FarmLink hub.
The need for a better system of food distribution became apparent to Adams when he visited the Fulton Street Farmer's Market over 15 years ago. He observed farmers who had lost money and wasted food on a rainy day, as well as the inconsistency of food ability.
After years of experience heading up the West Michigan Food Co-op, Adams took a step toward building efficiency into the restaurant industry.
"People talk about building transparency into the system, but the transparency should already be built in. That's what we're doing at FarmLink," he said.
The idea gained traction with Paul Quinn, an ex-investment banker who joined Adams in making FarmLink a reality. "I saw the beauty and simplicity in the model and saw that it was how food should be distributed," he said.
Adams argues that the FarmLink model is the best for both farmers and consumers. "In the conventional way of food distribution, seven people touch the food, with five in between the farmer and end buyer.
What are those five doing? Most of the time they mark up the food but don't even touch it. So who's getting ripped off? The seller and the buyer."
In the past, chefs using local ingredients had to personally set up multiple deliveries with farmers, but FarmLink has provided a streamlined service for a small cost.
Typical food distributors mark up prices by 30 percent, but FarmLink takes only five percent. "Large-scale distributors tell the farmer what to charge. I ask the farmer how much it costs to grow their product," Adams said.
To avoid farmers abusing the system, FarmLink vets all potential growers and obtains information about their practices. The company doesn't set specific standards for farmers to follow, however, arguing for the role of the free market to determine quality.
"All the clicks from the chefs shape what we do," Adams explains. "We don't shape or pre-decide who's going to succeed. We want to have the whole spectrum of food products. We have artisan cheese and we have bags of mozzarella. The only thing is that it has to be local."
Local chefs have been eager to get on board with the business concept. "FarmLink is awesome because they give farmers a solid outlet to sell their product to chefs and not crossing your fingers and bringing your product to the farmers market," said Chris Perkey, chef at Osteria Rossa.
FarmLink has helped to shape a culture of communication and relationship between farmer and chef. "They have to make a living or it doesn't work. You need to communicate with the farmer to make sure that he's making a living," Perkey said.
"We'll share if we got a great product from a farm, and that spreads and you can investigate that farmer and establish a relationship," another chef added.
As FarmLink's growth surged into the triple digits in the past year and restaurants like Osteria Rossa have gained success serving locally-sourced food, the organization looks to future growth.
"There are a lot of universities that we'd love to do work with that have students who are genuinely interested," Quinn stated, pointing to the large quantities of produce they have at their disposal. "You want a local food year? We'll bring it."