Grand Rapids city manager proposes police body cameras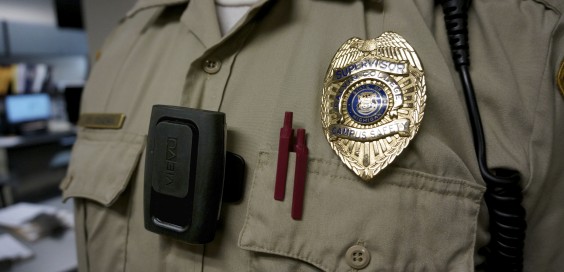 In the wake of racial tension and police distrust stemming from the events in Ferguson, Mo., and New York City, N.Y., the city manager of Grand Rapids has proposed giving every police officer a body camera.
In a 12-step recommendation for the Police Department, Grand Rapids City Manager Greg Sundstrom argued that installing body cameras on the police force will increase accountability and trust between the GRPD and Grand Rapids citizens.
The $1.5 million price tag for the program, "will be a significant cost that at this time is not earmarked in any budget," Sundstrom said. "Having said that, I can't imagine too many higher priorities than this."
At a meeting on Jan. 27, the City Commission voted unanimously to approve a trial use of body cameras on all police officers in the city.
All cops will have a body camera by March 10, according to the plan. To ensure the privacy of citizens, the department will develop policies that protect those who come into contact with the body cameras.
"I'm cautiously optimistic that body cameras will improve officer-community relations, and they can certainly help provide appropriate accountability for officers with the potential to use deadly force," said Joe Kuilema, a social work professor at Calvin. "They also have the potential to protect officers from baseless accusations."
Beyond the use of body cameras, recommendations for the department focused on a collaboration between the police department and the community.
The plan advocated hiring a consultant to study the disparities of arrests among minority citizens in Grand Rapids, as well as a racial-profiling study which will investigate the racial disparity in traffic stops at various points in the city. The last study of this kind was done in 2004 and did not find that blacks were systematically targeted over whites—although they were stopped—a significantly greater amount of times at certain intersections than whites were.
Sundstrom recommended focusing on the reasons for lack of diversity in the police force, whether it be due to policy or lack of education about career opportunities in the schools.
One way to combat this issue is "Grow Our Own," a current collaboration between the Grand Rapids Public Schools and the city's police department for students who are interested in law enforcement careers. The city plan encourages growth of this program to increase diversity within the city's police force. Additional contact between the organizations and internships for youth would encourage more local students to gain an interest in working in law enforcement.
Speaking of the recommendations, Kuilema said, "These have the potential to start getting at root causes, but it will be important for the community to closely monitor how they are implemented."
According to the plan, more meetings between the Police Department and community will be scheduled to increase transparency and build a stronger bond between the two groups.
Enhanced training for officers will be mandatory and will focus on cultural competency.
While all cops will undergo cultural competency training, they will not be required to take bias tests, which the Grand Rapids NAACP and LINC advocated for through petition campaigns.
City Manager Sundstrom said, "The best way to ensure proper police officer conduct is through extensive training in cultural competence and proper procedures," and according to Police Chief David Rahinsky, utilizing a bias test department-wide is improbable.