West Michigan thinks globally during Gala Initiative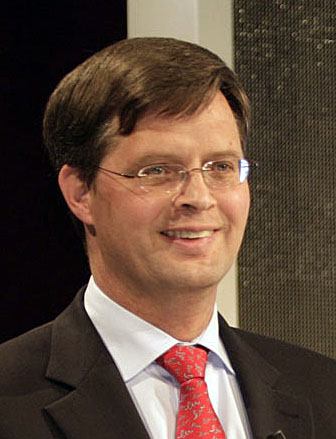 Business leaders from West Michigan and about two dozen business leaders from the Netherlands met at the West Michigan Global Initiative Gala on Thursday.
The purpose of the event, held at the Grand Rapids Art Museum, was to foster business relationships and encourage trans-Atlantic investments.  The event was preceded by two weeks of West Michigan businesses and factories showcasing their companies to the Dutch businesses leaders.
At the gala, the key speakers were Governor Rick Snyder, David Rubenstein (the co-CEO of the Carlyle Group, one of the world's largest private equity firms) and Jan Peter Balkenende, the former prime minister of the Netherlands.
In his speech, Governor Rick Snyder stated that if Michigan wishes to be competitive in an ever-changing world, it must acknowledge that the marketplace is becoming increasingly global.
Snyder commented that leaders in both the Netherlands and in Michigan share an ability to innovate and therefore are "kindred spirits."
"Michigan used to be the innovation capital of the world, and the industrial capital of the world," Snyder said. "But the world changed, and we didn't recognize that. We were too complacent, too content. We took too much for granted."
He also noted the necessity in grasping that industrial globalization will only increase.
"We need to recognize that world is with us to stay," he said. "How we can leverage that to be a positive power, and not a challenge as to how we operate?"
In his opinion, the government's role has not been properly defined. Instead, it has been defined as an institution taking and spending money instead of focusing on 'customer service,' where its role is not to create jobs but to create an environment where jobs can flourish.
"Businesses need to see fiscal responsibility from the government to create that environment, and the state needs to be able to prepare the most talented and skillful workforce in the world."
Of the state's educational community, Snyder said "We need to do a better job."
"We have fabulous teachers, we have fabulous administrators and there are great people in the system," he said.
"But we have lost focus, a focus that needs to be on student growth. And we need to ask the question much more often, 'Why are you getting this education?' And that role is to say 'There is a career out there for you.' And we need to focus on getting that career match to happen."