Calvin University green-lit the purchase of around $140,000 worth of equipment for the film and media program in late September. 
Planned and completed purchases include a flagship camera package of a RED Komodo X 6K and associated lenses, updated field cameras and updates to the studio computer and rigging gear, according to an email sent to film and media students by communication department chair Kathi Groenendyk and Samuel Smartt, director of the master of media and strategic communication program.
This investment comes in the wake of the closure of local film institute Compass College,   which resulted in the transfer of 42 Compass students into Calvin's film and media program.
Before their closure, Compass owned a "handful" of similar, though older, RED cameras, Smartt told Chimes. "We were glad that we could ease the acclamation process for our newest transfer students from Compass with this purchase [of the RED]," Satterfield said, "However, that was by no means our only consideration."
The new gear will bring the film and media program in line with industry standards. The RED is "one of the two brands most commonly seen on commercial and narrative productions," according to Kendrick Satterfield, Calvin's new production manager. The RED's prevalence in professional industry will allow students to "familiarize themselves with equipment and ecosystems in an environment that is safe to fail in. So that when they step onto their first set, they don't feel like a fish out of water," Satterfield said.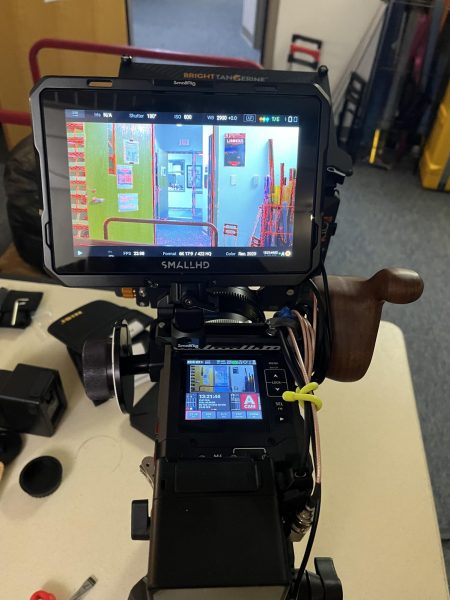 Other equipment upgrades are "part of a normal lifecycle replacement," Smartt told Chimes, and were purchased through external grant funds. However, the RED package was "specially funded by Calvin's Provost's office to demonstrate the administration's investment in the Film and Media program in light of the fact that we have not been able to get equipment from Compass this semester, as had been expected," said Groenendyk and Smartt in the email to students. 
Compass is still working through internal matters, which have delayed discussions with Calvin about the building and equipment, wrote Provost Noah Toly in an email to Chimes. "The result of those discussions is outside Calvin's control," he wrote, so "we have decided to proceed with actions that are in our control."
According to Toly, "after the 2022-2023 academic year, Compass College reached out to Calvin University to explore a possible pathway for students. Those discussions took place over several weeks and led to the signing of [a letter of intent (LOI)] over the summer." The conditions of that LOI are unavailable, but the current status of the agreement "has been disappointing and frustrating to everyone on the Calvin side," Smartt told Chimes.  
The lack of certain equipment at the beginning of the semester left some students and faculty "feeling frustrated not to have access to those resources," according to Smartt and Groenendyk's email, as well as previous Chimes reporting.
Nevertheless, the recent purchases have generated excitement among faculty and students. Evan Wright was the first student to rent out the new RED Komodo X 6K. Satterfield worked with Wright, teaching him how to use the new camera. According to Wright, the RED — as compared with the other cameras Calvin students had access to —  "provides a much easier and better shooting experience."  
"Calvin's willingness to purchase such a new and expensive camera has me excited for what other kind of new equipment we may get in the future," Wright said. 
Calvin is not only investing in equipment. Through current and planned renovations, "DeVos is becoming the hub of all video on campus," Smartt told Chimes. 
Already six Classroom and Production Technology (CPT) staff members — including three video producers — have moved into the building, and the former Speech Pathology and Audiology Department (SPAUD) Children's Clinic has been remodeled into a large control room with studio spaces. Future renovations include more office spaces, a new lounge area for students, a multipurpose production classroom and more, according to Smartt. 
"All of the purchases we are currently making, both large and small, and the building renovations are all moving toward this goal: turning out competent, confident students who will excel in the field," Satterfield said.