Learning in the messy middle: Student experiences of Calvin's political climate
For political science professor Micah Watson, civil discourse is "real engagement that tries to respect where someone else is coming from and understand." It is predicated on a willingness to engage in a reciprocal exchange; according to Watson, "civil discourse should involve good arguments." 
Student experiences with civil discourse have assumed different forms, and have been received by their communities in different ways. In the shadow of the recent midterm elections, Chimes interviewed students in an attempt to understand how Calvin's student body is engaging in conversations around their varying political stances.
Reception of political views in the classroom
"From my experience, most of the professors I've had have been very, you know, in tune and …  receptive to students and our opinions," Ashlyn Franklin, a senior studying social work who identifies as liberal, said. 
Daniel Urban, a junior studying political science, philosophy and economics, told Chimes his experience has been overall positive. "I think it's been easier for me because I'm in poli-sci, and the professors are more conservative. So I'd say my opinions have been viewed pretty well there," Urban said. 
Experiences vary across different departments and courses, however. 
"I think it certainly depends on the professor, it depends on the subject, it depends on class assignment," Fisher Pham, a senior studying biochemistry and neuroscience, said. 
Pham said that his views have been negatively received, overall. While his science courses mostly "stay away from political issues in general," he said this is different in classes such as psychology, philosophy or religion, where he often feels that more conservative perspectives are "shut down" by professors.
Delaney Marsh, a senior studying health and physical education who is treasurer for the Calvin campus chapter of Turning Point USA, said, "I think there is a lot of pushback on conservative thoughts as it is not the main view in many classrooms … It is not something many people express as they fear being seen differently by their peers."
"The messy middle"
According to Watson, Calvin is viewed both as "too conservative" or "too progressive" depending on which school it is compared to. 
"The term that we often use is we're in the 'messy middle,' which I think is fair. And I actually think if we're trying to be Christian first, then in some ways we will appear conservative to the world and in other ways we will appear progressive. We're trying to be authentically Christian, and it may not fit into those political categories," he said.
Calvin is "more conservative than most universities but compared to Christian universities, probably moderate liberal," Urban said.
Franklin said she thinks it is valuable that Calvin tries to "have this openness and teach a lot of different things," but she finds herself disappointed by the middle ground, especially regarding decisions around conversations about sexuality and other contentious issues.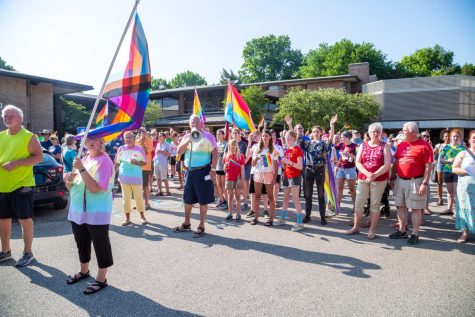 "I think there's been a trend lately of more conservative and/or Republican student action … I think also the leadership is still sticking to that conservative-ish approach to at least some of the social issues at Calvin," Isabel VanderMolen, a senior studying international relations and co-president for Calvin Democrats said. "I'd say Calvin tries to be moderate, but it's a bit moderate conservative and that might have to do with its ties to the CRC."
"We are not exempt"
"Sometimes Calvin can feel like a little bit of a bubble," Franklin said; however, the university is not exempt from "hot topics in the United States."
Those topics include the overturn of Roe v. Wade and discussions around sexuality, Franklin told Chimes. 
"I think those are some of the ones I hear about the most, that have been talked about and that I also see multiple sides of Calvin on the political spectrum talking about the most," she said.
"The more energetic or more fraught fault lines are among issues of identity," Watson said. These relate to topics like race and sexual identity, he told Chimes. "People at Calvin, we all know we should love our neighbor, but we have pretty different views in some cases as to what that love means when it's manifested," he said.
In the early stages of the pandemic, COVID-19 policies were another topic of contention among groups with different political beliefs. 
Urban told Chimes his stance on vaccine mandates generated pushback from peers.
"If I have an alternative view, I need to have everything straight whereas people who hold the more popular view can just kind of say whatever they want," he said. 
Approaches to civil discourse
Students consistently pointed to values like respect, understanding, kindness and empathy as important characteristics in approaching challenging conversations, while also advocating for their own perspective. 
"I try to be kind and understand where they are coming from and where their thoughts are based, but also show them my thought process and any facts that I have to back up my thoughts and beliefs," Marsh said. 
Sean Salamun, a senior studying political science and international relations and the outreach coordinator for Calvin Democrats, agreed. He said he feels it is valuable to talk about politics with friends who hold different opinions by "remembering who they are [and] hearing them out" instead of "arguing with them."  
Pham said that the key is in "identifying what our commonalities are, what our differences are, and how do we address that while maintaining respect for the other person as someone who also wants the best outcome."
For Franklin, she sees it as challenging to develop new friendships that come from conversations around different political beliefs because those conversations have become "so charged that there doesn't seem to be much room for being friends with someone who is outside of your political view."
She said she does, however, have friends who are on opposite ends of the political spectrum. "But we were friends before we had [political] conversations," she said. "We don't have a conversation and become friends and I don't know how possible that is at Calvin."
"A symbolic handshake"
When it comes to approaching conversations across a wide range of political beliefs, students say there is room for growth on campus.
Pham told Chimes that, in the classroom, he thinks it is important for professors to teach both perspectives "without villainizing one and lifting up the other," or teaching neither and "educating about the facts that are relevant to the course itself, not the political ideologies that professors hold."
"We don't need to have professors who are fighting about political issues for reasons that don't even relate to the class," he said.
Franklin said that despite differences, "As students, it's important to know that the other side of the political spectrum is not our enemy," because without this understanding, "there's no room for civil discourse."
"I think that's just kind of something that we all have to begin to learn again," she said.
This learning has been encouraged and developed through initiatives like partnering with the Colossian Forum last year — a Grand Rapids-based organization with a focus in Christian conflict transformation — facilitated by a few Calvin professors, including Watson, through a series of small groups that met last spring.
"We had a great group with people with, you know, quite different views on sexuality. And it wasn't just an issue; this involved people they knew and loved," Watson said. 
Salamun recounted a 2020 Zoom discussion among Calvin Republicans, Democrats and the Political Dialogue and Action Club which he felt exemplified a healthy civil discourse. "We all did an event talking about our candidates' platform on the environment, healthcare and the economy. We didn't argue or anything. … I thought it went pretty well."
These kinds of collaborative events between different political groups on campus, according to Vander Molen, "says something about our campus … It's like a symbolic handshake … We're going to talk about our differences. But we're also going to do it in a mediated way where it's not us trying to get at each other's throats; it's more of us trying to educate ourselves and our peers."
Student Senate is also working on bridging the gap between people with different political beliefs through newly instituted Representation Focal Groups that have replaced the former Senate position of VP of representation.
"The Representation Focal Groups help Student Senate become more representative to the student body, since they operate in a way where we as Senate can hear the voices of Students directly, not just through our semester surveys," Senate VP of communications, Ngicha Kilewo, told Chimes in an email.
"The consensus from all the facilitators in the various groups has been that the students participating are grateful to have a place where they are listened to and heard," Alaina Kwiatkowski, one of Senate's Team Leaders and one of the two facilitators for the Conservative Representative group, said.
There are currently three operational groups: the progressive group, the conservative group and the athletic group. Each group has at least two facilitators and 10 to 12 anonymous student representative members, Kilewo explained. 
This wide range of views is part of what inspired Watson to come to Calvin. 
At Calvin, "You'll probably find students who've had good experiences and bad experiences on either side of the spectrum and I guess I would just say that that's one of the reasons I came to Calvin," Watson said. "We're the sort of place where you actually meet people on different sides of the spectrum yet we're under the Lordship of Christ."
"This story has been updated from its print version to correctly attribute the photo and to clarify quote attributions. Chimes regrets these errors."
Leave a Comment