An interim arrangement: Calvin adapts to a changing academic calendar
In past years, the coldest weeks of January have found Calvin's campus operating under a distinct academic format: The three weeks after winter break comprised interim, a bridging period between the two semesters that offered a rich experience of unique classes, off-campus opportunities and events, and ample leisure time for students.
This year was the first in recent history with no interim on the calendar. Then-Provost Cheryl Brandsen announced in 2020 that Calvin would officially transition to a three-semester academic calendar: a fall semester, a winter/spring semester and a summer semester in the 2021-2022 school year. The summer semester would include a May intensive –– an eight-week session to replace interim.
This year when students returned from Christmas break, the spring semester kicked off at full speed.
Adapting to change
Still in the process of making the transition, many on campus are grappling with the diffuse effects of the calendar restructuring. One common pattern among students has been adapting to busier schedules. Junior Ashley Hyatt had to fit an additional six credits into her schedule. Sophomore Graham Kort found himself struggling with juggling his honors responsibilities, classes and Worship Symposium commitments without having interim to prepare for the semester.
"
"Teaching during COVID-19 has been extremely difficult. Teaching during COVID-19 with a higher load during the semesters has been absolutely exhausting
"[Interim] gave students a lower-key three weeks before 'real' school began to get back into the rhythm of school, which I person- ally found very nice," Kort said. "Instead of having to jump right back into the furor of a full-credit load, people had a few weeks to get themselves booted back up again before break."
Engineering majors in particular, with notoriously fixed program schedules, were affected by the calendar change. Anna O'Keefe, a senior studying chemical engineering, told Chimes that a process safety course, essential for the accreditation of the program, was formerly offered during interim. Now, due to scheduling conflicts, it has been merged with her senior design class, reducing time in- tended for the original classwork, according to O'Keefe.
"Without interim, we are not able to take this class as an actual class because it will not fit anywhere," O'Keefe said. "I guess we have adapted [because] we don't really have another choice but we are losing valuable work time for our senior design projects."
Senior Abigail Cho had to give up her ESL minor altogether since her 16-18-credit course load did not allow for additional classes. "I was counting on having my last interim class during my senior year be the last class I would need to complete an additional [ESL] minor," Cho said in an email to Chimes. According to Cho, the minor would have been an additional subject specialization she would be certified to teach.
Faculty also face significantly more hectic schedules. According to Professor John Wertz in the biology department, without in- terim, many faculty members have had to increase teaching hours to maintain their full-time status. "Teaching during COVID-19 has been extremely difficult. Teaching during COVID-19 with a higher load during the semesters has been absolutely exhausting," he said in an email to Chimes.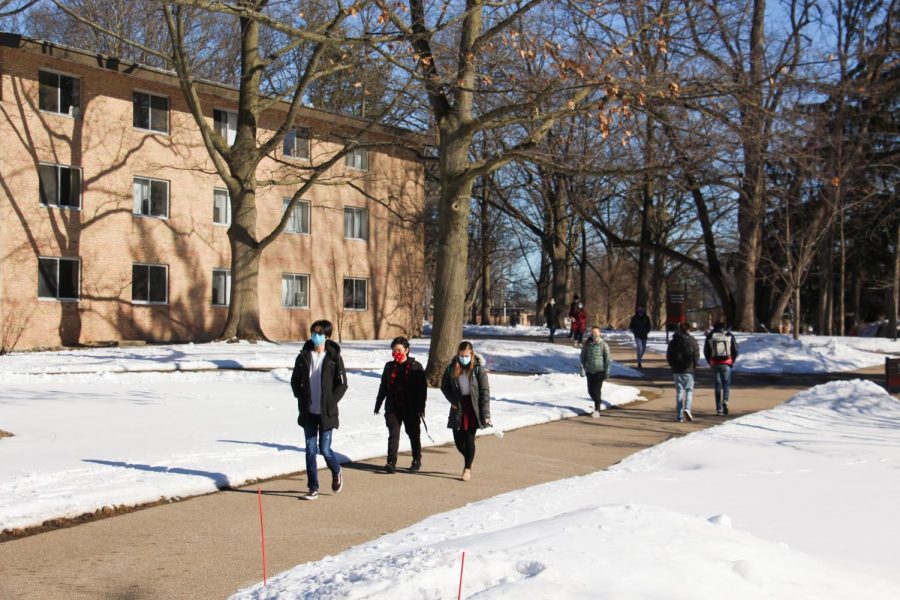 Changes to academics don't stop there. For the politics and economics department, the absence of interim means the loss of a rare opportunity to offer classes dedicated to students on the pre- law track. "It also was our best opportunity to have an immersive experience in law, because we encouraged students to take internships and facilitate mentoring and job shadowing," Professor Joel Westra, who serves as pre-law advisor, told Chimes. As a solution, the department is now considering building a law and policy track into their Washington D.C. semester.
January events
The effects of the loss of interim extended beyond academic life. Many events typically hosted in the second half of the school year, such as the January Series, Rangeela and Calvin Worship Symposium, revolved around the interim period.
January Series Director Kristi Potter told Chimes that her first reaction to hearing about the intended calendar change was concern. From its inception, the early afternoon timing of the daily lectures was specifically chosen to fit between the morning/afternoon class schedule of interim for the sake of student and faculty attendance.
The calendar change also meant the potential loss of the recurring January Series interim class devoted to students' engagement with the speakers. Luckily, the course was able to continue.
Worship Pastor Paul Ryan is also facing challenges hosting the annual Calvin Worship Symposium within the new calen- dar. Hosting during interim provided maximum availability for workshop scheduling and dining options for attendees. Now Ryan and his team have had to come up with creative solutions to counter that loss. Ryan told Chimes that while hosting the symposium during the spring semester grants a certain level of publicity, it also results in less attendance. "It is more challenging for students who would have devoted their break to attending the full conference to now fit in worship services and sessions into their busy class schedules," he said.
Rangeela, another event Calvin is known for, is going through major changes to adapt to the new calendar. The cultural showcase was a spring semester staple but will now be hosted in the fall. Suji Lim, who sits on this year's Rangeela student committee, explained the key role of interim for the event: "We could use interim to learn most or all of the cho- reography or song and then refine them for the first few weeks of the spring semester before having the show." According to her, student availability will now become a challenge for the committee.
Rangeela will also be converted to an official student organi- zation and be scaled down to a manageable size for its student leaders, a decision made after extensive discussions.
Administrators respond
Vice President for Student Life Sarah Visser told Chimes that eliminating interim was not the specific intention behind the restructuring of the calendar; the motivation for the decision came from "thinking about the academic calendar moving forward," according to Visser.
Multiple conversations were held to discuss factors like the financial sustainability of interim, the dissimilarity it caused in comparison to the calendar schedules of other institutions and the potential benefits a three-semester structure would provide for new learners seeking entry in the latter half of the school year.
"The change to the academic calendar helps Calvin live into its vision and strategy for the future," she said in an email to Chimes. "Even as we're working to find a 'new normal' follow-
ing the change, I'm confident that the new calendar will help provide flexible on-ramps for all types of students to access learning, travel, internships, co-curricular engage- ment and community life."
According to Visser, one example of the increased access to learning and travel following the change is that student athletes now have the chance to participate in study abroad courses offered in May. Competition schedules did not permit them the chance in January.
Despite administrative confidence that the decision was necessary and works to further Calvin's vision 2030, challenges and concerns have not gone unanswered by the administration and solutions are being offered.
For instance, Potter had her fears assuaged after the successful outcome of her final January Series this year.
She described the Calvin community as stepping up to address some of her worries. In a deficit of staff, members of the Calvin Academy for Lifelong Learning volunteered as ushers and alumni returned to serve on the tech crew. Potter said that the honors department also took up the responsibility of offering a one-credit version of the original January Series class.
In response to the loss of off-campus opportunities held over interim, the administration created a work- ing group with the mandate "to envision what a robust, mission-aligning, and budget-neutral short-term study abroad at Calvin University could look like after the loss of January interim," political science Professor Tracy Kuperus told Chimes in an email. According to Kuperus, who is a member, the "Short Term Off-Campus Program" working group was created last fall and is expected to present its alternative models of short-term study abroad trips at the end of the school year. Kuperus told Chimes that the working group is "enthusiastic" and "committed to their mandate."
"We all see short-term study abroad as transformative and enriching for students. We also believe that Calvin University, if it values global education, should have 'boots-on-the ground', affordable off-campus opportuni- ties for students," Kuperus said.
The elimination of interim has been one shift in a set of recent changes for the university. But Visser ultimately remains optimistic about what's to come.
"I think the entire campus is living into the change with a healthy dose of both curiosity and resilience," Visser said. "From a student life perspective, we're eager to see how the new academic calendar impacts things like summer housing and student engagement. Our hope is that campus will increasingly be more and more active and vibrant year-round."
Chimes editor Hadassa Ribeiro contributed to this reporting.
Leave a Comment