Inside out: Knollcrest students to join CPI classmates for first ever joint course at Handlon campus
It's a Friday afternoon. You're headed to your last class period of the week. Instead of walking across Knollcrest campus, though, you're in for a 40-minute drive to Ionia, Michigan. You have to remember not to bring any personal belongings or materials that have not been pre-approved. You get into the lobby and show your ID. Go through the metal detector; they pat you down. Another set of doors. You receive a protective device. Wear it on your belt. Press the button if anything goes wrong. Finally, you walk across the yard, past the dining hall to the school building. The class is generalist social work practice with groups and families and your classroom is inside the Richard A. Handlon Correctional Facility.
Calvin is working to bridge the gap between Calvin Prison Initiative students and students from the Knollcrest campus through a social work class that aims to sharpen leadership skills in group settings. This is the first time Calvin students from the Knollcrest and Handlon campuses are taking a class at the prison together.
There are 34 Handlon students and 11 Knollcrest students registered for the class.
The class, SOWK 373, is taught by Professor Stacia Hoeksema for two different class sections: one solely for Calvin students on the Knollcrest campus and another for both Knollcrest and CPI students at Handlon.
"
We have less control about getting people from the inside out, but we can bring people from the outside in.
All CPI students graduate with a degree in Faith and Community Leadership and a social work minor. This partnership between Calvin's social work department and the CPI is what led to Hoeksema's involvement in the program.
Hoeksema taught her first class at Handlon in the spring of 2020. Back then she was teaching SOWK 370: the helping interview. Due to COVID, however, Hoeksema's experience teaching in the prison was cut short.
Despite the pandemic, Hoeksema recalls having a good experience teaching the class. She noticed there was a desire among CPI students to apply more practical skills. Hoeksema told Chimes that many CPI students are already taking on leadership roles in groups including leading bible studies and support groups.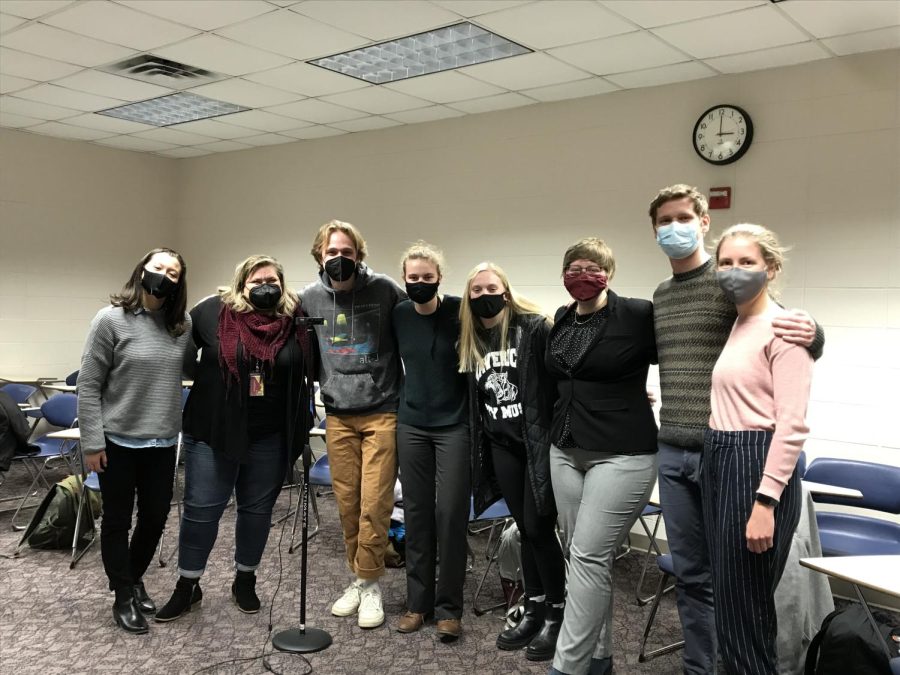 This time around, Hoeksema is teaching SOWK 373 at Handlon with the goal of bridging the gap between social work theory and practice by applying it to the work of leading in group and family contexts. The class provides students with "some more tools and skills for some of the work that they're already doing, but that they'll continue to be doing there within the space where they find themselves," according to Hoeksema.
And this time Hoeksema won't be going to Handlon alone: the 11 Knollcrest students are going along.
An inside-out class
"An inside-out class is something that CPI has been hoping for for many years," Kary Bosma, director of operations for CPI, told Chimes. "We knew that there would be a point in time where once we have the program established enough, we would want to bridge the two campuses and find ways to help the Knollcrest campus students further engage with the Handlon campus students."
Bosma, along with Hoeksema, was part of the first efforts to make this hope a reality. "Together, we imagined 'what would it look like for some of the students to take the course inside the prison?'" she said.
According to Hoeksema, "we have less control about getting people from the inside out, but we can bring people from the outside in."
Getting approval
"This is a milestone for the CPI program but also for the Knollcrest campus," Bosma said. The course marks the first time students from both Handlon and Knollcrest will take an accredited course in the prison.
Getting here wasn't easy. Unlike most Calvin classes, this section of SOWK 373 required more than just clicking on the register button.
According to Bosma, Calvin first had to seek permission from the Michigan Department of Corrections. "They were very supportive of the idea because they also recognize the value of having students from university main campuses come into the prison and learn side by side next to incarcerated students," Bosma said.
Next, they had to receive approval of Handlon's warden, Melinda Bremen, who was also supportive of their plan.
"The next steps in the process are something that usually students on the main campus here don't have to do when signing up for a class," Bosma said.
According to Bosma, all students had to go through an orientation at the prison, fill out the necessary paperwork agreeing with rules set for visitors and submit documentation for a background check. Bosma, along with other CPI staff, also instructed Knollcrest students on the expectations of what the class dynamic between them and CPI students would look like. This included how students are expected to present themselves in the prison context and what kinds of personal information they should not disclose.
Two layers of learning
Professor Hoeksema told Chimes she received help from CPI graduates to design the syllabus. "They've just been invaluable resources in terms of contextualizing," she said. "So I'm really grateful for all those guys who have helped me out."
One of the CPI graduates who helped Hoeksema is Nick Nichols, who is now program coordinator for the CPI. Nichols was one of 20 students who were selected for the first class cohort of the program in 2015. His experience, Hoeksema said, proved to be helpful especially in terms of communicating and adjusting the case scenarios for the class so that they are applicable to the context of CPI students.
"I know what will and will not work in that environment, how to make it happen and also how to put it in a language that corrections administrators understand so I can bridge the cultural language," Nichols said.
Nichols told Chimes this learning experience is an opportunity to "re-humanize" people who are incarcerated.
According to Nichols, CPI students' reaction to "monumental change," such as Knollcrest students taking a class along with them at the prison, is often one of disbelief.
"Whether such a thing could happen well, yes, of course. It can happen. It's just it doesn't happen much," Nichols said.
According to Hoeksema, there will be two layers of learning for the Knollcrest students: "One is the content of the class, but the whole other is this experience of going into Handlon and getting a glimpse of, you know, a very different life," she said.
Student involvement
According to Hoeksema, Knollcrest students were invited to take part in this opportunity via email. Most of the students taking the class are majoring in social work.
Jacob Aupperlee, a senior majoring in literature, heard of the class through Christina Haven, administrative assistant of the CPI. Despite not being a social work major, Aupperlee was interested in the class due to his previous involvement with CPI and desired to reconnect with students in the prison.
Aupperlee first got involved with CPI as a tutor for Handlon students in the spring semester of his freshman year. Seeking ways to connect with CPI students again, "I emailed the professor a little bit and talked to a few people about it and it sounded awesome. And I was looking for any chance I could to get back inside Handlon to meet with the guys in there, so I'm very excited," he said.
"
"Doing what we may think is impossible often just takes a little more work.
Amy Piescer, a senior studying social work and psychology, is also taking the class but from a different perspective. Piescer had already been hired as a CPI intern as part of her field placement for her social work practicum when Hoeksema suggested that she take SOWK 373 as an independent study.
Hoeksema is planning to connect with the social research group in the social work department to conduct a study on the performance of this inside out program. She hopes to present the findings along with Piescer at the North American Christian Social Work conference.
Piescer hopes that this class will break down stereotypes through the interactions between the two groups of students and provide an opportunity for all of them to grow and learn more about themselves.
Hopes and concerns
Handlon is currently closed for visitors due to a COVID outbreak. "The facility is closed to any outside visitors and prisoner movement within the facility is pretty limited. And then the school building where our classes usually happen is the quarantine space for positive cases. So they have bunk beds set up in the classrooms," Bosma said.
Because of this, Knollcrest students haven't been able to return to the Handlon campus since orientation.
Regardless of the roadblocks, though, all those Chimes spoke with are hopeful for what is to come.
"My hope is that they [CPI students] will understand just how much they mean to the Calvin community, that their lives matter, that their learning matters, that we believe in second chances and in restoration," Nichols said.
Bosma told Chimes that if this experience goes well, Calvin could expand it to other courses and possible future internships at Handlon in fields such as social work and nursing.
Nichols, along with the CPI staff and students involved, is excited about this new step and how involved the Calvin community has been with the program.
"Doing what we may think is impossible often just takes a little more work," he said. "And we set a new precedent for what's possible in the future."
View Comments(1)