COVID-19 dashboard an accessible way to stay informed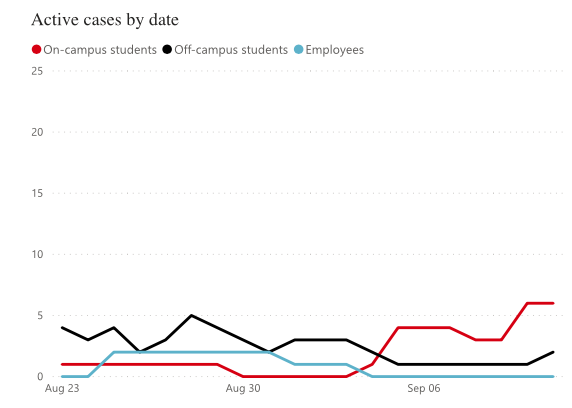 During the summer, members of the Safe Return team worked on implementing an effective Calvin COVID-19 case tracker dashboard for the fall semester. 
Calvin's dashboard became live on Sept. 1 and includes data gathered since Aug. 1. It was primarily developed by Lauren Amick, the manager of institutional effectiveness and analytics, in collaboration with members of the Information Technology department such as Brian Page and Matt Jeltema. 
According to Professor Kristen Alford, Calvin needed the COVID-19 dashboard in order to make in-person learning during the 2020-2021 school year a viable course of action. 
"We created it for Calvin's decision-makers to have something that they could easily look at and refer to," Alford said.  
This is because those in charge have to know how many on campus are affected by COVID-19 and whether the testing is working well or not. 
But this information is beneficial to the entire Calvin community of students, faculty, parents and alumni as well. 
"People sometimes make assumptions that aren't always accurate," Alford said. "We wanted to give people a picture of what it looks like on campus and some sense of reassurance that we're paying attention to COVID-19. The dashboard is very much about transparency and making sure that people have accurate information."
Many COVID-19 case tracker dashboards exist; for example, Johns Hopkins University's dashboard shows international cases, whereas numerous others keep track of cases at the state or even the county level. Additionally, other colleges and universities across the country have created them specifically for their own institutions. 
Students can find a link to the dashboard via the Safe Return section of Calvin's website. The dashboard updates every day using data drawn from several different sources. A date and time stamp are located at the top of the dashboard if students want to know precisely how recent the information is. 
As of Wednesday, Sept. 9, Calvin has four active student cases; three are on-campus and one is off-campus. Since testing began, there have been a total of 17 coronavirus cases in the Calvin community.
Leave a Comment