Celebrating Madeleine L'Engle's 100th birthday and legacy as a writer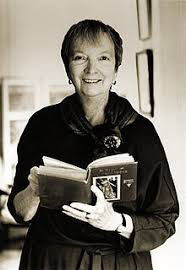 November 29, 2018 would have been the 100th birthday of one of the groundbreakers in spiritual fiction, Madeleine L'Engle. To celebrate her legacy, the Calvin Center for Faith and Writing (CCFW) invited three speakers to share their unique experience of L'Engle as a person and a writer on Friday, Nov. 30. The first speaker, Sarah Arthur, wrote A Light So Lovely: the spiritual biography of Madeleine L'Engle (2018).
Catherine Hand, the producer of the 2018 film A Wrinkle in Time based on L'Engle's most well-known book, came to speak Friday and also shared about the filmmaking process Saturday morning, which was followed by a free showing of the film. Speaker Charlotte Jones Voiklis is the manager of L'Engle's literary business and her granddaughter.
Professor Jane Zwart, co-director of the CCFW, shared that Madeleine L'Engle had a desire to "hold onto both a deep faith and a passionate curiosity," which is why she is an important voice for the Calvin community to hear.
"Sometimes we talk about these things–faith and curiosity–as pulling us in different directions," Zwart continued, "and to be reminding that they're not in competition with each other is really important perhaps especially to a place like Calvin College."
L'Engle is remembered for being a writer of faith who was not afraid to question. All of the speakers touched on how difficult it was for this book to be accepted, especially by the Christian community.
"I knew that A Wrinkle in Time was one of the most commonly banned books in children's literature," Arthur shared, explaining how Christians accused L'Engle of weaving New Age philosophies into this unconventional story. L'Engle's writing often explored questions that fell outside the boundaries of traditional answers in the faith.
"Publisher after publisher turned down A Wrinkle in Time because it dealt with the problem of evil," wrote L'Engle, reflecting on how her curiosity seemed out of place in her religion.
Hand explained that "[L'Engle] wrote A Wrinkle in Time in rebellion against Christian piety." One of the reasons why A Wrinkle in Time was so successful as a children's book, but also so denounced by adults, was sometimes adults "become afraid to ask questions." Hand also shared that L'Engle saw her faith from a position of humility and wonder, and wrote: "I cannot know the power that created the galaxies."
Because of her bold curiosity, L'Engle faced a lot of rejection. Arthur expressed that L'Engle came to embrace her writing as her spiritual vocation, but it was one that she struggled with.
Charlotte Jones Voiklis said that L'Engle believed "we are called to serve the gifts we are given." She had to combat the fear of failure and redundancy that comes with writing by thinking of writing as a lake. Her task, and the task she assigns to all writers, was to "keep feeding the lake [of writing]."
"If  thought I had to say it better than anyone else I would never say it…..Quality, size, medium, doesn't matter. Showing up does," L'Engle wrote.
Voiklis concluded by encouraging writers that writing does not guarantee safety or success, but "creativity and joy are what await us."