Students turn to vaping for relaxation, entertainment
Walk past Calvin's designated smoking areas today and you'll see more students smoking flash drive-shaped e-cigarettes than actual cigarettes.
"Vaping" is inhaling water vapor laced with nicotine. First developed in the late 2000s as a way for smokers to quit cigarettes, it is now an addiction of its own with many of its victims under the age of 30. Calvin students are no exception to this. Chimes spoke to four students regarding their vape use, and all four reported that vaping is common on campus and at parties.
The students reported other trends. None of the four vaped in order to quit cigarettes. Three of the four did not smoke cigarettes before they started vaping, but began smoking cigarettes occasionally, although not consistently, after they picked up vaping. All four said that they vaped every day, multiple times a day and admitted to being addicted. They reported spending anywhere from $10 to $20 a month on vape products.
Sophomore Tim Lee said, "It was designed for smokers to quit smoking, but nowadays people get into it for fun."
Student A, a Calvin sophomore who requested anonymity for fear of discipline, started vaping to relax during the breaks of his high stress restaurant job. Through vaping, he could avoid smelling like smoke and going outside in the cold. He carried the habit over to Calvin and now regularly vapes in the dorms.
E-cigarettes often have a much higher nicotine content than regular cigarettes, resulting in a much greater "buzz."  
Student B, a first-year student who also requested anonymity, is trying to quit vaping. According to him, he started vaping every day in high school and wants to stop largely because of the extra costs that come with vaping.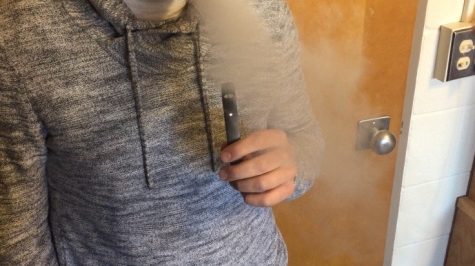 Both he and Student A stated that students regularly vape in dorms, bathrooms and even sometimes in class. It is relatively easy for students to hide it from professors who are oftentimes unfamiliar with the sleek, black and silver vape pens.
Student C, a junior, was the only student among the four to smoke cigarettes before vaping. Now she smokes both. As a student in a leadership position on campus, she also requested anonymity. She said that she enjoys being able to smoke in her car without leaving a smell but condemns smoking in all forms inside.
Students noted a gender gap in vaping; both male and female students vape, but male students are far more likely to own vaping devices. Student B said it was similar to female students counting on male students to buy them alcohol. Student C said, "It's considered a dirty thing, and guys are a little more comfortable with that stigma."
Vaping is also a regular feature of Calvin's off-campus party scene. "If you are hitting your vape at a party and someone else has one … you can exchange information … It can be a way of creating social community."
Student C said, "I associate a lot of positive memories with [vaping]."
Students also said that the variety of flavors make vaping more attractive. Under pressure from the Food and Drug Administration, the e-cigarette company Juul is deciding to discontinue many of their flavored juices. Although the move is targeted at preventing high school students from becoming addicted to nicotine, it will impact all of Juul's users. Juul currently offers flavors like mint, mango and creme. Juul's site and other brands like Vuse and Suorin require online buyers to verify that they are older than 21.
Students A and B both used Juul products. Student B was positive about the ban because he thought it could help deter middle and high school students from vaping. Student A was disappointed with it because he said that the flavors are the better pods that Juul offers.
The students also had mixed reactions to whether vaping would hurt their health. Student A and Lee said that they had experienced no poor physical effects to vaping and did not expect to. Student B was worried that medicine would discover harmful effects of vaping in the future like it did with cigarettes. He warned against picking up the habit, saying "If you haven't started, it's a slippery slope; don't do it."
Calvin has far weaker restrictions on smoking than most Michigan and comparable Christian schools. Hope College, Dordt College, University of Michigan, Western Michigan University and Cornerstone University all have smoke-free campuses. Calvin still maintains smoking areas on campus for students.
Leave a Comment