Knights receive individual honors for success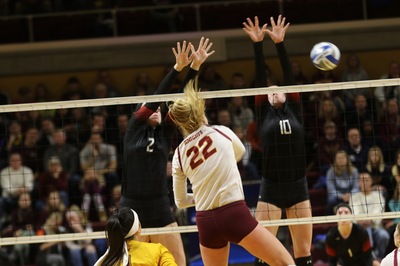 Hang on for a minute...we're trying to find some more stories you might like.
The 2018 fall season was another incredibly successful one for Calvin athletics.
37 Calvin student-athletes were selected to All-MIAA teams, 22 of which were selected to the first team in their respective sports. 12 of the 22 first team selections received the honor for at least the second time in their college careers.
Men's soccer led the way in All-MIAA selections out of all Calvin teams with 11, 9 of which were first team selections. This number is remarkable, considering only 11 players are on the field for a team at one time. Men's cross country had the second most team selections with 9, and women's golf had the third most All-MIAA athletes with 5.
Among these selections, Trent Vegter (men's soccer) and Anna Kamp (women's volleyball) won the Most Valuable Player award for their second straight year. Addison Smith (men's cross country) continued an impressive streak, becoming the fifth Knight in a row to win the Most Valuable Runner Award. Sarah Devries (women's volleyball) won the Defensive Player of the Year award for her work on the court, and Nicole VanderYacht (women's golf) took home the Sportsmanship Award.
Sarah Devries and Anna Kamp also received AVCA Division III All-American first team status. Devries has now received All-American status in back-to-back seasons, while Kamp has been named to the All-American first team three years in a row.
While the Knights have received a tremendous amount of individual awards already, look for them to receive even more as the All-American teams and NCAA All-Tournament teams are announced.
Both of Calvin's MIAA MVP's will look to continue their success as they will play in the NCAA tournament this weekend. If women's volleyball wins on November 15 against Aurora, they will take on the winner of the Wisconsin-Eau Claire vs. Bobson matchup on Friday, November 16 in the semifinal of the NCAA tournament. Men's soccer will take Penn St.-Behrend on November 16 in the third round of the NCAA tournament.