Calvin offers a multitude of cafe options for students and staff
For a school just shy of 4,000 students, Calvin hosts a wide variety of cafe options for students and staff. Some of these cafes are well known, while others are hidden gems on campus.
DeVos Grab-n-Go Cafe
One of the student and faculty favorite cafes on campus is in the DeVos Communications Center building. While it is doesn't receive heavy foot traffic, the cafe receives a lot of support, especially from speech pathology, communications and political science majors and faculty.
DeVos Cafe is run by the much-loved Patsy Westra. She creates a special atmosphere for all customers with her positive energy. She takes the time to get to know customers by name and is a big part of why so many people love the DeVos cafe.
"Patsy always seems so cheerful and welcoming," said junior speech pathology major Hannah Gritter. "It is very convenient as speech pathology students because we spend so much time there and like to have food and drink options so close by."
DeVos is a grab-n-go style cafe. Currently they serve sandwiches and hot soup which tends to be difficult to refill and keep up with during the colder months of the year — hot soup is very popular! The cafe does not have running water at the moment.
"We'd love to see it expand, but we will need more equipment and budget to make this happen," said Matt Dodgen, cafe operations team member.
Spoelhof Cafe
Spoelhof Cafe is located in the College Center, slightly tucked behind admissions, but with a great view overlooking Commons lawn. The cafe is open to all but has mainly served faculty and staff.
The cafe had previously been located in the basement of the College Center with the art department. Before their move upstairs, the cafe was slower than DeVos Cafe. With their new location, they have more traffic flow than before.
Besides Johnny's, Spoelhof Cafe is the only other cafe with a full salad bar. The cafe offers a full dining hall style entrée of gourmet food. They serve about 30 of these meals per day to lots of faculty and staff, according to Cafe Operations.
In addition to the entrée and salad bar, Spoelhof Cafe also offers some grab-n-go sandwiches, two kinds of soup and limited bakery items and drinks. They offer the same foods as Johnny's, except for the grill menu items.
Despite the majority of the customers being faculty and staff, students are welcome to grab a meal or snack in the cafe. They can also enjoy the study space that the cafe has to offer.
"I like it as a study space because it is quiet, with just enough ambient sound from conversation groups or student/professor meetings," said junior Anna Henson.
Knights Way Cafe
The Knights Way Cafe is located in the Spoelhof Fieldhouse on the main level, just across from the rock wall. It also serves as the concession stand during Calvin sporting events.
Knights Way used to run food options very similar to the DeVos Grab-n-go cafe. While some of these options are still available, they are working to transition to a gourmet smoothie bar.
The smoothies are made from all-natural, fresh or frozen ingredients. No premix is used when making the smoothies. Students and staff have 12 different smoothie options ranging from super healthy to basically a chocolate shake. There is even the possibility of some custom smoothies.
An additional concept to Knights Way are featured subs. There is a sub of the day that is made on site for only five dollars. There is also the option to build your own sub on fresh-baked Calvin bread, bagels or wraps. They even have a panini press to warm up or toast the subs.
As Knights Way transitions to a smoothie bar and Calvin Subway equivalent, a new name may be in the cafe's future.
"We are working to change the name to Joust's Juice and Smoothies or Knights Way Cafe featuring Joust's Juice and Smoothies. We need to make sure the name isn't already taken elsewhere," said Nikolai Gorski, retail manager for cafe operations.
Customer traffic is picking up at Knights Way, primarily because of an established loyal following. The traffic flow does tend to increase with other events in the building and by word of mouth, too.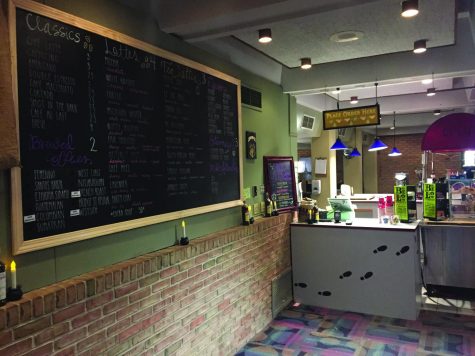 Fish House
The Fish House is the second busiest cafe on Calvin's campus, located underneath Commons dining hall next to Johnny's. There are various times throughout the day were there is a long line of coffee-deprived students, or no wait at all — it all depends on timing.
The Fish House is your standard coffee shop, offering fair trade coffees, teas and specialty coffees. They also offer some breakfast pastries like scones and croissants. Generally, they can reach all coffee audiences with many different flavors and strengths.
Ferris Coffee is a local Grand Rapids partner with Calvin. They provide locally roasted coffee to the Fish House. Calvin has sent staff to Ferris Coffee to receive training in order to provide consistent, high quality products to customers.
Also during certain times of the year, the Fish House will run drink specials. From now until Thanksgiving, they are running various cider drinks, and the cider comes from a local cider mill. After Thanksgiving until the end of the semester, the Fish House will offer eggnog drinks.
Customers can also ask to customize their order, and the staff will do their best to accommodate. They offer three non-dairy milk options: lactate, soy and almond milks.
"The Fish House has always been a spacious area for students to utilize whether it be for studying purposes, social meetings or coffee dates," said first year graduate student Eleosa Chong. "The cozy atmosphere with the couches, lounge area and music has provided a nice alternative to driving off campus to go to a coffee shop."
Despite its popularity, the Fish House will be closed following the opening of the new Pete's Coffee in the Hekman library.
Johnny's Cafe
Johnny's is Calvin's main cafe and the busiest one on campus. Located underneath Commons dining hall, they offer a wide variety of food options, as well as lots of tables and booths to eat or study at.
Over the past summer, Johnny's underwent some renovations to improve the flow of traffic in the cafe. The separate packaged goods are separate from the hot line, so customers are no longer wandering all over looking for a specific thing. This makes it easier to find exactly what someone is looking for.
Johnny's offers a full service hotline and grill. They serve breakfast until 11 a.m. and serve three specials until 2 p.m. The specials could include anything from the burger of the day, chili dogs and lettuce wraps.
"[The specials are] used as a way to showcase trends we see in the area. We like to keep up with food trends and bring them to campus," said Dodgen.
In addition to daily specials, there are also various options from the grill such as burgers, chicken nuggets and french fries. Johnny's also offers various snacks, fountain beverages, a salad bar and a few grab-n-go options.
New to Johnny's this year is a full meal exchange program. All students — except those on the unlimited meal plan — can use a meal swipe for either breakfast, lunch, dinner or a late night meal.
"I like having the option of another place to get food on campus, especially one that is so quick and convenient." said senior Nate DeWindt. "It's really nice because you can just grab it and go, whereas in the dining hall, you have to finish eating before you can go to the next thing."
For students with unlimited meal plans, cafe operations is working to see if they can have the option to swipe in once from 8:30-10:30 p.m., but they are still working out some of the details.
New Library Cafe
Calvin has recently announced the implementation of a new cafe located on the second floor of Hekman library. The new cafe will feature Peet's Coffee, the number two coffee brand in the nation according to MSN. Calvin will possibly be the first Peet's Coffee location in Michigan; currently, the closest location is Chicago, IL.
The goal is to open the new cafe around the middle of spring semester 2019. They are hoping to have the outside work done before the frost and snow comes and then continue the indoor work.
A cafe menu is still being developed. There may be a few food options offered, but it could be similar to the closing Fish House.
"The library cafe will be a great addition to the on campus cafe options; however, both the college and the students would benefit greatly if the Fish House was also kept open because it would provide two options for coffee on campus with the convenience of different locations," said Chong. However, Calvin plans on instead replacing the Fish House with Peet's Coffee.
As the date for the new library cafe's arrival draws near, continue to enjoy Calvin's current cafe options that offer a wide variety of choices to satisfy all palates.
Leave a Comment