Men's Varsity Basketball looks to improve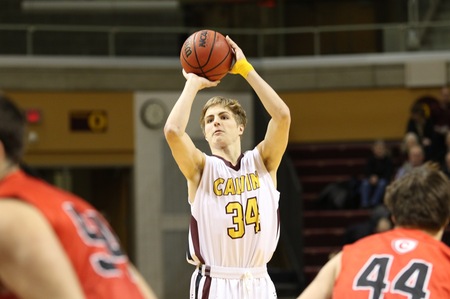 This year the Calvin Knights varsity basketball team is looking to make some huge improvements from last year. Last year the team had a tough time finishing out games, largely due to their inexperience, and now this year they are looking to make many strides in this area.
There are some key players who are looking to thrive under their new roles on the team. Tony Dewitte was a starter his freshman year but was sidelined for the duration of his sophomore year. Now as a junior he is a key figure on this team that coach Vande Streek is looking to become more of a leader. Some other important juniors are Carlos Amoros-Gutierrez and Derek DeVries, both of who will also be stepping into bigger roles with the team this year as they took advantage of the offseason by practing often. There are also two new freshmen, Carson Meulenberg and Brandon Harrison, who are 6'6" and 6'7" respectively and will be sure to add to the team's athleticism.
As a team there is a general sense of excitement around this new team and the upcoming season as this is one of the more athletic teams coach Vande Streek has coached — he expects there to be many "dunks, block shots, and lots of scoring" this year. A big reason for this is due to the makeup of the team this year: they are more "unselfish as a team" and have a much more freely-moving offense this year due to the amount of creativity the team possesses, as expressed by coach Vande Streek.
This team is kicking off their season on November 8 at home against Grace Christian University, formerly known as Grace Bible College, who has been an off-and-on opponent throughout the years.